Who are the team to watch this year? It's a natural question to ask as we look to add another name to a top table that isn't exactly overcrowded.
Donegal were that team for three or four years, Tyrone also had their spell, while Kerry and Mayo have been there for a while in their continued pursuit of the Dubs.
As the league has progressed, there has been much talk that Galway can now make the step-up. So far, they've won four from four, and last Sunday, they were well worth their win away from home against Kerry.
Over the last ten years, Galway have had decent underage success and always looked like a team that had the potential to push on.
I think part of the problem is that they never departed from the 'Galway style' of football that is very open, attractive and overall is quite easy on the eye. It's a style that won them two All-Irelands either side of the millennium. Maybe they were slower in adapting to how the game had changed throughout the noughties.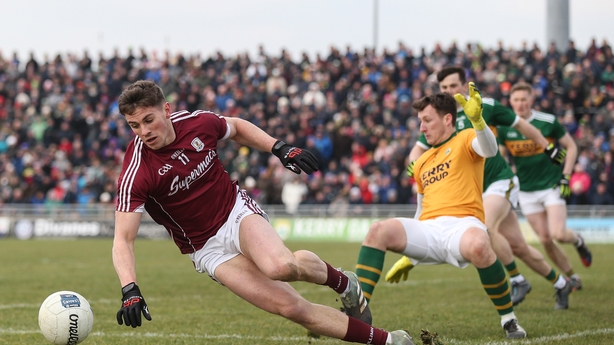 They still have skilful forwards in the likes of Shane Walsh and Damien Comer, but they seem to have developed a defensive stability during the early stages of this league that is certainly serving them well.
The criticism levelled at Galway in recent times is that they have not been properly organised in defence to really challenge the top teams.
Inconsistency has also been a problem. In the last couple of years, Galway have twice beaten Mayo in the championship but then they flopped against Tipperary and Roscommon.
I think the solidity they have at the back now can set them up for a good push at the championship.
A lot of credit for that must go to a Tyrone man.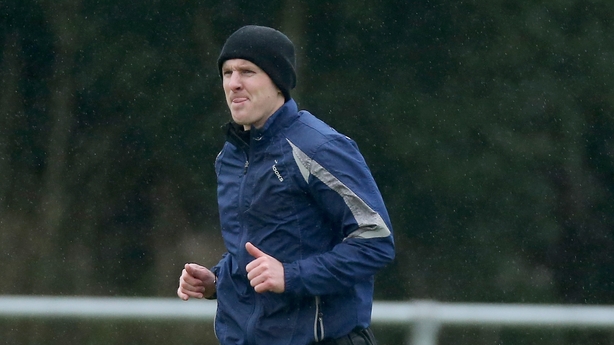 Having Paddy Tally as part of their coaching set-up is definitely a plus. Paddy is an astute coach and helped us greatly when we won our first All-Ireland in 2003. He has brought a toughness to Galway, a toughness that compliments a side that have the firepower up front.
Above all, Paddy is a man that can adapt to different situations.
It's easy enough to put in a defensive system that keeps the score down, but getting the balance right between defence and attack is key, and Galway now seem to have that balance. They are definitely on the right road.
There is so much physical contact in the game now, as distinct from when the game was more one-on-one.
The first thing that any team wants to do now is to physically dominate the opposition - in a positive sense you want to be winning those 50-50 balls - and that's a huge determinant in winning tight games.
At Croke Park Galway, while playing nice football, have struggled against sides with that physical edge. To me, they seem to lack the desire to win on the biggest stage of all. You wonder has Croker become a bit of a mental issue for them?
We'll find out more about their well-being if they are still in the mix at the 'Super 8' stage and a formidable force awaits them at Croker.
What they have shown in the first couple of months of the year should give their supporters confidence that they can deal with the pressure.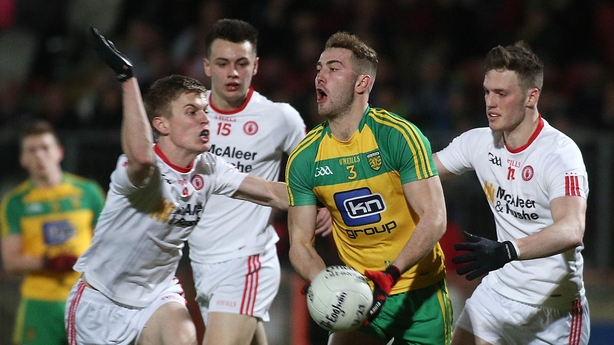 And so to this weekend. Now, the Beast from the East and Storm Emma could put the kibosh on everything, so all we can do is hope that the heavens behave.
Tyrone are at home to Donegal and for the loser it could be the case that they are ones who will ultimately not survive in Division 1. On the flip side, a win for either side could be the springboard to ensure safety in the knowledge that another two points should leave them safe.
Donegal are going on with that bit more confidence. Okay, they lost their opening three league games but to me they've shown the potential is there for them to push on. They have been adventurous in their style of play this spring, and to that end have put up some big scores, but have leaked a few goals at the other end.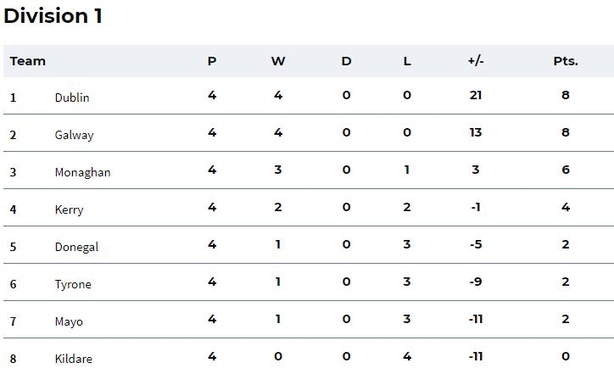 Donegal will feel they can win this one.
The manner of the Tyrone defeats so far have been disappointing. They were favourites to beat Galway in their opening game, but never showed up. It was something similar against Dublin at home and last weekend against Monaghan, they couldn't push on after a strong finish to the first half.
You would hope from a Tyrone point of view that home advantage can spur them on.
Kildare look to me as they are going down. With Mayo getting a few of the old heads back, you'd think they'll have the experience to survive. That's why Saturday's match is crucial.
Not with any degree of confidence, I'll go for Tyrone to get the job done. Purely because of home comforts.