UL 2-21 DCU 2-15
A strong second-half display from UL earned them a third Fitzgibbon Cup title in five years as DCU were seen off at Mallow on Saturday afternoon.
Leading by 1-11 to 1-9 at half-time, Gary Kirby's side pushed on after the break to pull away from the first-time finalists and the game was made safe when Pat Ryan got their second goal to make it 2-19 to 1-13 on 53 minutes.
It was a victory which UL had to earn though as DCU posed a lot of problems for them, especially in the first half. As early as the third minute, the Dublin side threatened a goal and it took a good Gearóid Hegarty hook to deny Patrick Curran before David McCarthy's excellent save to deny Rian McBride.
When UL moved 0-4 to 0-1 in front after that, it appeared that they would live up to their pre-match billing as strong favourites but DCU came back well through John Donnelly, Conor Delaney and free-taker Donal Burke.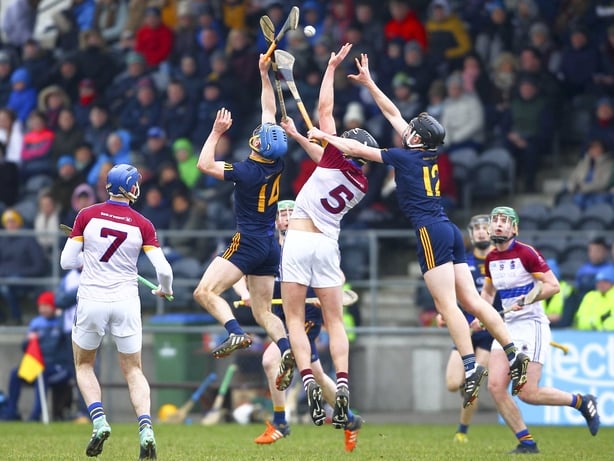 UL led 0-6 to 0-5 after Jason Forde put them ahead with a free on 15 minutes, his fourth point of a total tally of 1-10, but DCU won a penalty when Donnelly was fouled and Curran sent his shot down the middle and into the net.
Joe O'Connor added a point after linking with his midfield partner Darren Mullen, who was impressing, but UL back back strongly again. They hit the front when Tom Morrissey, Barry Murphy and John McGrath combined to set up Forde for a goal and Forde's seventh point in injury time ensured they led by two at the interval.
DCU had lost O'Connor to injury and though Burke opened the second-half scoring for them, UL were able to ease clear as they took their points, outscoring DCU by 0-08 to 0-02 between the 33rd and 48th minutes, with man of the match David Fitzgerald scoring two from wing-back and Tony Kelly and Ronan Lynch also contributing.
Murphy's goal made then game safe, despite DCU's best efforts which yielded a second goal in injury time from Conor Burke.
UL: David McCarthy (Limerick); Aidan McGuane (Clare), Conor Cleary (Clare), Seán Finn (Limerick); Barry Heffernan (Tipperary), Gearóid Hegarty (Limerick, 0-01), David Fitzgerald (Clare, 0-02); Tony Kelly (Clare, 0-01), Ronan Lynch (Limerick, 0-02); Ian Galvin (Clare, 0-01), Kevin O'Brien (Limerick, 0-02), Tom Morrissey (Limerick); John McGrath (Tipperary, 0-02), Jason Forde (Tipperary, 1-10, 0-07f, 0-01 65), Barry Murphy (Limerick).
Subs: Michael Casey (Limerick) for McGuane (36), Pat Ryan (Limerick, 1-00) for O'Brien (47), David Gleeson (Tipperary) for Murphy (57), Brian Troy (Kilkenny) for Finn (59), Jordan Henley (Waterford) for Fitzgerald (60).
DCU: Oisín Foley (Wexford); Conor McSweeney (Limerick), Eoghan O'Donnell (Dublin), Paul O'Dea (Dublin); Aaron Maddock (Wexford), Conor Delaney (Kilkenny, 0-01), Paudie Foley (Wexford); Joe O'Connor (Wexford, 0-01), Darren Mullen (Kilkenny, 0-01); Fergal Whitely (Dublin), Rian McBride (Dublin), Donal Burke (Dublin, 0-09, 0-07f); John Donnelly (Kilkenny, 0-01), Peter Hogan (Waterford, 0-01), Patrick Curran (Waterford, 1-00 penalty).
Subs: Daire Grey (Dublin) for O'Connor (30, injured), Killian Doyle (Westmeath, 0-01) for Hogan (36), Eoghan Conroy (Dublin) for Foley (47), Conor Burke (Dublin, 1-00) for Whitely (51).
Referee: Fergal Horgan (Tipperary).