NUI Galway 2-12 DIT 0-15
NUI Galway qualified for their first Sigerson Cup final since 2003 when they held off the challenge of a DIT side who were boosted by the inclusion of Dublin's Brian Howard.
DIT never managed to get ahead in the contest in Mullingar and NUIG struck for crucial goals in either half to advance to the final.
A superb goal from Sean Kelly two minutes from the break helped NUIG lead by 1-06 to 0-07 at the interval.
The Galway college got off to a good start with Owen Gallagher and Adam Gallagher getting them off the mark with good points in the opening nine minutes.
DIT were boosted by the inclusion of Dublin player Brian Howard for his first Sigerson Cup action of the season and he provided a big influence around the middle of the field.
Howard got them off the mark after ten minutes when he went forward to shoot a good score before Enda Tierney and Shane Dempsey exchanged points, and then Adam Gallagher and Sean Hurley did likewise.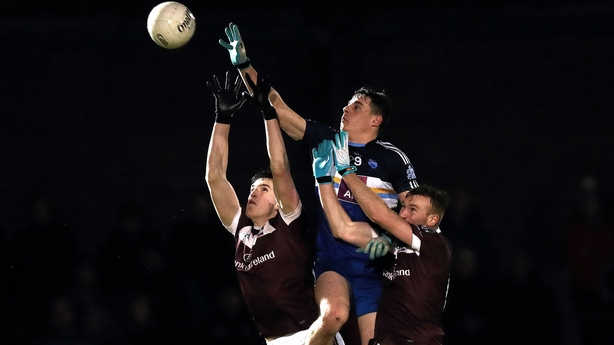 Galway midfielder Peter Cooke landed a good point but Wickow's Ross O'Brien soloed forward to cancel it.
Conor Loftis tied the match six minutes from the break but then after Adam Gallagher pointed for NUIG, Kelly struck for a fine goal.
However, DIT hauled cut the gap before the break with frees from either side from Loftus and Hurley.
DIT produced a good third quarter which saw them draw level at 1-09 to 0-12 but then Eoin Finnerty struck a huge blow for NUIG when he blasted home their second goal twelve minutes from time.
Corofin's Kieran Molloy, who will miss Saturday's final as he will be in action for his club in the All-Ireland semi-final, put NUIG four ahead but DIT got it back to two with points from Sean Hurley and Kilian O'Gara.
Points from Enda Tierney and Adam Gallagher seemed to make the game safe for NUIG but a late Conor Madden point for DIT ensured a nervous finish but the Galway college held out for a deserved success.
NUI GALWAY: Tadhg O'Malley (Galway); Stephen Brennan (Mayo), Sean Mulkerrin (Galway), Kevin McDonnell (Sligo); Colm Kelly (Donegal), Ruairi Greene (Galway), Gerard O'Kelly Lynch (Sligo); Céin D'Arcy (Galway), Peter Cooke (Galway) (0-01); Enda Tierney (Galway) (0-02, 0-01'45), Owen Gallagher (Antrim) (0-01), Adam Gallagher (Mayo) (0-04, 0-02f); Brian Donovan (Limerick), Damien Comer (Galway) (0-01), Sean Kelly (Galway) (1-00).
Subs: Ronan O'Toole (Westmeath) (0-02) for S Kelly (32), Kieran Molloy (Galway) (0-01) for Donovan (42), Eoin Finnerty (Galway) (1-00) for O Gallagher (43), Ryan Forde (Galway) for C Kelly (48), John Maher (Galway) for Greene (59).
DUBLIN INSTITUTE OF TECHNOLOGY: Lee Stacey (Dublin); Andrew McGowan (Dublin), Brian Power (Meath), Ronan Shanahan (Kerry); Brian Howard (Dublin) (0-01), Rossa O'Brien (Wicklow) (0-01), Bill Maher (Tipperary); Tomás Corcoran (Roscommon) (0-01), Seán Hurley (Kildare) (0-04, 0-04f); Callum Pearson (Dublin), Conor Loftus (Mayo) (0-03, 0-01f), Cormac Howley (Dublin); Caomhin O'Reilly (Cavan) (0-01), Danny Kirby (Mayo), Shane Dempsey (Westmeath) (0-01).
Subs: Liam Hughes (Longford) for Dempsey (BC 22), Killian O'Gara (Dublin) (0-02) for Corcoran (42), Liam Hughes (Longford) for Kirby (42), Ben Brennan (Meath) for O'Reilly (57), David McAllister (Monaghan) for Dempsey (57), Conor Madden (Cavan) (0-01) for Loftus (59).
Referee: Anthony Nolan (Wicklow)