Former Armagh footballer and 2002 All-Ireland winner Steven McDonnell says that securing promotion must be a 'priority' for his county, as they face into the opening round of their Division 3 campaign this weekend.
After reaching the pinnacle of Gaelic Football 16 years ago to lift the Sam Maguire, the Orchard County have gradually regressed in the intervening years. Their last appearance in an Ulster final stretches back to 2008, and the 2012 campaign was the last time they were playing Division 1 football.
They now find themselves down in the bottom half of the National League, having narrowly missed out on nailing down a Division 2 spot last year.
Kieran McGeeney's men contested an All-Ireland quarter-final later that season, although it ended in a harrowing 3-17 0-08 defeat to Tyrone. Meanwhile, Donegal and Monaghan seem to have displaced Armagh in the Ulster rankings.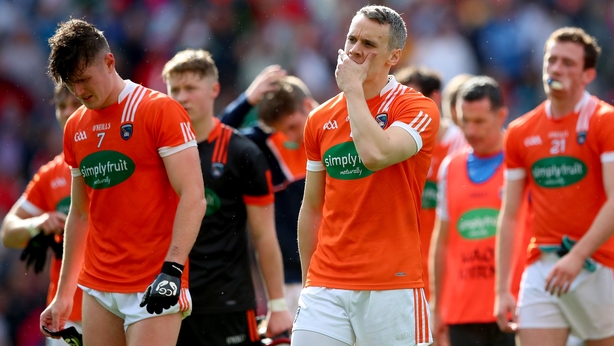 McDonnell concedes that the quality of teams competing in Division 3 has improved since last year, which will make the challenge all the more difficult for Armagh. But McDonnell believes that getting back to the top half of the National League will help Armagh become more competitive again.
"It has got to be Armagh's priority to come out of Division 3, " he tells RTÉ Sport.
"If you want to really compete against the better teams in the country, you've got to be playing at that higher level to be more consistent in your challenges for the championship as well. Division 2 has got to be a stepping stone for Armagh to try to get towards the bigger and better boys in Division 1.
"They possibly missed the boat last year in terms of getting out of it. It was maybe the Sligo result that came back to haunt them in the end when they got a draw down in Markievicz Park last year. Overall, there's probably better quality teams in Division 3 this year compared to last year, so it's going to be a tough league. And it's certainly going to be a tough opener for Armagh against Sligo.
He continues: "When you go way back to when Armagh made the breakthrough, it was putting solid performances together in the league that built confidence in the team to kick on. I remember getting to a league semi-final in '99 and that was our breakthrough year. By doing that, it made the players believe we had more.
"And maybe that's all the current group need. If Armagh can come out of Division 3 and compete in Division 2 the following year, then certainly that team will gain in confidence.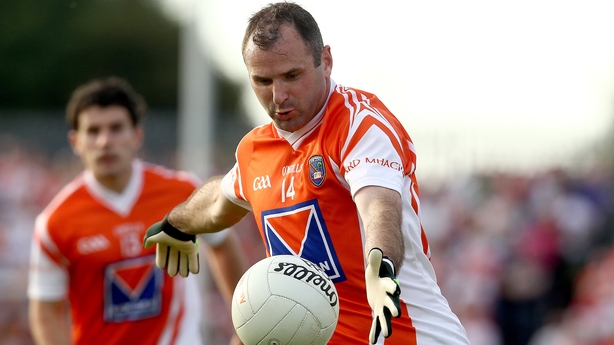 McDonnell acknowledges that he was fortunate to play for Armagh during a golden period in the county, and during his career, Armagh's position in the league generally alternated between just Division 1 and 2.
He stresses that it's unfair to place the current panel in the shadow of the class of 2002, and believes that their contemporaries will learn create their own identity in the Armagh jersey in their own time.
"I don't like judging the current group of players on what we were about. It's a different era and the game has changed. Times have changed and the game is changing. I'd love if these guys get a good run at it this year because I do believe in the quality and the youth coming through Armagh.
"There's more than enough talent, Armagh has an abundance of talent. They've got players that are capable of playing at a much higher level and sometimes when you're playing county football, all you need to have is that total inner belief in what you're about to take your game and your team to the next level."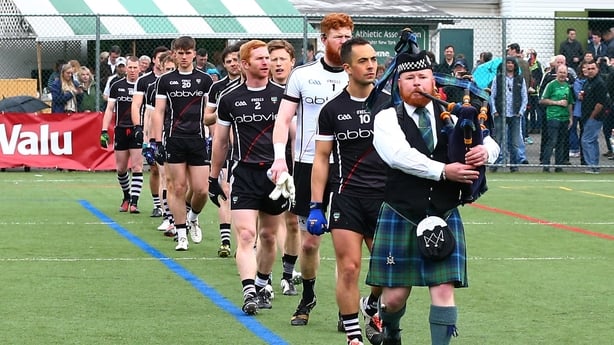 SLIGO
Manager: Cathal Corey
Captain: Kevin McDonnell
Last year's finish: 4th
New players to watch: Finnian Cawley (St Farnan's), Liam Gaughan (Tourlestrane), Peter Laffey (Coolera/Strandhill), Seán Carabine (Castleconnor) and James Clarke (Skreen/Dromard) are among those who captured the attention of Sligo followers during the FBD League
Players unavailable: Mark Breheny's retirement is a major blow for Sligo, while Brendan Egan has also called time on his inter-county career. David Kelly, Johnny Kelly and Adrian McEntire are currently unavailable for selection, although the latter two may rejoin the fold later in the season.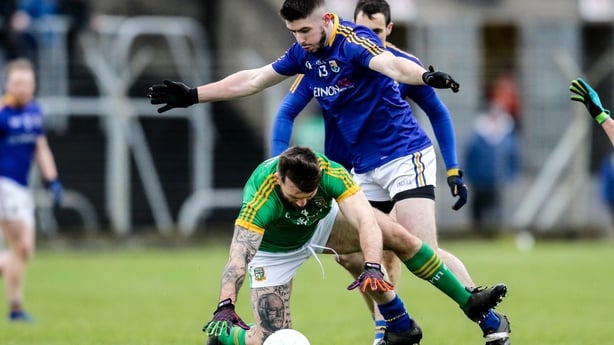 LONGFORD
Manager: Denis Connerton
Captain: Donal McElligott
Last year's finish: 6th
New players to watch: Rian Brady (Mullinalaghta St Columba's), Conor Berry (Abbeylara), and David McGivney (Mullinalaghta St Columba's) are some of the younger players worth monitoring throughout the league campaign
Players unavailable: Dermot Brady (Clonguish, retirement), Brian Kavanagh (Dr Croke's retirement), Diarmuid Masterson (Dromard, unavailable due to work commitments), John Keegan (Mullinalaghta St Columba's, studying during the league), Larry Moran (Killoe, studying).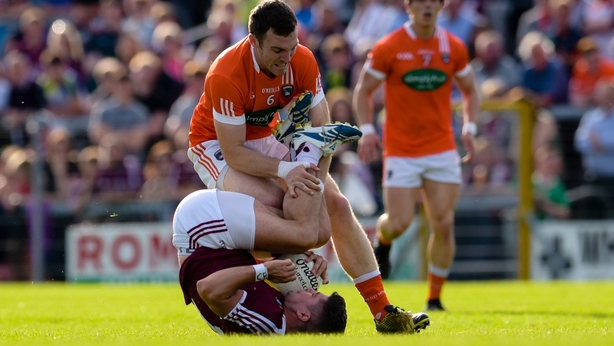 ARMAGH
Manager: Kieran McGeeney
Captain: Rory Grugan
Last year's finish: 3rd
New players to watch: Former Armagh player Steven McDonnell is looking forward to seeing Ryan McShane, Ben Creally and Niall Grimley when the league begins this weekend. Ronan Lappin has also been drafted into the panel after showing good club form with Maghery.
Players unavailable: Armagh will have to do without the services of key attacker Jamie Clarke (Crossmaglen Rangers) who is away travelling at the moment. Ciaran McKeever (Cullyhanna) has retired, while fellow stalwart Stefan Campbell is not playing with Armagh this year.
Crossmaglen's James Morgan, Paul Hughes, Aidan Rushe and Oisin O'Neill are also not with the panel at present. Killevy man Ciaron O'Hanlon is travelling, while Shea Heffron of the Clann Eireann club has withdrawn from the squad.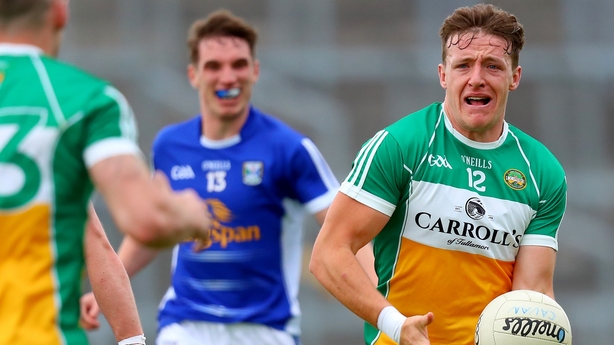 OFFALY
Manager: Stephen Wallace
Captain: Anton Sullivan
Last year's finish: 5th
New players to watch: Teen sensation Cian Johnson (Ferbane) is already turning heads, having impressed in the O'Byrne Cup. Jordan Hayes (Edenderry) is another forward on the rise, while David Dempsey (Ballycommon) stands out in the backs.
Players unavailable: Seasoned Offaly servants Niall McNamee and, Brian Darby called time on their inter-county careers ahead of the 2018 season. Graham Guillfoyle is unvaialable due to work commitments, while both Ruairi McNamee and Ruairi Allen are abroad.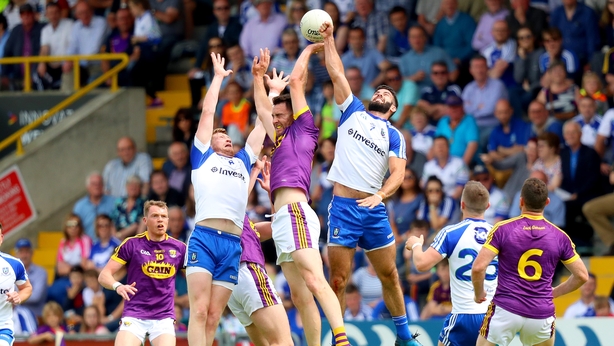 WEXFORD
Manager: Paul McLoughlin
Captain: Daithi Waters
Last year's finish: Promoted from Division Four
New players to watch: Young talents worth looking out for in 2018 are: Goalkeeper Pa Doyle (Starlights), Mat Doyle (Glynn-Barntown), Mark O'Neill (Gusserane), Barry O Gorman (Taghmon/Camross), Nick Doyle (Starlights), Glen Malone (Shelmaliers), Barry O'Connor (St Martin's), Robert Frayne (Duffry Rovers), Darragh Pepper (Starlights) and Craig McCabe (Shelmaliers).
Players unavailable: Joey Wadding (St Fintan's, retirement), PJ Banville (Horeswood, retirement), Colm Kehoe (Cloughbawn, Moved to Wexford hurlers), Jake Firman (St Martin's, Moved to Wexford hurlers),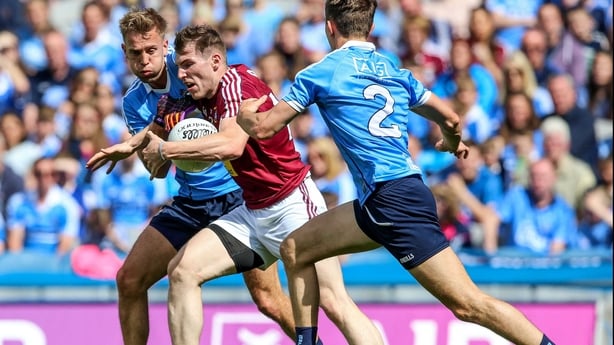 WESTMEATH
Manager: Colin Kelly
Captain: John Heslin
Last year's finish: Division 4 champions
New players to watch: Luke Loughlin (The Downs) is heading into his second season with Westmeath after returning home from New York last year.
Players unavailable: Paddy Holloway of the Castledaly club will be ruled out for the season with a cruciate injury.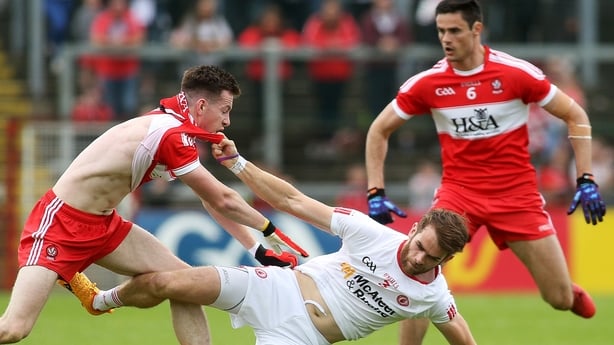 DERRY
Manager: Damian McErlain
Captain: Enda Lynn
Last year's finish: Relegated from Division 2
New players to watch: Damian McErlain was in charge of the minors who got to the All-Ireland final last year and has drafted in some of the talent from that panel. Ben McKinless (Ballinderry) made the step-up to the senior ranks last year and will be looking to impress in goals again this year. Jack Doherty (Glen), Patrick Kearney (Swatragh) and Slaughtneil's Shane McGuigan are among the other young members of the Derry squad.
A number of the panel took a year out last year due to either injury or personal reasons, and have since rejoined the panel. Liam McGoldrick (Coleraine), Emmet Bradley (Glen), Michael Bateson (Newbridge), Kevin Johnston (Dungiven) and Terence O'Brien (Loup).
Players unavailable: Niall Loughlin (Greenlough, travelling).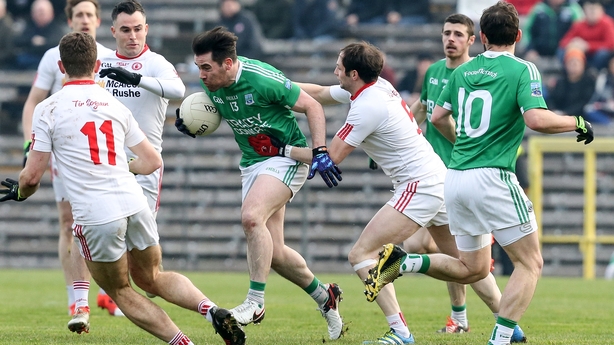 FERMANAGH
Manager: Rory Gallagher
Captain: Eoin Donnelly
Last year's finish: Relegated from Division 2
New players to watch: Rising star Eoin Beacom (Enniskillen Gaels) has been added to Gallagher's squad. Meanwhile, Eamon Maguire (St Patrick's Donagh) and Pat Cadden (St Patrick's Donagh) have come back from retirement. Conaill Jones (Derrygonnelly Harps) has returned from Australia.
Players unavailable: None