Paddy McBrearty is still smarting.
The 2012 All-Ireland winner wants to put Donegal's 2017 season behind him as soon as possible.
There were three wins in Allianz League Division one and they just missed out on a final spot.
They met Tyrone in the Ulster championship semi-final and lost by nine points.
Their qualifying campaign went down in flames – a 15-point hammering by Galway in Round 4A.
The best way to move on is to get some game-time under the belt.
But his answer when asked what he would change in the GAA relays the sense that he's spent a long winter of discontent with those defeats in his system.
There's too much of a gap between games in the Ulster Championship, the 24-year-old tells RTÉ Sport.
"You might have a bad game, and you have to wait four or five weeks to amend it."
So one can only imagine how long his return to action from that chastening Galway game has felt.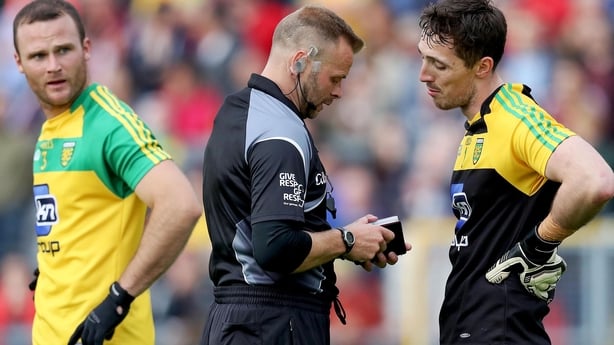 Still, a McKenna Cup match against Monaghan - "I played, I felt good enough" - is just a start and you get the feeling that the Dublin-based forward could do with a bit more cut and thrust.
Under new boss Declan Bonner, they'll begin their Allianz League campaign against Kerry in two weeks' time.
It can't come soon enough for McBrearty, who wants lessons to be learnt.
Last season, he admits, they mistimed their push, they'd no gas in the tank for the clash with Mickey Harte's eventual All-Ireland semi-finalists.
"We put a big emphasis on the League last year in terms of our fitness," he says at the launch of the Allianz League.
"This year, it's about trying to retain it as best we can, and trying to peak in the summer months. It was a learning curve last year, to be honest.
"We just hit a wall against Tyrone, we didn't really recover from that. Galway really caught us on the hop then in Sligo last year, and that was the end of our summer really.
"I think it was something we need to put behind us.
"The only positive is that a couple of young lads got a bit of championship experience, but it probably wasn't the kind of experience they would have wanted. But hopefully that drives them on for the coming summer.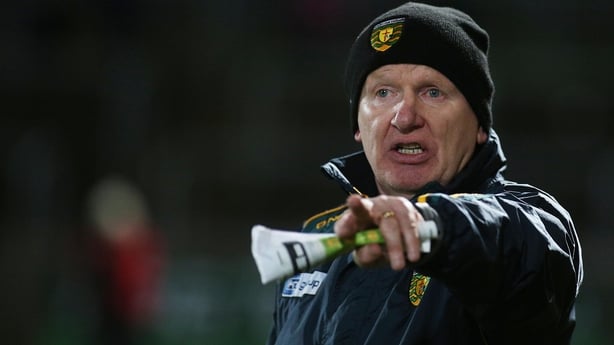 "It was going to be hard. We've lost so many bodies from the team that won the All-Ireland. It was always going to be a struggle to be honest. We had a very good League campaign. I suppose people were talking us up.
"Myself, I was there when we won the All-Ireland, and you see a lot of new faces there now.
"There definitely is a big change there. But your job stays the same. The young lads that came in, they're down-to-earth. They put in the hard yards too.
"It's going to take a bit of time for them, to integrate. They've had success at minor and U21 level, and probably see themselves as just slotting in at inter-county football. It's going to take some time, but I've all the faith in the world in them.
"Success breeds success, and I suppose Declan too knows who he's dealing with, and they know who they're dealing with in Declan. I think it's going to be a fairly smooth transition. Declan, too, won an All-Ireland in 1992.
"There's a lot of respect from the older players towards him too."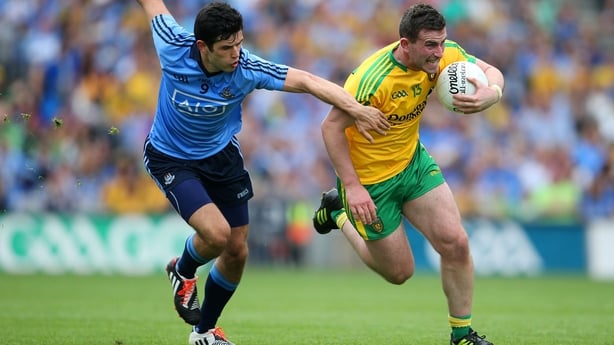 A test against All-Ireland champions Dublin awaits Donegal on 10 February.
As a member of the last team to beat Jim Gavin's men in championship, back in 2014, it's a match-up that McBrearty is really looking forward to.
"We've our own history with them. 2011 [a two-point defeat] and 2014 [a six-point win] are the big ones there," says the Kilcar man.
"You want to go out and try and beat them. We haven't been able to in the last three or four years.
"We have them here [Croke Park] in the third League game. It's going to be a big game for us.
"We're going to need to have a few points on the board by the time we come down here. It's always nice to play them too.
"They're a fantastic team, and they're definitely going to go down as one of the all-time great teams."
Meanwhile, Donegal's Bank of Ireland Dr McKenna Cup semi-final with Armagh, scheduled for this evening in Ballybofey, has been called off after a pitch inspection.
Ulster GAA will announce re-fixture details later.