It wasn't Mark Breheny's intention to wear the number 17 jersey in his last game for Sligo. It wasn't even supposed to be his last outing in the black and white jersey.
He previously met manager Cathal Corey before Christmas to mull over his future, and indicated that he was prepared to commit to another season with the team.
But as things transpired, that qualifier defeat to Meath last July in Navan, became the last act of his inter-county career, which stretches back to the National League in 2000 at the same venue.
It started in Navan, and fittingly, that's where it all came to a natural conclusion. Wearing the number 17 on his back as a late addition to the starting team was a nice footnote to add to the occasion, but it wasn't in his plans.
"I actually started the game but I was just given 17. It's a gas story when I look back," he tells RTÉ Sport.
"It was a great way to cap it off. I was obviously bitterly disappointed to lose the match but maybe my gut at that time was saying, 'this is it.' And it subsequently was. I thought I could go back and I couldn't in the end."
Unbelievable servant to @sligogaa . Enjoy the retirement. Apt Jersey number for your last game v Meath. pic.twitter.com/wiBj2dg2FV

— Eamonn McMunn (@mac1306) January 14, 2018
Breheny took his first steps of the 2018 campaign after attending a few recent sessions with the Sligo team and had already clocked in a few hours of gym work on his own time. But after returning home from completing a few runs at training on Friday night, his mood changed. The drive had disappeared.
Like many other athletes in the winter of their career, Breheny had contemplated retirement over the last few years, but the weight of realisation was different this time.
His wife had just given birth to their second child and life was taking the secondary school teacher in a different direction, away from the rigours of inter-county football. 
He made his decision on Friday evening, and by Sunday morning his retirement statement was on his Twitter account.
"I've given it everything really for those 17 years" he explains." 
"I felt I probably just don't have the full energy to give it absolutely everything for another year so that was it. I rang the manager Saturday. He was disappointed, I obviously explained my feelings about it and I probably had to go back and realise that maybe this isn't for me anymore.
"It was always in the back of my mind if I was doing the right thing and if this was enough for me."
At 36, Breheny was the longest-serving inter-county player active in the game up until his retirement, although it wasn't a title that carried much meaning for him. He was more concerned with hunting for a second Connacht medal to go with the one he achieved in 2007. An All-Star for his work in the forward line was another ambition on his mind, while awards for longevity were of no interest to him.
"I wasn't really hanging on for that, it was very much about winning a Connacht title every year. And trying to reach the highest I could go and getting to an All-Ireland final. I never stopped believing in that every year. I felt, 'why not? why can't it be us? If a Mayo fella can do it up the road, why can't we do it?'
"That was always my mentality with the Sligo team.
"What was important to me going down through the years was to make the most amount of appearances with Sligo or maybe score more than another player, little targets like that and trying to push myself every year."
Sligo were a competitive force in the 2000's, and while they contested All-Ireland quarter-finals, they failed to break through to the penultimate stage of the championship.
Breheny can seamlessly rhyme off all the defeats to teams that would later go on to win All-Irelands. They shocked Tyrone in 2002, before falling short against eventual All-Ireland champions Armagh after a replay.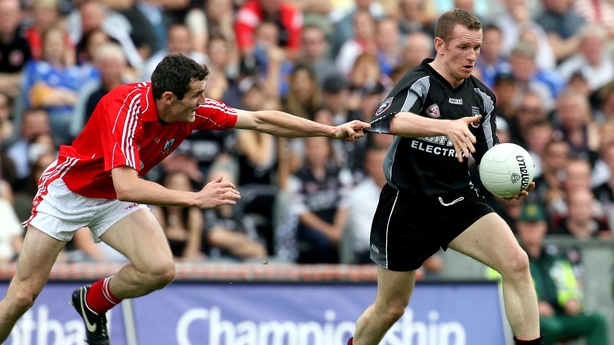 Cork, who won the 2010 All-Ireland, got the better of them after their Connacht heroics in 2007, while Kerry evaded the Sligo challenge by just one point in the 2009 qualifiers before going on to lift the Sam Maguire at the end of that season. 
Breheny's last summer holiday was a trip to the Canaries at 19 years of age in 2000, but Sligo was already close to his heart at this point, as he rushed home from the airport to watch them lose to Galway in the Connacht championship. That was his last time to stand in the terrace as a supporter.
He put all other travel plans on ice after he linked up with the Sligo seniors, and while many others ventured across the Atlantic to play football in the US, Breheny was most content on the GAA pitches at home.
"I started playing with my club (St Mary's) when I was 17 and was involved in every championship game since that. I've never gone away and I've never missed anything with football," he said.
"I'd probably do it all over again because I felt if I stayed on I might win something whether it was club or county. I didn't want to miss it. I didn't want to let people down as well.
"It would have been nice to get away but I think there was a period there where the opportunity to go was in the early 20's. I'm glad maybe I didn't go when we were on a good run in Croke Park or when we won a Connacht title in 2007.
"And I would never leave a squad, as in play a championship match and then go. That's not my form and not what I'm about. Do I have regrets? No, not really, I look back and I had an unbelievable time."
Breheny made five Connacht senior final appearances, and came away rather short-changed with just one medal. But ending a 32-year drought for Sligo with his brother Tommy at the helm is an experience that no All-Ireland title can eclipse.
We need your consent to load this YouTube contentWe use YouTube to manage extra content that can set cookies on your device and collect data about your activity. Please review their details and accept them to load the content.Manage Preferences
"The two of us always dreamt about it. For us to get that win over Galway by a point that day was very special for the both of us. It's a cherished memory and it's only when you look back that it'll be really special and great to have.
"I would have loved a load of Connacht medals but that one Connacht medal because it was 32 years, I can't imagine us celebrating anymore or the fans going any wilder if we won an All-Ireland. The town was unbelievable when we came home in the bus that night.
"It would probably be on par with something like that. I know an All-Ireland would have been out of this world but the Connacht win for Sligo at the time after that drought, the scenes were unbelievable. Everyone was so proud."
Breheny didn't get to tick all the boxes he wanted to during his career, but he's sure he packed in as much as he could over the last 17 years. He remarks on his last few seasons under previous boss Niall Carew as 'bonus years,' and was proud to accept the role of captaincy during that time.
But added time is up now, and his club St Mary's will soon become his sole focus for the next chapter.
"I was really delighted to get those bonus years really," he said. "That was it. There's a new manager now, a new set-up.  I felt I'm 37 in a few days time, I've lots on and that's it. It's time to take a full-time break from inter-county football and I've loved every minute of it.
"It was never going to be an easy decision. I'm feeling good and maybe that's the time to go. That was my feeling on it and I hope I'm right, I feel I'm right, my gut feels it's right."