There's a scene in Micko, Loosehorse Television's luminous documentary about Mick O'Dwyer which airs on Monday, captured at Fitzgerald Stadium which perfectly sums up the man himself.
Well into his 82nd year he takes his seat in the stand in Killarney to watch a championship game between his own South Kerry and Kerins O'Rahillys from Tralee, flanked on one side by Maurice Fitzgerald.
Behind them sit Eoin 'Bomber' Liston and Denis 'Ógie' Moran. Two gods of the game with two, only slightly, lesser deities by their shoulders.
A football fan visiting from another county could have been forgiven for dropping to their knees and giving praise before this collection of unquestioned greats. But this is Kerry. The Kingdom's heroes are ordinary heroes and no one bats an eyelid.
Micko isn't at the match just to pass the time either. He's there to judge the quality and he's absorbed by the action - 'look at that power' he roars in delight as Bryan Sheehan bursts past his man. This is what he lives for. It's what he's always lived for.
Bomber, Ógie and Maurice Fitz, three men who deserve documentaries of their own, defer to Micko. They are greats, but he is the greatest.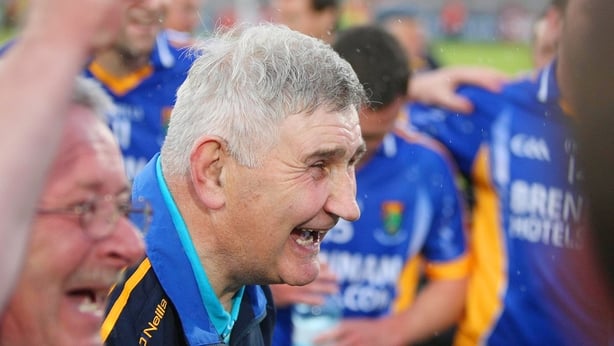 He won four All-Irelands as a player, eight more as a manager and lived the sort of life that mere mortals can only dream of. Football, along with family, was his constant and in 2015 he guided Waterville's Under-14s to a South Kerry League title. It's in his blood and always will be.
I've packed everything I wanted to into the 82 years that I have spent on this planet. I've enjoyed every moment of it - Mick O'Dwyer
He has no intention of leaving us yet, but when he goes he wants to be watching football. "I'd like to be on the sideline or in the stand watching and drop dead - that's the way I'd like it to happen," he reveals on camera. "I'd be quite happy if that happened. But not yet for another while."
He continues: "I don't believe there is anything I love more than watching football. I'm addicted, totally addicted to the game. Sure I'm stuck in the bloody thing for the last 70-odd years so I'm afraid I'll keep at it now until I go into the grave.
"I had a marvellous run, but wasn't I lucky to be born in Kerry!" Micko will never lose that twinkle in his eye.
O'Dwyer's people came from the tiny island of Scariff, off South Kerry and he admits, with mock shame, that his family name originated in Cork - the county he often measured himself against. His father fought on the Republican side in the Civil War and it was him that bought Micko his first football.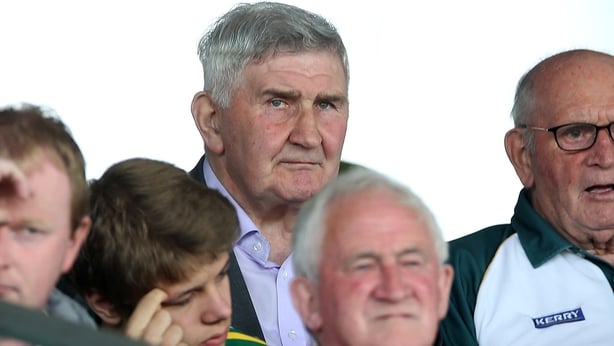 He was a born businessman. Over the course of his life he owned garages, pubs, hotels, undertakers and it was as a seven-year-old with that football he earned his first pay, charging boys to join in the game because it was the only ball for miles around in what were leaner times in Ireland.
Later business ventures meant that the first car he bought was a big Chevrolet imported from the US and he recalls getting it up to 180mph on the road to Dublin once. It's little surprise that he considered a sporting life in rallying ahead of football before his father advised him to answer Kerry's call, warning it might never come again.
Thus began more than 50 years virtually unbroken involved with inter-county teams. First with Kerry as a player and a manager, then to Kildare, Laois and Wicklow, working his magic and winning hearts wherever he went.
Micko, who is filmed smiling and saluting as he passes his own statute in Waterville, was good and he knows it. He can and will reel off his list of honours and it clearly still chafes that he was never honoured with an All Star and the fact that he was wasn't asked to manage Ireland's International Rules team by the GAA remains a sore point.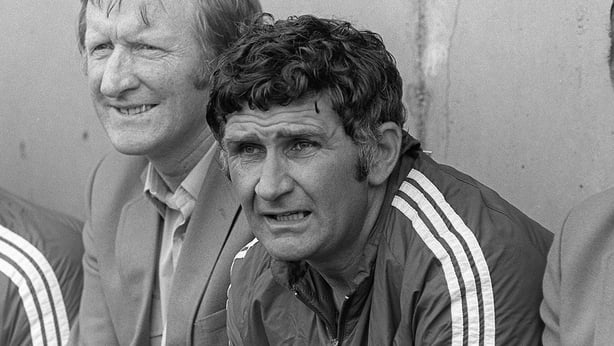 It's fair to say that he was never cherished by Croke Park in the way that other football and hurling legends have been. This may because Micko didn't always play by their rules.
As a self-confessed players' man he negotiated sponsorship deals with both sportswear giant Adidas and washing machine manufacturers Bendix that brought in in the region of £30,000. The £500 fines barely put a dent in the pot that funded round-the-world team trips.
And like most sportspeople, he remembers the bad days far more vividly than the good.
He speaks passionately about playing the Dubs and winning at Croke Park. When losing comes up though, he darkens. "Bang, back of the net. A little nudge made history," he says, recalling Seamus Darby's controversial goal for Offaly which ended the Kingdom's five in-a-row dreams in 1982.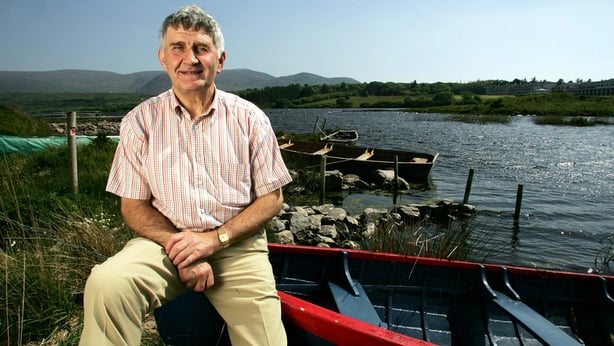 The death of his wife Mary Carmel, mother of their four boys, in 2012 took much of the spring from his step and he was never quite the same since. His bad left hand means he can't play the accordion or golf any more and his voice is weak from deacdes of roaring on the sidelines.
Micko, who turns 82 in June, curses old age like most who have lived long enough to experience it. But he isn't a man that can be kept down, even now in the winter of his days.
He said: "I've packed everything I wanted to into the 82 years that I have spent on this planet. I've enjoyed every moment of it. I've done everything I wanted to do. I did it all and I got great enjoyment out of it. I wouldn't change it for the world."
Micko will be broadcast on RTÉ 1 and on the RTÉ Player on Monday, 8 January at 2135.
"I'm totally addicted to the game... I'll keep at it until I go into the grave"
'Micko' - Watch the new documentary on the life of the Kerry great on RTÉ One on Monday 8th January, 9.35pm pic.twitter.com/uMW55UT9mq

— RTÉ Sport (@RTEsport) January 4, 2018