Joe Canning admitted he feels uncomfortable being defined solely by his ability with a hurl in his hand, and opened up on the huge burden of expectation he's been shouldering since the age of 19.
Canning has enjoyed a remarkable year with the Tribesmen, ending a 29-year wait for Liam MacCarthy thanks to a three-point defeat of Waterford in September and turning in a string of superb performances en route to the holy grail.
The 29-year-old exploded on to the scene back in 2008 when he bagged 2-06 in a stunning Championship debut against Antrim.
Galway's great hope suffered some tough times with his county thereafter.
He lost All-Ireland deciders in 2012 and 2015, and felt the strain of the hype that surrounded his breakthrough.
"(The pressure) was probably coming from the media, the supporters, you could hear it in the crowd even," he told The Late Late Show.
"I feel uncomfortable when they call me 'Joe Canning the hurler'. I'm an amateur at the end of the day."
"You learn to live with in a way. The good days are good but the bad days are obviously worse than that.
"I was very uncomfortable with (the hype). Your face is on the side of a bus and it's driving around Ireland! It added on the pressure.
"It probably put more expectation on me than I realised at the time. I was 19 years of age. When we weren't winning then for the next couple of years it felt like maybe I was expected to score 2-12 every day. It's obviously not as easy as that.
"I don't see hurling as my first thing. I see myself as a family person and that's what my family see me as. They see me as Joseph more so than Joe.
"Hurling doesn't define who I am. I feel uncomfortable when they call me 'Joe Canning the hurler'. I'm an amateur at the end of the day."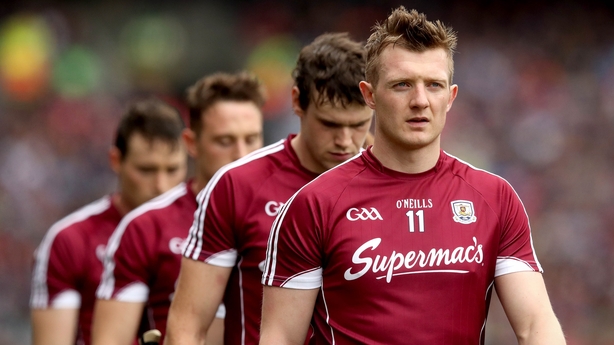 Galway's reunion with Liam MacCarthy triggered an outpouring of emotion and celebration out west.
Canning admitted that there were days he thought the big one would never come, while also stressing his belief that professionalism in the sport would shatter the precious bedrock of community that leads to the special scenes witnessed at the team's homecoming in September.
"You always had doubts. It'd be easy for me to say now after winning it that I always knew it was going to come, but no, you definitely had doubts. Ollie, my brother, lost two All-Irelands as well.
"Looking at him hurl for 14 or 15 years; he didn't win it. It wouldn't have defined me.
"I'd love to be professional, definitely, 100%. I'd love to do it every day... but that's just the way it is.
"To be honest I wouldn't change it. I wouldn't like to see it going down that road because it would lose our heritage in Ireland especially. It wouldn't sit right with me. It would lose the community spirit."