Stephen Cluxton's current kick-out strategy can be traced by to 2008 and Pat Gilroy's management team, according to former Dublin team-mate Eamonn Fennell.
The five-time All-Ireland winner has been the benchmark for the modern-day football goalkeeper, with many crediting his rapid re-starts, pin-point accuracy and ability to find space as key factors in transforming the way net-minders are judged.
The 36-year-old made his Dublin debut in 2001 and for the majority of the decade, focused on the traditional long kick-out strategy, before a change of management in 2008 altered Cluxton's role.
Speaking on RTÉ Radio 1's Saturday Sport, Fennell credits Pat Gilroy and Mickey Whelan, as well as Cluxton's hunger to succeed, for the shift in approach.
"When I got brought onto the Dublin team in 2005, it was Darren Homann, Ciarán Whelan, Shane Ryan, Darren Magee and John Coughlan and myself," he told listeners.
"All big ball winners, so Stephen was right to be kicking long.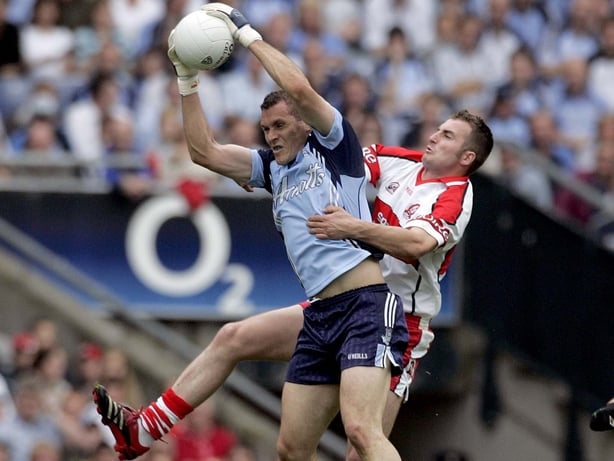 "When Mickey and Pat came along and they changed the tactics. As midfielders we were very stationery when we were going for the ball and Pat wanted to bring a lot more movement into our runs and how we were creating the breaks.
"In order to do that, Stephen couldn't be as obvious as he was with his run ups. His run-up was just two or three steps, right in front of the ball, he didn't know if he was going left or right, and then he perfected his right foot so he could kick off both.
"It threw people for six for about two years. No-one could really get a hold of it."
The St Vincent's used the example of the 2014 All-Ireland Final, where Donegal goalkeeper Paddy Durcan's mistake led to a crucial goal for Kieran Donaghy to propel Kerry to victory as an example of the potentially high-risk strategy of the short kick-out strategy and the responsibility on the out-field players.
"A very simple mistake can cost you a goal if the runs aren't made the right way," he said. "It's all about the runs, but Stephen perfected it.
"If you look at Dublin over the last few years, Dermot [Connolly] and Flynner [Paul Flynn] at wing-forward were winning 80% of the kick-outs rather than whoever was in midfield. Whoever is making the right run gets the ball."