Galway hurling manager Micheál Donoghue has his eyes firmly on 2018 and knows that his All-Ireland winning side will have a target on their backs next year.
They beat Waterford in the All-Ireland final in September to claim the Liam MacCarthy Cup for the first time since 1988.
However that victory is in the past; the management team met a couple of weeks after the final and plans are in place for the season ahead.
"We go back training next week and our whole focus is on 2018," Donoghue told RTÉ Radio 1's Sunday Sport.
"This year's championship is resigned to history. We are mindful that the standards we set last year need to go up a few gears and that starts with ourselves and what additions we can bring to the table.
"The players are in the fortunate position now they know what it takes to win an All-Ireland, they know the hard work they need to put in and we realise now that there is a target on our backs next year because we are the All-Ireland champions."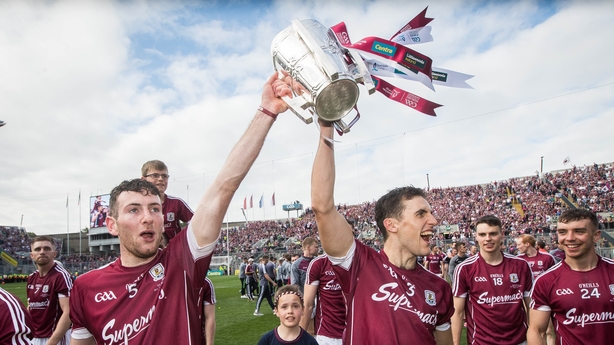 Donoghue isn't just focusing on retaining Liam; he is looking at the bigger picture which includes creating a legacy and a culture for Galway hurling.
"Winning was great but it's the first step on a long journey, we want to keep our place at the top table," he added.
"It will take huge commitment and investment in structures and facilities, it will take a lot of humility sweat and hard work.
"It's not about one person, it's about creating a culture, counties like Kilkenny, Cork and Tipperary have traditionally set the standard, that's were we want Galway to go.
"Collectively we have to have the same mindset and want to achieve the same things because it has taken 29 years to get there.
"I have said many times if you put your hand up to do a job, no matter what it is, county board, management, the players. You need to understand the responsibility you have in representing Galway.
"Everybody that puts up their hand has to leave a legacy and people have to understand that we are really passing through and we have to leave it in a better place than we got it and that is what we are trying to do."
When it comes to his plans for next year Donoghue is hopeful that Johnny Glynn will be part of them and admitted that discussions with Glynn are ongoing and he is doing everything he can to get him back from America.