In November 2010, a group of friends gathered to hold a month's mind for an St Oliver Plunkett's clubman.
They drank beer, shared stories and toasted to the man who had collapsed and gone into cardiac arrest during a game of five-a-side.
There was a defibrillator at the club on the day of the incident, and a fireman nearby who knew how to operate it. That defibrillator, however, was down to its final blast and chances of survival were minimal.
But here's the thing. He didn't die.
His heart stopped beating for almost five minutes, but that final charge in the device was enough to prevent a fatality. And the fireman - who does work at the club once a month - just happened to be there on that occasion.
All those factors aligned to rescue a 30-year-old Seaghan Kearney from premature death, and mark the rebirth of his life.
The month's mind enabled Kearney and his friends to address the issue properly and get some closure before moving on with their lives. The chats were infused with some black humour, but Kearney explains to RTÉ Sport how that helped him to process what had happened to him.
"We decided to have a few drinks, they all told their stories about what happened that night and the experience they went through," he says.
"The lads said that they were asking if I was going to live or was I dead"
"A lot of it was funny, like the lads said that they were asking if I was going to live or was I dead and Dad came in and said,' lads I hope ye have tickets on yer cars because if you don't, you're going to get clamped.'
"One of them said, 'imagine going out finding out your friend has just died and you go out and your car is clamped?' But all that stuff did help and we kind of agreed that night that that's it, we're going to draw a line under it and just move on as normal."
Kearney was diagnosed with hypertrophic cardiomyopathy, a heart condition that is most commonly associated with Sudden Adult Death Syndrome (SADS). According to The Mater Foundation, it's believed that 1 in 500 people are affected by this heart defect.
There were some initial concerns about brain damage, but aside from some short-term memory loss, Kearney made a full recovery and has resumed living a full life. An internal device was later installed that will automatically trigger into action in the event of another cardiac arrest, which brings an added comfort for him.
But after hurdling all of those obstacles, Kearney was told the devastating news that he could no longer play football.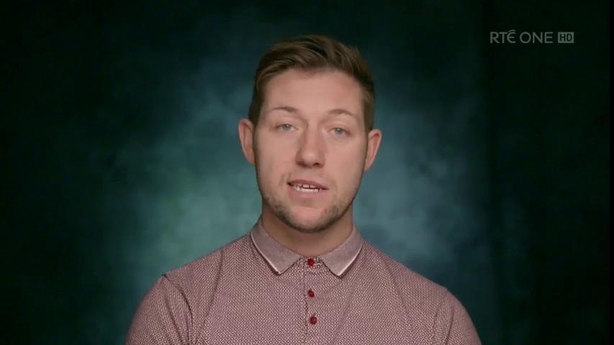 "When the doctors were talking to me, that's all I heard in the hospital was 'you can't, you can't, you can't.' And it was difficult initially to process that.
"When sport is such a big part of your life and exercise and being part of a team, you're kind of saying to yourself, 'what am I going to actually do with my life?'
"How I dealt with it was I kind of saw these problems that were confronting me as like open boxes and I had to put lids on all these boxes.
"But things worked out and I dealt with all that initial stuff and then St (Oliver) Plunkett's came along to see would I get involved with the senior team in terms of doing stats and I knew very little about it but it was manna from heaven really for me and it brought me on a journey that I would never have envisaged."
Kearney's work in stats and analysis has brought him into contact with a number of successful teams and managers at both club and inter-county level. His achievements include All-Ireland titles with Dublin Under-21s and senior football teams, which included working alongside Jim Gavin.
"I'm not sorry it happened"
He has been with the Cuala hurlers for the last 18 months and viewers of the recent RTÉ documentary 'Blues Sisters' will recognise Kearney as the team analyst for the 2017 All-Ireland-winning Dublin ladies footballers.
"Out of something terrible," says Kearney, "something really good happened to me and something really positive in terms of the involvement with all these different teams and the experience of both winning and losing. You learn from it all and certainly, every cloud has a silver lining.
"If this thing didn't happen to me, I probably wouldn't have had all of those experiences and my life would be completely different. I'm not sorry it happened.
"When I was young, I always dreamed of being involved with a Dublin team that would win an All-Ireland.
"Obviously, I never thought it would be on the other side of the fence but that's the way it worked out.
"Bernard Brogan said to me, 'it's just as well you came through that door with a clipboard, because you weren't going to come through with a pair of boots.'
"And the lads were slagging me as well, saying 'you thought that finished your career, your career was well over before that happened to you'," he laughs.
Looking more specifically at some of his duties within the squad, Kearney uses his skills as a maths teacher to help identify strengths and weaknesses in both his own team as well as in the opposition. Through collaborating with team management, Kearney also helps set match-related targets for the team.
During the game, he is in constant communication with the sideline and relays relevant information that can help them make tactical decisions.
Following a half-time debrief with management, Kearney also speaks to the players about areas that need improvement for the second half.
There are a lot of boxes to be ticked in a short space of time, which can make for some hectic activity during the half-time break.
"I suppose there's a bit of a scatter down to the dressing room," Kearney explains.
"There's four of us watching and you want to gather everybody's thoughts, but you've a very finite window to deliver that information. And there's so much other stuff going on at half-time, injuries, substitutions, all these other bits and pieces, so your message has to be punchy and it has to be to the point.
"You learn what the salient points are and you give them in as punchy a format as possible so that they can decipher it and we can deliver it to the players."
This group of Dublin footballers is the first ladies team that Kearney has offered his stats and analysis services to.
As a fellow Dub, he wanted to help the players avenge the hurt that three consecutive All-Ireland defeats had inflicted on them, and although he wasn't aware of the commitment levels involved in Ladies football, he soon figured all that out after he came on board.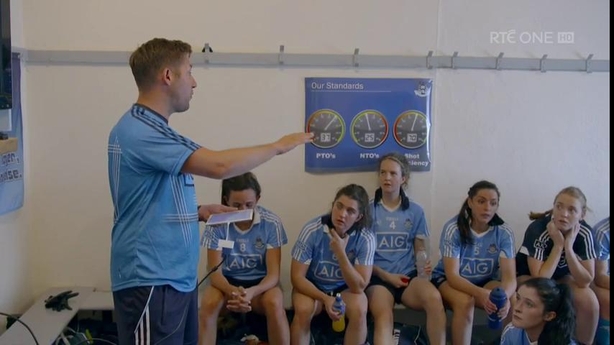 He was pleased with how 'Blues Sisters' was produced and the image it portrayed of the team. Along with offering viewers an insight into how Dublin prepared for games throughout the season, the documentary also included some personal stories from the players.
Sinéad Finnegan spoke of the tragic loss she experienced following the death of her father, while Nicole Owens opened up about how her team-mates helped her in her battle with depression.
Kearney was proud of his players for the openness and honesty they showed in the programme.
"Every individual has a story," he said, "and the amalgamation of all those stories together is what makes the group special and unique. That group of Dublin ladies are a very unique and special group. I think they spoke very eloquently, honestly and openly about their experiences.
"Again, you would hope that that might help somebody else, that this is a good positive story through sport and that it might resonate with somebody to help them with whatever difficulties or demons they may face."
Kearney has dealt with the trauma that almost cost him his life and is enjoying the new opportunities and challenges that have stemmed from the ordeal. Along with the stats and analysis work, he's the proud father of a little baby boy named Ollie, who is ten-and-a-half months old.
And fireman Terry O'Brien, who saved his life, remains a close friend. In fact, the pair are going to the gym together after this interview.
Other SADS cases inevitably come up now and again, which naturally conjures up memories of Seaghan's incident, but he refuses to let his health scare define him.
He has recounted his story many times in the past but is always open to reliving the incident again in the hope that it might help someone else in a similar position.
"The only reason I tell it is that I've been contacted by a lot of people whose family may have gone through this, who have lost loved ones through this, who have loved ones who have suffered and to have survived and are finding it difficult.
"I suppose I would always credit Cormac McAnallen [the Tyrone captain, who died aged 24 in 2004] and his family with helping to keep me alive because his story had the defibrillator there and that certainly kept me alive.
"And the reason I want to tell the story when the opportunity arises is that it might help somebody else, be it getting defibrillators into schools, be it somebody who is having difficulties dealing with the fact that that's happened and 'now what do I do?'
"It might give them some sort of chink of light. It might help somebody."
You can watch the 'Blues Sisters' on the RTÉ Player here.