Former Tyrone star Sean Cavanagh says he's "still living the dream" after winning the Ulster club intermediate football title.
Cavanagh scored 0-04 for Moy as they edged Down's Rostrover 0-09 to 0-08 in the decider yesterday.
The three-time All-Ireland winner says the provincial victory is up there with any of the highs of his glittering inter-county career.
"I didn't expect this to happen and for it to happen, it has eased me back into club life," he told RTÉ Sport.
"Everyone tells me how hard it is to transition, it's not difficult at all right now because I'm still living the dream
and to be honest it's probably a bigger dream.
"This is as sweet as anything I've ever won. It's a different sort of winning. Okay, there might not have been 82,000 there, like at Croke Park, but it's every bit as sweet at the final whistle to have my now three kids come over to me.
"I don't have a lot of pictures around the house, if any at all, but that one will top them all"
"It was young Sean's first football game. No matter what happens I'll always be able to tell him that the first day he saw Gaelic football played, he saw his club win an Ulster club championship.
"It's been 35 years since we won any Championship in the club. My father played at full-back in the team and he's been talking about it ever since!
"My father, who won in 1982, uncles who are in their 70s and 80s. A really sweet achievement and one that I don't think has sunk in yet.
"I don't have a lot of pictures around the house, if any at all, but that one will top them all."
Cavanagh's side will face An Gaeltacht of Kerry in the All-Ireland semi-final, where he could meet some familiar faces.
"We'll have a good Christmas and enjoy the next few weeks but when we've come this far, and we're Ulster champions, we'll look forward to taking on a big team that has so much prestige and still a couple of Kerry players floating around," he said.
"I spent a long time soldiering against the likes of Marc Ó Sé. It'll be a different setting to what we're used to but I'm sure he'll be in the same situation as in it will mean every bit as much."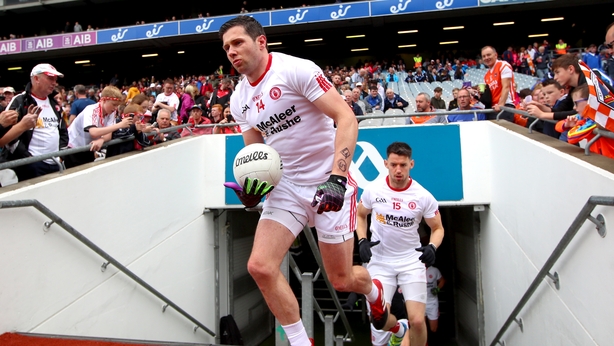 Cavanagh ended a 15-year stint in the Red Hand jersey following Tyrone's All-Ireland semi-final defet to eventual champions Dublin in August.
Beating the Munster champions would ensure an unlikely swift return to the pitch at headquarters.
"It would be nice. That's the dream.
"To come away from Croke Park that day at the end of August and step out of the inter-county spotlight and come back to my club, everyone was telling me how difficult it was going to be.
"If someone had said to me that day 'your club will go on and win Tyrone and finish the job in terms of the provincial piece' I would have taken it.
"I thought my Croke Park days were over when I walked off after 55 minutes of the semi-final this year.
"If I walk back with the club it would really be the icing on the cake in terms of my career."