All-Ireland senior champions Dublin lead the way with six representatives on the 2017 TG4 Ladies Football All-Star team.
It was a night of history at the Citywest Hotel when Mayo's Cora Staunton collected a record-equalling 11th award, to draw level with Kerry's Mary Jo Curran at the top of the roll of honour.
Dublin's haul of six awards matches their previous best on an All Star team – which was achieved in 2010 when they also won the TG4 All-Ireland senior crown.
Captain Sinéad Aherne received a sixth award – making her the most decorated Dublin All Star recipient in history.
Aherne is joined on the TG4 All Star team by Dublin team-mates Ciara Trant, Rachel Ruddy, Leah Caffrey, Nicole Owens and Noelle Healy.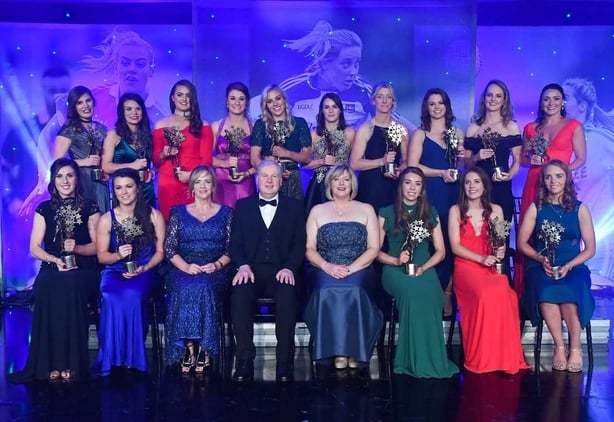 Aherne, Caffrey and Healy are the only survivors from the 2016 selection, as 2017 All-Ireland senior runners-up Mayo received three awards at the gala banquet.
Staunton, who will captain Carnacon in the All-Ireland senior club final against Mourneabbey on Sunday week, December 3, picked up her second award in three seasons.
She's joined on the All Star team by Mayo team-mates Sarah Tierney and Aileen Gilroy, who are first-time recipients.
In total, nine players were honoured on the selection for the first time, with two awards each for Donegal and Kerry, and one apiece for Armagh and Cork.
The Hegartys from Moville in Donegal, Ciara and Niamh, are the first set of sisters to be named together on an All-Star team since the Courtneys, Sharon and Cora, in 2013.
2017 TG4 Ladies Football All-Star team:
1.Ciara Trant (Dublin) – 1st award
2.Emma Spillane (Cork) – 1st award
3.Sarah Tierney (Mayo) – 1st award
4.Rachel Ruddy (Dublin) – 2nd award
5.Caroline Kelly (Kerry) – 1st award
6.Ciara Hegarty (Donegal) – 1st award
7.Leah Caffrey (Dublin) – 2nd award
8.Lorraine Scanlon (Kerry) – 1st award
9.Aileen Gilroy (Mayo) – 1st award
10. Aimee Mackin (Armagh) – 2nd award
11. Niamh Hegarty (Donegal) – 1st award
12. Nicole Owens (Dublin) – 1st award
13. Sinéad Aherne (Dublin) – 6th award
14. Cora Staunton (Mayo) – 11th award
15. Noelle Healy (Dublin) – 3rd award