Galway manager Micheál Donoghue said that he may have a chat with Johnny Glynn over the weekend at the AIG Fenway Classic about his availability for 2018 but stressed he won't be putting any pressure on the Ardrahan clubman.
Glynn, who moved to New York shortly after the 2015 All-Ireland final replay defeat to Kilkenny, commuted from the United States during the summer and played a key role as Galway ended a 29-year wait for the Liam MacCarthy Cup.
It remains to be seen if the 24-year old continues to cross the Atlantic as the Tribesmen defend their league and All-Ireland crowns in 2018.
Glynn will line out for Galway tomorrow when he makes the short commute up from New York to Boston to take part in the AIG Fenway Classic.
"We're having a chat and I'm sure we will again over the weekend," said Donoghue, when asked about Glynn's likely availability next season.
"He's in a predicament in that he's in a good situation with work, his employers are good to him, he's in a good position.
"We've had some discussions and I'm sure we'll have a firmer chat over Christmas. But for now, it's a matter of letting things run the way they are and we're not putting any pressure on him. It's only been a couple of weeks."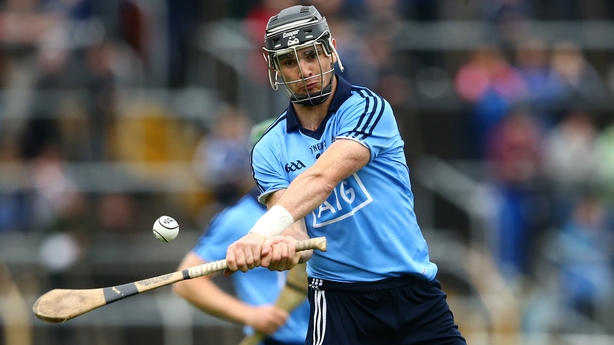 Glynn also played football for New York in the summer of 2016 and tomorrow will come up against Danny Sutcliffe (above), who also lined out for the exiles in 2017 against Sligo, and who has now returned to the Dublin squad under new manager Pat Gilroy.
The semi-finals tomorrow - Galway against Dublin (5.30pm Irish time) and Tipperary taking on Clare (6.30pm) - and the final, which starts at 8pm, will all be televised live, with TG4 showing the games in Ireland and NESN (New England Sports Network) broadcasting the games in the United States.
Galway manager Donoghue said that the experienced gleaned from two years ago when the Tribesmen defeated Dublin in the inaugural Fenway Classic, is a help as they prepare for these games under modified rules.
"The fact that a lot of our lads were out there previously and knew what it's like, they were delighted with the opportunity to get out there again. It's a great opportunity to play in Fenway, one of the most iconic stadiums in the US, so we're really looking forward to it," he said.
Tomorrow's game will be Gilroy's first match in charge with his new management team which includes former Galway manager Anthony Cunningham.
Donoghue, who took over from Cunningham two years ago, expects Dublin to be formidable under the new management, with the Tribesmen clashing with them in the spring in Division 1B of the national league.
"Both of their records speak for themselves, it's a massive opportunity for Dublin hurling to get someone of the calibre of Pat back involved, he's an astute person and I think he'll bring a lot to this Dublin team.
"And Anthony's experience is a good fit for them. We're looking forward to playing them, we'll face them in the league and the championship as well, we'll renew acquaintance," he added