Ireland's high-profile players saluted the International Rules after two hard-fought games with Australia, with captain Aidan O'Shea hoping it will end the debate about the future of series.
This morning's second Test in particular was a fine spectacle with over 30,000 in attendance in Perth as the hosts claimed victory in the final quarter, albeit it was 8,000 less than when a game was played at the venue in 2014.
O'Shea said: "We put ourselves into a great position going into the fourth quarter and we really felt we had them on the ropes. We lost our way a little bit and got a bit over-anxious at times.
"We gave them a lot of opportunities inside the 40 and in fairness to them they kicked a lot of good scores to take the lead again and invariably take the series.
"The basics of the game let us down. We were so eager to try and get that aggregate lead back. We will be disappointed when we look back at some of the simple mistakes that cost us.
"Anybody that was here today enjoyed that. I really enjoyed playing in that. At home I would say they enjoyed it the series too. It's not up for me to decide but I really enjoyed it. We should end the conversation, it's part of the calendar and we should get on with it."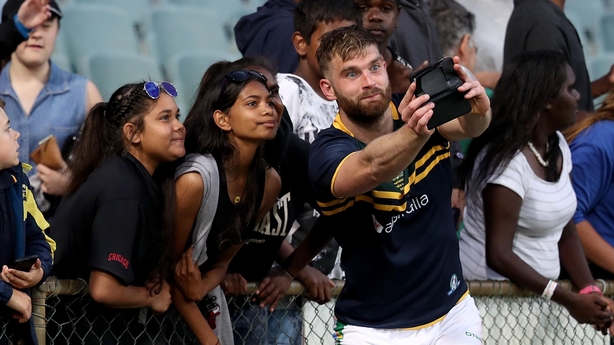 Monaghan's Conor McManus was voted as Ireland's best player of the two games and said he savoured the feeling today at the Domain Stadium.
"The atmosphere in the last quarter was pretty electric. It shows there is a gra (love) for the game here.
"There is a future in the series."
Donegal's Michael Murphy added that having two matches made the concept better.
"I really enjoyed the tour, the two games are a big thing as you areable to get your teeth stuck into the first game and knowing you have a second one and to play here in front of a huge Irish crowd.
"We toured well and we really got on well together."