Ireland manager Joe Kernan has heavily criticised the performance of the referees in the second International Rules Test in Perth.
The game was refereed by Laois man Maurice Deegan and Australian Matt Stevic. Ireland came up short losing 53-50.
Kernan's side started well, scoring two goals in the first-quarter but Australia finished strongly to claim the Cormac McAnallen trophy.
"I'll have to look at a lot of the refereeing decisions," Kernan told RTÉ Sport.
"Michael Murphy took awful abuse all day, a few decisions against us were costly. Aidan O'Shea got a forearm smash here in front of the dugout which nothing happened after.
"I think we need to look at the rules to see is it the right rules we are playing by or have things changed since we got the book a couple of weeks ago."
Kernan was particularly concerned by the treatment of Murphy who scored 20 points in the first Test in Adelaide which Ireland lost 63-53.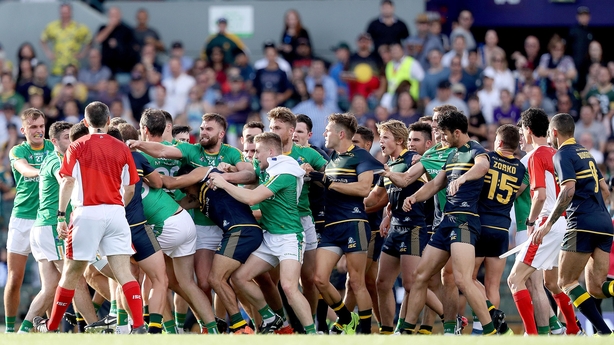 "Last week in the first game there were three frees given in our full-back line for off the ball pulling," continued Kernan.
"Michael Murphy was hit by everything bar the chairs in the stand today and I don't think he got a free inside 21 yards.
"There's something wrong here somewhere but until we look at the video and go through the whole thing which we will.
"We will send a copy to the AFL and the referees and to our own Maurice Deegan and I'll sit down with any of them and if we are wrong we will say we are wrong, what happened to Michael Murphy out there today wasn't right at all."
Despite the disappointment of losing both games Kernan did praise the performance of the Australians.
"Everybody here enjoyed the game, they were kept on the edge of their seats until the and end we were in with a chance of turning over the ten points.
"Fair play to Australia, they only had four men on the bench today, they lost a man and they kept coming and coming and that shows the character and professionalism they have and the fitness levels they have, they were composed when we weren't."
He also commended his own side: "The boys put in a fantastic effort and I thought we deserved to win it.
"They didn't do it in the end which is disappointing, the boys played some lovely football but we made a lot of mistakes in the last quarter, which we are badly punished for so it was disappointing."