Mick Morrissey has something of a dilemma.
The St Martin's chairman, whose side face All-Ireland champions Cuala today, is a former member of the south Dublin club.
In fact, he won three senior county medals with the Dalkey team, their first titles in 1989, 1991 and 1994. He also represented the Dublin hurlers back in the day.
So in Parnell Park, he'll come face to face with old team-mates and life-long friends.
He'll watch on from the stands as his current club, who beat Oulart-The Ballagh in the Wexford final and got a bye in the first round of Leinster, take on his old team in the Leinster club semi-final.
But that's not his dilemma.
Morrissey, who also hurled with Kilkenny and has an All-Ireland senior medal from 1992, will miss his daughter playing in a Leinster final due to a fixture clash.
As the ref blows the half-time whistle in Donnycarney, Dublin 5, Marie-Claire Morrissey will be ready for the throw-in for the St Martin's camogie team's clash with Thomastown of Kilkenny in the Leinster senior club camogie championship final in Dr Cullen Park, Carlow.
"My daughter is playing centre-back," Morrissey told RTÉ Sport. "It's breaking my heart that I can't go to it."
Netwatch Cullen Park, Carlow is the venue for the Leinster Camogie Final on Nov 19th. Throw in time is 2.30pm against Thomastown. pic.twitter.com/vyhZiKDQBe

— St Martins GAA Club (@StMartinsGAA) November 3, 2017
Even if family crossovers are common place on the club scene, Morrissey's dilemma is multiplied to an extraordinary level in St Martin's of Piercetown.
Maire O'Connor, the camogie manager who led the team to their first Wexford Championship, is a twin sister of the hurling manager, Tomas Codd.
Her daughters, Sarah and Ciara, are on the team, while son Joe lines out with the hurlers.
Emma Codd is on the camogie team and her brother Darren is in the hurling squad.
Barry O'Connor will be in Dublin, sisters Ella and Katie in Carlow.
Jack, Harry and Rory, the O'Connor band of brothers, are first cousins to Sarah, Ciara and Ella.
Conor Firman's sister, Lisa, will take on Thomastown, while Conor and his first cousins, Jake Firman and Aaron Maddock, are up against Mattie Kenny's men.
As if that wasn't enough of a bond between the sides, Lisa and Linda Bolger from the camogie team have been doing the hurling team's stats since the start of the year.
That's what you call a family affair.
It's a twin thing! Maire and Tomas with the Bob Bowe cup... both managed their teams to senior camogie and hurling county titles! pic.twitter.com/AW8IdRMriv

— St Martins GAA Club (@StMartinsGAA) October 22, 2017
Morrissey was half-hoping that, had Dicksboro beaten Cuala in the quarter-finals, an arrangement might have been reached with the Camogie Association to fix the semi-final for a location closer to Carlow.
However, a seven-point win for Cuala ended that possibility and as the camogie final is part of a double-header, it was decided not to look for a change where the association "would have to facilitate four teams" and instead let the players concentrate on the matters in hand.
"I've made my peace with my daughter," says Morrissey, whose wife will make the shorter journey up the N80 to cheer on Marie-Claire.
"She's happy enough; she's concentrating on her own job.
"As chairman, my first loyalty has to go to the club."
Indeed it was the Cuala connection that affirmed his choice of destination for today's games.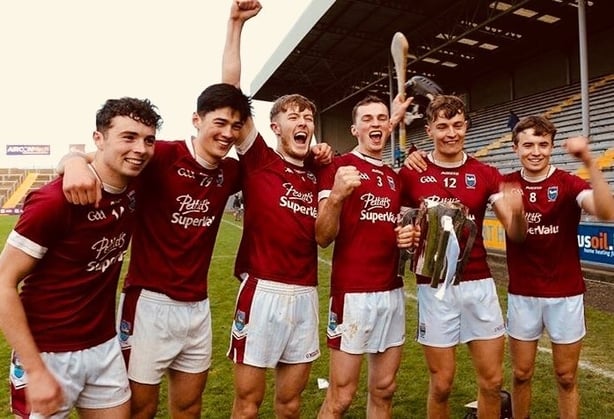 "Absolutely, [I have fond memories of Cuala]," he adds. "That's why it's even more difficult.
"I was half tempted not to go to this match and to go and support my daughter but the fact that Cuala are in the competition as well [helped].
"It would be kind of disrespectful to them not to go as well."
These situations can often get the blood boiling and, of course, there are some committee members that like nothing more than getting their teeth stuck in to a good old fixtures battle with the powers that be, but on this occasion St Martin's are not going there.
An acrobatic save from @magsdarcy to help @StMartinsGAA win their first @wexfordcamogie Senior title today. pic.twitter.com/lxdNHe2bsj

— Model County GAA (@GaaModel) October 7, 2017
"We're just getting on with it and not letting it interfere with team preparations," says PRO Cian Ó Lionáin.
"It does mean that many families in the club will have to divide and head in separate directions on Sunday morning but we know that this is a problem that every club in Wexford would love to have.
"Hopefully two positive results will allow us to get back on track supporting each team as one club."
That's what Morrissey is hoping for as well. Two wins from two and the St Martin's bandwagon can roll on.
He knows well that his hurlers, who rate county star Rory O'Connor as an injury doubt, are up against it.
"Rory would be a huge loss but I still think the lads will go up there and do themselves justice because they are a good team," he adds.