Ireland's international rules team may be ten points down but they are not out and manager Joe Kernan says he will embrace the challenge of trying to overturn the deficit in the second Test next week.
The visitors battled hard but in the end were comprehensively defeated by Australia in the Adelaide Oval and have a mountain to climb if they want to retain the Cormac McAnallen Cup.
"We are disappointed with certain aspect of the game but we are still in it," Kernan told Marty Morrissey, RTÉ Sport GAA Correspondent.
"The beauty of it is that it is two matches, it not like it was in Ireland two years ago when it would have been over by now. We will be ready for next week."
Ahead of the game several members of the Ireland team were struck with a vomiting bug and during the game Pearce Hanley suffered a hand injury, he has been ruled out with a suspected broken bone. 
Tomorrow Kernan will assess the status of those injured and unwell and decide whether he needs to call in replacements to bolster his side for the crucial second test. Then he will get to work on improving the performance.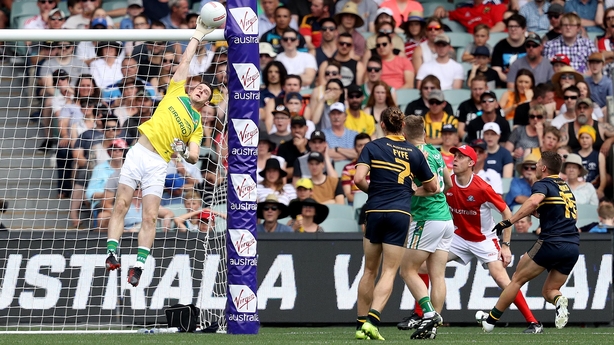 "Our passing wasn't as good as it could be and our finishing wasn't as good. We made a lot of mistakes, we know that.
"These are things we can work on, can we get better at our finishing yes we can, can we get better at our passing yes, will we field better as a team next week, yes we will.
"We missed three or four goal chances and normally we are more clinical than that. We asked them to go out and get four or five overs in the last quarter and they did that. They were running on empty at that stage so you can't fault them effort."