All-Ireland Senior champions Cork have dominated the 2017 Camogie All Stars team sponsored by Liberty Insurance, taking eight places on this year's selection.
All-Ireland runners-up Kilkenny received four All Stars, with semi-finalists Galway receiving two and Dublin completing the line-up with one.
Rena Buckley claimed her fifth award and was also named Player of the Year after becoming the first woman to captain Cork to both football and camogie titles.
Amongst the winners for the Rebels in defence were goalkeeper Aoife Murray, right corner-back and captain Buckley, left corner-back Laura Treacy, as well as Gemma O'Connor and Eimear O'Sullivan in the half-back line.
O'Connor was collecting a record 10th All Star Award to move her ahead of Wexford legend Kate Kelly at the top of the All-Stars Awards Roll of Honour.
Ashling Thompson was selected in midfield whilst in the forwards Katrina Mackey and Orla Cotter were selected in the half-forward line.
All-Ireland runners-up Kilkenny are represented throughout the spine of the team with Catherine Foley at full-back, Anne Dalton claiming a fifth All-Stars Award at centre half-back, Meighan Farrell in midfield and Katie Power at centre-half-forward.
Galway are represented by the Championship's top scorer Ailish O'Reilly at right corner-forward and Aoife Donohue at left corner-forward.
The team is completed with Dublin forward Aisling Maher rewarded for her key role in the Capital's run to the All-Ireland semi-final by being selected at full-forward.
Murray was named as Manager of the Year for the second time after guiding the Rebels to a record 27th All-Ireland title.
All of the winning Senior All Stars will be invited on the inaugural Liberty Insurance Camogie All Stars Tour to Madrid later this month to take part in an exhibition match against their 2016 counterparts.
2017 All-Stars
Goalkeeper: Aoife Murray (Cork) – 7th Time Winner
Right Corner-Back: Rena Buckley (Cork) – 5th Time Winner
Full-Back: Catherine Foley (Kilkenny) – 1st Time Winner (Won Intermediate Soaring Star in 2014)
Left Corner-Back: Laura Treacy (Cork) – 1st Time Winner
Right Half-Back: Gemma O'Connor (Cork) – 9th Time Winner
Centre Half-Back: Anne Dalton (Kilkenny) – 5th Time Winner
Left Half-Back: Eimear O'Sullivan (Cork) – 2nd Time Winner
Midfield: Meighan Farrell (Kilkenny) – 2nd Time Winner
Midfield: Ashling Thompson (Cork) – 2nd Time Winner
Right Half-Forward: Katrina Mackey (Cork) – 4th Time Winner
Centre Half-Forward: Katie Power (Kilkenny) – 3rd Time Winner
Left Half-Forward: Orla Cotter (Cork) – 5th Time Winner
Right Corner-Forward: Ailish O'Reilly (Galway) – 3rd Time Winner
Full-Forward: Aisling Maher (Dublin) – 1st Time Winner
Left Corner-Forward: Aoife Donohue (Galway) – 2nd Time Winner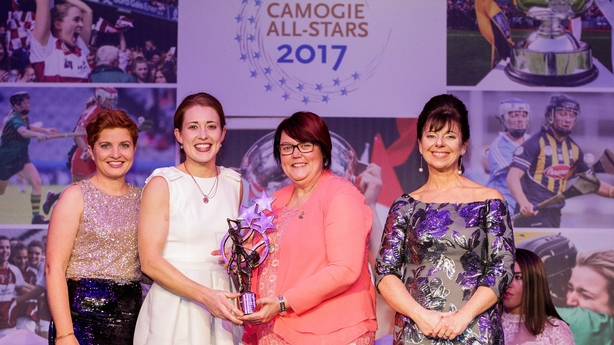 Manager of the Year: Paudie Murray (Cork) – 2nd Time Winner
Senior Players' Player of the Year: Rena Buckley (Cork) – 1st Time Winner
Intermediate Players' Player of the Year: Claire Coffey (Meath) – 1st Time Winner
Junior Players' Player of the Year: Aoife Bugler (Dublin) – 1st Time Winner
2017 Soaring Stars
Goalkeeper: Emily Mangan (Meath) – Intermediate – 2nd Time Winner
Right Corner-Back: Sarah Harrington (Cork) – Intermediate – 1st Time Winner
Full-Back: Claire Coffey (Meath) – Intermediate – 2nd Time Winner
Left Corner-Back: Niamh Ní Chaoimh (Cork) – Intermediate – 1st Time Winner
Right Half-Back: Emma Brennan (Carlow) – Intermediate – 1st Time Winner
Centre Half-Back: Sarah Buckley (Cork) – Intermediate – 1st Time Winner
Left Half-Back: Laura Doherty (Westmeath) – Premier Junior – 1st Time Winner
Midfield: Emer Reilly (Kildare) – Intermediate – 1st Time Winner
Midfield: Caoimhe McCrossan (Westmeath) – 1st Time Winner
Right Half-Forward: Megan Thynne (Meath) – Intermediate – 1st Time Winner
Centre Half-Forward: Keeva McCarthy (Cork) – Intermediate – 1st Time Winner
Left Half-Forward: Amy Gaffney (Meath) – Intermediate – 1st Time Winner
Right Corner-Forward: Aoife Minogue (Meath) – Intermediate – 1st Time Winner
Full-Forward: Jane Dolan (Meath) – 6th Time Winner – Intermediate – 6th Time Winner
Left Corner-Forward: Aoife Bugler (Dublin) – Premier Junior – 1st Time Winner