By Conor Kane
Dr Croke's 0-14 Clonmel Commercials 0-8 
All-Ireland club SFC champions Dr Crokes remain in the hunt for another title after producing a power-packed second-half display to dismiss the hopes of home team Clonmel Commercials in the Munster SFC quaretr-final.
Dr Crokes went into the game as fancied as 1/6 with the bookies, but once again had to start without star forward Colm Cooper, apparently feeling the effects of the injury which prevented him lining out at the beginning of the previous weekend's Kerry county final.
The first half made a mockery of those odds, however, as Commercials - the 2015 provincial champions - raced into an early lead and looked lively from the off, All-Star forward Michael Quinlivan getting one of their scores and generally a headache for the Crokes defence.
By the end of the opening quarter the home team were 0-5 to 0-2 ahead, with other chances having gone a-begging to register an even greater lead.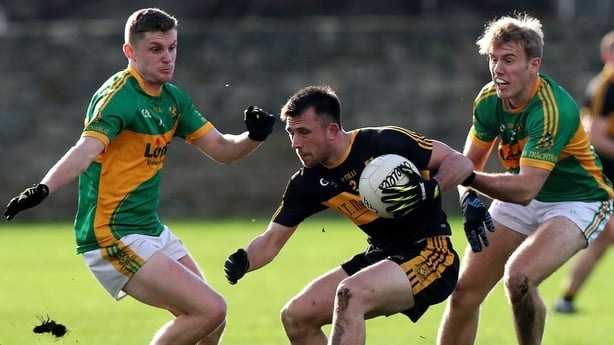 The Kerry champions came back into things with three points in succession from Daithi Casey, Johnny Buckley and Tony Brosnan to tie things up by the 21st minute, but that was their last score before the break as Kevin Fahey and Ross Peters struck back for Commercials to give them a 0-7 to 0-5 lead.
They also had a couple of half-chances for goals, the best when Quinlivan sent a killer ball into Jack Kennedy but Kennedy just couldn't turn properly and his attempt was stifled. They defended well, too, with Jamie Peters, Donal Lynch, Kevin Fahey and Kevin Harney all effective at closing down space as Dr Crokes persisted with their persistent build-up play.
Tony Brosnan started the second half with a quick point but Commercials were nearly in for a goal when Quinlivan found himself on the end of a sparkling move but saw his low shot blocked brilliantly by John Payne.
Within a minute of each other Jamie Peters (black) and Alan O'Sullivan (red) exited the scene after falling foul of ref Kevin Murphy, as the tension increased.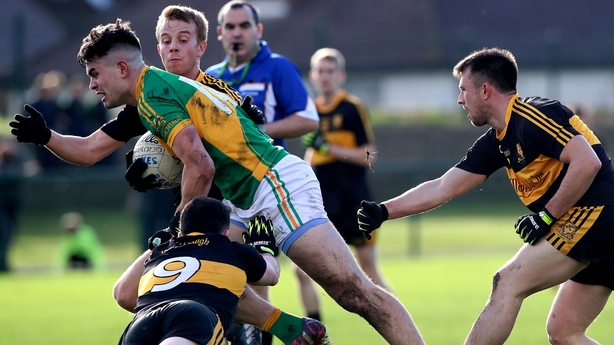 But Croke's were able to draw ahead, despite being down in numbers, with points by Kieran O'Leary and sub Jordan Kiely, before Richie Gunne's short-range score, and then powered on with five on the trot from Michael Burns (three times), Johnny Buckley and Daithi Casey in the last quarter.
In fact, Commercials only scored one point in the second half, despite their extra man, and had to rue a number of wides when they badly needed scores.
Scorers - Dr Crokes: Micheal Burns 0-3, Daithi Casey 0-3 (2F), Johnny Buckley 0-2, Tony Brosnan 0-2, Fionn Fitzgerald 0-1, Kieran O'Leary 0-1, Jordan Kiely 0-1, Paul Clarke 0-1.
Commercials: Ross Peters 0-1, Michael Quinlivan 0-1, Eoin Fitzgerald 0-1, Jack Kennedy 0-1, Kevin Fahey 0-1, Kevin Harney 0-1, Jamie Peters 0-1, Richie Gunne 0-1.
Dr  Crokes: Shane Murphy, John Payne, Michael Moloney, Luke Quinn, Shane Doolan, Fionn Fitzgerald, Gavin White, Johnny Buckley, Alan O'Sullivan, Micheal Burns, Gavin O'Shea, Brian Looney, Tony Brosnan, Daithi Casey, Kieran O'Leary.
Subs: Jordan Kiely for B Looney (36m), Paul Clarke for T Brosnan (42m), Eoin Brosnan for M Burns (61m), Ambrose O'Donovan for K O'Leaery (61m, bc).
Commercials: Michael O'Reilly, Jamie Peters, Liam Ryan, Donal Lynch, Kevin Fahey, Danny Madigan, Kevin Harney, Seamus Kennedy, Jack Kennedy, Padraig Looram, Jason Lonergan, Ian Fahey, Ross Peters, Michael Quinlivan, Eoin Fitzgerald.
Subs: Luke Moore for J Peters (32m, bc), Richard Gunne for E Fitzgerald (40m), Ryan Lambe for I Fahey (54m), Alan Lonergan for R Peters (54m).