Kevin McManamon has described Lee Keegan's infamous decision to throw his GPS tracker at Dean Rock before he hit the free that won Dublin the Sam Maguire as "genius".
McManamon collected his fifth All-Ireland medal when the Dubs edged out the Green and Red in September to claim their third crown on the bounce.
Rock swung a pulsating encounter with a free deep into injury time, but just before he struck the ball Keegan tossed his GPS towards the Ballymun Kickhams man in an effort to put him off.
Keegan received plenty of criticism when footage of the incident surfaced after the game, but McManamon laughed it off, and said players from every county pull similar stunts all the time.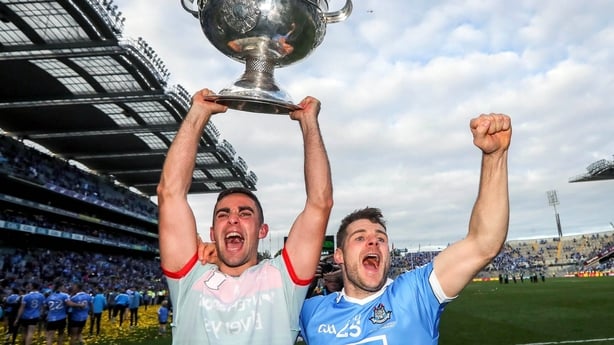 "Fair play to him. I thought it was genius!" he told RTÉ Radio 1's Saturday Sport.
"I remember thinking one day of throwing my gumshield at someone but I never thought about the GPS.
"You do what you have to do. It got blown out of proportion. We've all been doing that in every game for years and people mightn't catch you doing it. That stuff happens. It's all part of it."
McManamon said the Dublin players took extra satisfaction from seeing Rock nail the crucial score after his costly miss in the Allianz League Division 1 final against Kerry.
The Dubs' four-year reign as league champions and their 36-game unbeaten streak was ended at Croke Park last April, but things came full circle for team and player.
"I was delighted for Dean to get the winner after the league final. We took that hard.
"Kerry outplayed us that day... and Dean took a big hit at the end, hitting the post with a potentially equalising free. It was a nice little twist that he was the man who got us the winner against Mayo.
"We all have doubt, it never goes away, but it's the extent it can dominate or control you. That's what's changed.
"It was only a week or two after the final when people were saying 'three in a row' to you that it was like, 'Jesus we actually did something here that people are going to remember'."