Sean Cavanagh fears that the GAA's major overhaul of inter-county structures won't help club players at all.
Croke Park introduced radical reforms to the inter-county calendar at Annual Congress in February, shortening the season and adding more games at the All-Ireland quarter-final stage.
The month of April is now designated for club games only and with the All-Ireland finals brought forward to August clubs have from September onwards too - but Cavanagh isn't sure.
"I'm not convinced, I'll tell you the truth," said the recently retired Tyrone legend, who won Sam Maguire three times, All Stars and a Footballer of the Year award in a stellar career.
"Your focus as an inter-county player will always be on inter-county.
"You might get away in April for some club football and then from May to August or September with the county, which leaves one month, April, for the club season and then it will happen again from September onwards.
"Is this ideal? Probably not.
"It might only really hit home to me next summer when I'm looking at the longest period I've had without football in 18 or 19 years.
"My brother Colm will be heading off to training with Tyrone and I might be heading off on holidays to Spain so it might not be too bad!" he joked.
"I'm not convinced and this new Championship format leaves an awful lot of questions for me.
"I always knew it was tough to be a club player, to be in that scene, and I am going to find out what it's really like."
"Where does it leave the teams that aren't in the Super 8? Does it widen the gap? Should there be tiered systems? Where does it leave the club player?
"There are an awful lot of questions and 2018 will be a year of change and a year of finding out about the game as well."
The Allianz League will start earlier than usual next year, late January, and will be wrapped up to leave April free for clubs, with inter-county starting again in May and running until late August, though the 2018 All-Ireland final football is in September to accommodate a potential papal visit to the country.
Cavanagh, speaking to RTÉ Sport, said he doesn't think April is a great window for club games, particularly local championship clashes, as inter-county players will already have one eye on the summer.
"It's strange because once you are in that inter-county bubble it consumes everything," he explained.
"I played games with the club when I maybe had my eyes on other things - I'd have to admit that.
"I played every game, I never dodged a game, but I might have gone into it thinking 'we have a game against Donegal in two weeks, a huge game, let's not pick up an injury here'.
"I remember in 2003 playing a game two weeks out from the All-Ireland final, we were playing Omagh and most of my game was 'don't get injured Sean, don't get inured, there's an All-Ireland in two weeks'.
"I always knew it was tough to be a club player, to be in that scene, and I am going to find out what it's really like."
Cavanagh had immediate joy with his club Moy on retirement from Tyrone, winning the county intermediate title for the first time in 35 years and now has an Ulster campaign to look forward to.
"I'm still living the dream," he smiled.
Looking at Tyrone, he isn't as fearful for the future as some supporters in the wake of the Red Hand County's All-Ireland semi-final hammering by eventual champions Dublin.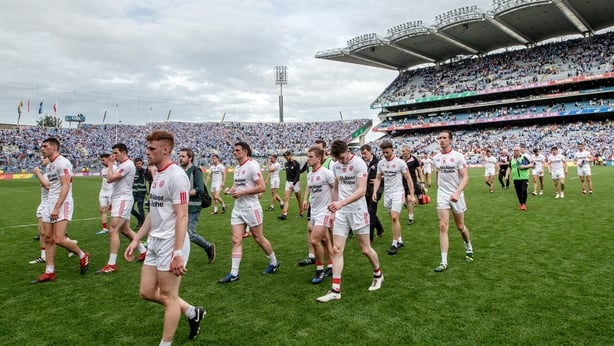 The Dubs won 2-17 to 0-11 with Tyrone barely laying a glove on them as they persisted with an ultra-defensive system even when they were lagging far behind.
"I believe we didn't do ourselves anywhere near justice in the All-Ireland semi-final. We were naive because we believed that system was going to win us that game," he said.
"Dublin got the start and went to town on us, getting the goal and then hitting us on the counter-attack, holding the ball with ease, which is something we had done with other teams.
"The system we were playing wasn't of use when we were behind in games - we were never tested in Ulster, rarely behind in games.
"Dublin got that lead on us and they were so clinical in their game management and it reflected badly on us.
"I think we have to be a wee bit more flexible and adaptable in different game-scenarios.
"As players, we completely [believed] that the game plan was good enough to win that game and to win an All-Ireland.
"I believe Tyrone and Kerry are close and I think 2018 will prove that.
"People talk about top four, but the likes of Galway have a lot of good players and could slip into it I think there's a top five or seven six there, not just a top two."