The meeting of Tir Chonaill Gaels (TCG) and Fulham Irish in the London SFC final will bring together two rivals bidding for the right to represent the Exiles in the Club Championship.
Tir Chonaill have improved as the season has developed and will take their place in their sixth successive final. Atonement for last year's loss is the number one priority.
Standing in their way is a Fulham side led by two-time All-Ireland winner with Down Greg McCartan and former Tyrone sharp-shooter Owen Mulligan, himself the possessor of three Celtic Crosses.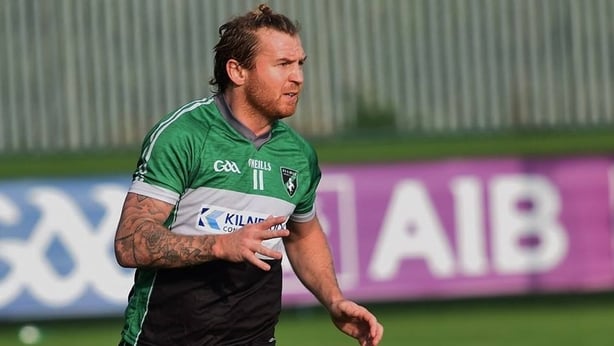 Lloyd Colfer is now in his third season in charge of Tir Chonaill and GAA is a full-time passion; the Wexford native is a Development Officer for the county.
Based in London for six years, Colfer has witnessed a big change in the GAA landscape in the aftermath of the economic recession; more people are returning home to Ireland. Added to that, the numbers arriving to the capital seeking employment is dwindling.
It impacts all 32 clubs scattered around the city, but TCG have put all their efforts into controlling the controllables.
"In the last few years we have put a massive emphasis on bringing through home-grown players," he tells RTÉ Sport.
The senior panel is almost an even split between Irish and English-born players.
Of the 31 players in the squad, 17 were born in Ireland. In last year's county final, five of the starting team were London-born, the same number as in this year's semi-final victory over St Kiernan's.
By day, Colfer is primarily concerned with the 14 London clubs that have underage set-ups and is driving progress at grass roots. The results are bearing fruit at adult level.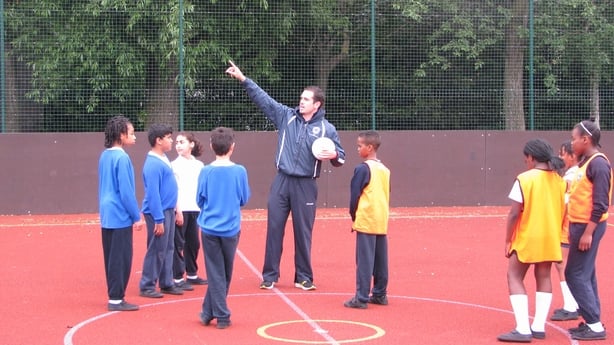 County London comprises of 8 clubs each in senior, intermediate and junior ranks, plus another eight in a "reserve" Championship which is made up of second teams.
"Tir Chonaill's second team is in the junior championship. We got special dispensation because our players in the second team are entirely home-grown, born and bred here in London.
"I like to think that they can see a clear pathway through and we are beginning to see the benefit of that.
"The standard at underage is really good and steadily improving."
One such home-grown player is team captain, and indeed London skipper, Liam Gavaghan.
With a father from Tourlestrane and a mother hailing from Swinford, he was entrenched in GAA from an early age. Gaelic Football was always the preferred sport.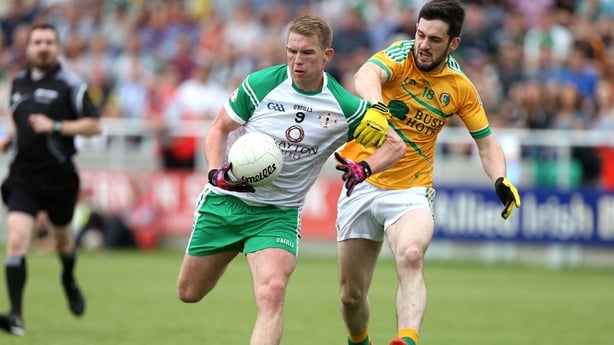 The towering midfielder refuses to let the anti-social hours of his job as an engineer on the London Underground get in the way of football commitments.
"It actually benefits me for training and I have got into a good routine. I go to training and start work at 11pm, and finish up around 6am. Then it's off to bed and get ready for the next training session or match."
"It's great to see Liam as captain," says team-mate Marty McCoy. "He's a local and a great lad. He deserves to be captain."
And McCoy should know, having passed on the captaincy role to Gavaghan.
Now in his sixth year with the club, McCoy's trip home to Armagh last weekend was a reminder of what winning means to a club as Armagh Harps secured a first county title in 26 years.
"I was going to do a John Terry just to get in the team photo," he jokes, and says the possibility of playing his home club in the All-Ireland series would be a "great problem to have".
Despite occasional views to the contrary, wing-back McCoy argues the dedication required in London is no different to the club scene back home.
"Some people have this idea that in London you'd be out on a Saturday night, but it's taken seriously at Tir Chonaill. The commitment is really strong."
While Tir Chonaill are well accustomed to showcasing their wares at the business end of the season, it has by all accounts been a bit of a slow-burner in 2017.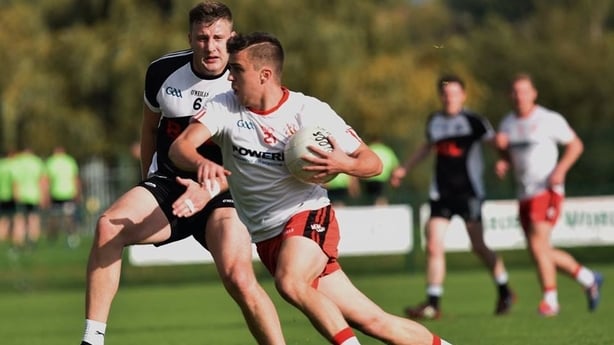 Six of their opening 10 games ended in defeat, while the absence of six county players at different stages hampered continuity.
Throw in injuries to the mix and it's clear that the club has improved from the two early season competitions, through the League and finally the Championship, which sees the top two from two groups of four progress to the semi-finals.
The presence of Mulligan adds more colour to proceedings on Sunday, and highlights that in the transient nature of London GAA, it remains all about connections.
"There's no catchment area as such, it's not like the parish at home," Colfer explains, "if the person is working with someone involved in the club, they usually play with the club, regardless of where they live in the city.
"It is basically who you know."
"We try to make it feel like it is home and part of something worthwhile" - Lloyd Colfer
The club is in the enviable position of owning its own clubhouse and pitches in Greenford. Dinner is provided for players after training and every year the panel receives new gear for the season.
"We try to make it feel like it is home and part of something worthwhile. All those things cost money, but we have great people involved."
Some of those people include a sports scientist and physio from QPR, while performance analyst Jennifer Cody was part of Anthony Daly's backroom team during his time in charge of Dublin.
Other factors work against the London clubs.
Location is an obvious consideration as meaningful challenge games can be difficult to arrange.
"It's like we're in training for a big boxing fight" - Marty McCoy
There is also the lack of provincial competition. The winners on Sunday will have to wait around for the right to play a provincial winner in the All-Ireland quarter-finals.
It has added to the difficulty in taking on the likes of Dr Crokes, Corofin and Clonmel Commericals in recent years.
"It's a great challenge," says McCoy. "Clubs in Ireland have come through a province where they have had three or four games, whereas we have won in London and are waiting around for seven or eight weeks. It's like we're in training for a big boxing fight."
Right now the focus is firmly on Sunday and Fulham Irish.
Gavaghan is playing in his sixth straight decider but the candle for success burns as strong as ever.
"We sat down four or five months ago and discussed where we wanted to achieve and now we are in another final.
"There is a lot of excitement around the club and we're hopeful of putting in a performance."
A clash of the Gaels awaits.
London SFC final, Tir Chonaill Gaels v Fulham Gaels, Ruislip, 2pm