New Dublin hurling boss Pat Gilroy is confident his lack of inter-county experience with the small ball won't be a hindrance to the Sky Blues.
Gilroy won All-Ireland titles as a player and manager with the Dublin footballers but will take charge of an adult hurling team for the first team at Liam MacCarthy level.
"It means a lot to me. Hurling means a lot to me, my county means a lot to me," he told RTÉ Sport at the Croke Park launch of next month's Fenway Hurling Classic and Irish Festival in Boston, which will see Dublin, Clare, Galway and Tipperary compete in an 11-a-side version of the game.
"I wouldn't say I'm a hurling man or a football man, I'm a GAA man. Camogie means a lot to me because I've a daughter who plays that too.
"Being involved with a group of lads who are all going for common purposes is very rewarding and it's great to do it for your own county."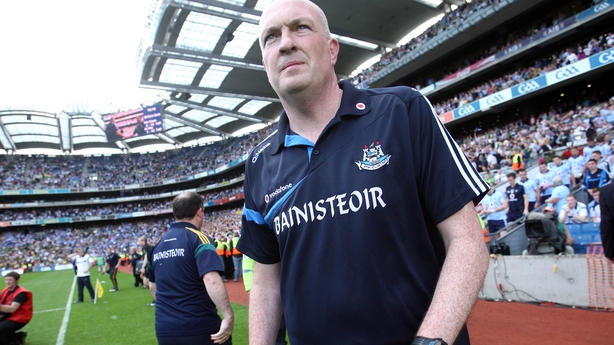 The St Vincent's man made a handful of appearances for his club's senior hurlers as a 19-year-old before being called up to play football with Dublin's Under 21s but he insists that he has always been a student of the game.
"I study hurling a lot and I suppose maybe if you weren't that good at something, you try to figure out what people are doing. 
"I would have managed a lot of hurling teams but all juvenile hurling teams," he adds. "The kids don't answer you back as much as the inter-county fellas.
"Actually, there's quite a lot of similarities to when you're doing juvenile teams to when you're doing adult teams. Same principles apply, really. The level of analysis that goes on is at a different level than when you're involved with club teams - whether that's juvenile or senior club teams.
"You, obviously, have a hell of a lot more help when you're doing an inter-county team. You have a lot more people to do all of the jobs that you have to do when you're doing a juvenile team."
Who exactly will be offering that help remains to be seen. Former Galway manager Anthony Cunningham has been hotly tipped to come on board but though Gilroy says he "almost" has a team assembled, he's staying tight-lipped until he consults with the county board.
"You have to have experts there as well who you rely on, but you also have to tell them what you want and what you're looking.
"I suppose a manager's job is to make sure there's a certain direction that you're trying to achieve and then everybody knows then with their own particular job how they can get you towards that direction."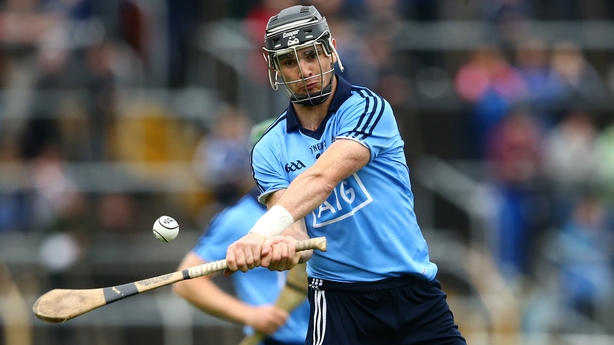 Although Gilroy's clubmate DIarmuid Connolly this week poured water on the prospects of a switch to the hurlers, Dublin fans will be hopeful that the likes of former All-Star Danny Sutcliffe and the Schutte brothers might be tempted back to the fold.
Gilroy says he hasn't spoken to any players yet, preferring to allow the Dublin championship to take its course before starting with a "blank sheet", but he emphasised that he wouldn't be chasing anyone who wasn't totally committed to the cause.
"It has to be fellas who want to play and that are keen to play. You want to have the best ones available who really want to be there. That's the bottom line.
"There's a lot of good hurlers out there. Some of them for whatever reason haven't been playing over the last few years. If they want to play and they're good enough, everyone will have a chance. 
"Danny is an outstanding hurler, there's no doubt about it. I think he's still abroad but I think he's intending to come back home. If he's back home and he's hurling with his club and he wants to play and if he plays like anything he did before then he'd be a fella you'd definitely want to have."
"To get consistency and be up at that level getting into semi-finals regularly should be the ambition"
As for his ambitions for a team that have struggled to live up to the promise of what seemed a breakthrough, Leinster-winning season in 2013, Gilroy is targeting a higher profile and a regular place at the business end of the Championship.
"Dublin have been competitive over the last 10 years in hurling. It's not like we're at the very bottom. When a team transitions though, it can be difficult.
"You can count it and just say success is winning All-Irelands. But, for me, success would be in the three years that we play our best game as our last game of the championship.
"If we perform to our absolute best, then you can't do anything more than that. I had great years as a player with my club where we really gave everything and lost a final by a point, but it was nearly as good as success because we couldn't have done anymore. We left everything on the field. 
"If we got that, then I think that would help Dublin hurling in terms of  getting more long-term success and becoming a more traditional top-four team. To get consistency and be up at that level getting into semi-finals regularly should be the ambition. 
"There are so many kids playing hurling here and they need to have a place to go and believe that Dublin guys can achieve at the very top."