New Kilkenny U21 manager DJ Carey said the county needs to adapt in the era of sweeper systems and disclosed that he intends to sit down with Brian Cody to discuss their evolving style of play.
The five-time All-Ireland winner was appointed Kilkenny U21 manager last night, succeeding Eddie Brennan who led the U21 side to the All-Ireland final in September. 
Carey has been coaching IT Carlow in the Fitzgibbon Cup for the past four years - a job he will continue to perform - and says that Kilkenny have to move with the times rather than blindly clinging to the 'traditionalist' template.     
"We in Kilkenny have had a great time and it's been brilliant. But there is a slight fall-off there because we think, 'oh, we don't need to do a sweeper system, we don't need to do this, we don't need to do that, we're Kilkenny, we're traditional.'
We need your consent to load this SoundCloud contentWe use SoundCloud to manage extra content that can set cookies on your device and collect data about your activity. Please review their details and accept them to load the content.Manage Preferences
"But, you know what, I'm involved in the Fitzgibbon Cup the last four or five years and the game is changing. And we have to go with the change, not necessarily the whole change, but we have to go with it. And players have to buy into that.
"And from my point of view, hopefully I'll sit down with Brian (Cody) in the next week and we'll talk about it.
"Because we need to know what way our minor team should be playing, we need to know what way our U21 team should be playing so that we're prepared to play senior."
Kilkenny departed the senior championship on 9 July, the earliest they have been dumped out since the final year of the old straight knockout format in 1996. 
They were knocked out of the Leinster championship by Wexford for the first time since 2004 and, following an unimpressive win over Limerick in a qualifier in Nowlan Park, they were beaten by Waterford after extra-time on a dramatic evening in Thurles.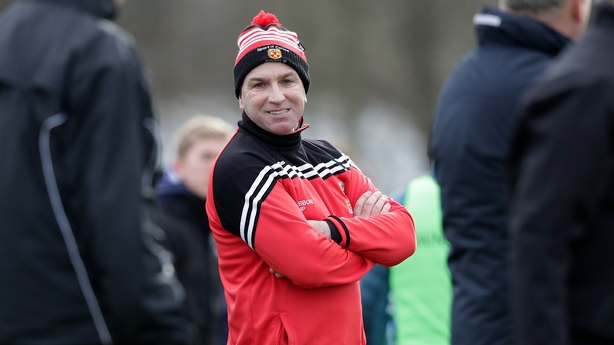 Many observers, including some in Kilkenny, concluded that the sun had set on the Cody empire, at least for the time being. 
Kilkenny may be in for a few years of quiet transition, away from the bright lights of All-Ireland finals and semi-finals.  
Carey accepts that Kilkenny are presently "in a lull" but stresses that there is still oodles of talent in the county. 
He said: "There's loads of talent in Kilkenny. The senior team was not a million miles off it this year, even though we're in a lull. And we are (in a lull). 
"Look, you can't always have the same success we had over the years. There has to be a certain lull. We took the success when he had it and that great team won as much as they could. And that was brilliant.
"Now, it has to be redeveloped. There's a lot of very good players in Kilkenny. We were beaten in a minor All-Ireland semi-final by a point by the All-Ireland champions and we were in an All-Ireland U21 final this year and with eight minutes to go we were four points down against an excellent Limerick team."   
Carey says he is no interest in personal glory and he's solely interested in helping his own county achieve success.
"I took a role in Kilkenny football two years ago, and I'm still doing it, so that we wouldn't be hammered in football. So, it's not a glory thing to All-Irelands or anything.
"I'm passionate about where I'm from and I'd rather be doing U14 football in Kilkenny than doing senior in another county.
"And that's why I'm delighted and honoured to be asked and to be doing the job now. Whether it transfers into success or not, that's another story."