Newly appointed Fermanagh manager Rory Gallagher has revealed that members of the team contacted him about the role and that the different dynamic in his native county appealed to him.
Gallagher stepped away from Donegal in August with one year remaining on his term as manager.
Donegal have been going through a period of transition since the retirement of several experienced players, including Paul Durcan, Eamon McGee and Rory Kavanagh.
"A few Fermanagh players touched base with me," Gallagher told RTÉ Sport.
"There was a couple of other things out there that you potentially could have went for. I was going away on holidays and I said I'd have a think about the Fermanagh thing.
"What might appeal to you is that it was a slightly different dynamic than Donegal. A lot of the core Fermanagh players are in the age group of 22 or 23 to 28.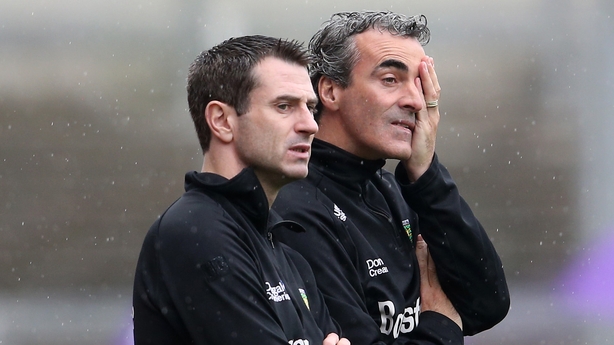 "They would have felt they didn't perform as well as they would have liked to in 2017.
"I would have thought from the outside looking in that Fermanagh were operating at a fairly good level in 2015 and 2016.
"Obviously, Donegal played them in 2016 and I would have done a lot of research on them and I thought they were performing at a good level.
"Look, it's your home county and there's always something in your head that you want to do so I said I'll do it now for a couple of years."
Gallagher was involved with Donegal for seven years and was a selector with Jim McGuinness when Donegal won the All-Ireland in 2012. He became manager in 2014 when McGuinness resigned.
Donegal exited this year's Championship at the qualifier stage losing to Galway on a score-line of 4-17 to 0-14. It was a disappointing result and Gallagher feels there is a lot of rebuilding to do in the county.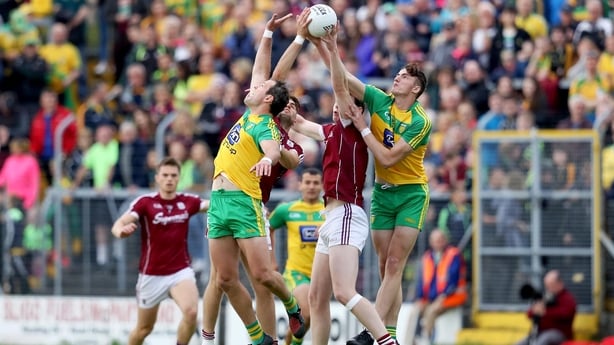 "An absolute gigantic amount of effort went in to the 2017 season. I feel it's going to take that and even more and more now.
"I feel they are in a rebuilding phase, they have some very good players but there is an awful lot of young players and there is huge management in that.
"I believe because of the success, it is right to have high expectations but I felt at the end of 2016 Donegal were in a position where they would do well to stay in the 8-10 teams in the country.
"Losing the calibre of players that Donegal lost from Paul Durcan, Eamon McGee, Rory Kavanagh, Colm McFadden, Neil Gallagher also seeing Karl (Lacey) retire now.
"People need to understand that players retire because they are no longer as good as they were.
"It's a gradual process for players, their quality fitness and ability to do the things that made them the players they are. Donegal now need to rebuild."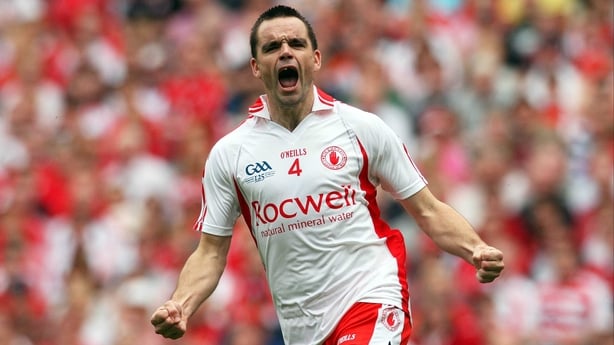 With Fermanagh, Gallagher hopes to improve the team and the players, ultimately get them to play to their potential. He wants them to get to a level where they are winning Ulster Championship games and he has enlisted former Tyrone player Ryan McMenamin to help him achieve his goals.
He said: "I'm heavily involved in the training aspect, I was trying to come up with people who were very good defenders, who could man-mark, who could make other defenders around them play better, who understand that the way the game is gone it's not just man-making.
"It's being spare men and organising people, knowing Ryan from a long time ago I knew he had a very keen interest in coaching and has been involved in his own club.
"People would have said he is going to be a good manager some day, he brings the tigerish factor, he has a great mentality and he has made the most of himself as a player."
Gallagher played inter-county football for Fermanagh but left the set-up when he was only 24.
He famously scored 3-09 against Monaghan in 2002. He returned briefly in 2010 only to leave again shortly after.
"Would I have enjoyed it? Not as much as I would have liked to. Would I have been happy with the way things were going? Probably not.
"I wouldn't have been happy with my Fermanagh career, everyone in the county wanted to win an Ulster Championship and I thought from 1997, 1998 to 2002 that Fermanagh had a lot of very good players."