Joe Brolly has rejected Colm Cooper's claims that he apologised for his criticism of the upcoming testimonial dinner in honour of the former Kerry corner forward, with the Derry man saying he "stands by every word".
Cooper, appearing on The Late Late Show on Friday night in the same week that he launched his autobiography 'Gooch', claimed Brolly texted him to say sorry for comments he made a fortnight ago.  
The celebrated Kerry attacker has been in the news lately for his upcoming testimonial dinner, the first of its kind to be held in honour of a GAA player and an event which has divided opinion within the GAA.
Cooper will be holding a corporate sponsored dinner in Dublin on 27 October, with a portion of the proceeds going to the charities, Our Lady's Hospital in Crumlin and the Kerry Cancer Support Group.
Cooper also disclosed on the show tonight that Kerry GAA and his club Dr Crokes will benefit financially from the evening. 
Brolly was highly critical of the dinner, describing it as "cheap and self-serving" and saying that Cooper had "chosen to enrich himself." On RTÉ Radio 1's Saturday Sport a couple of weeks, Brolly said the dinner had gone against the amateur ethos of the GAA.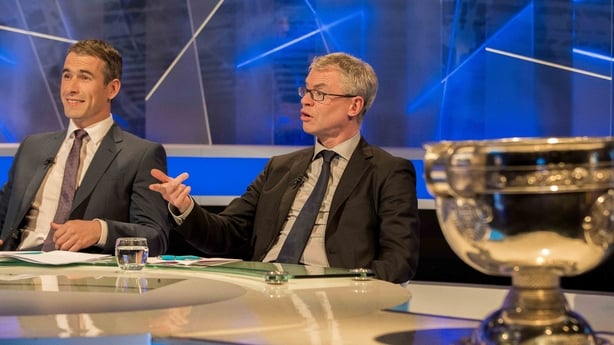 Cooper claimed that Brolly had "changed his tune" since making those remarks. 
"On a serious note, Joe actually sent me a text this week to say 'sorry about all the fuss'. He said he wishes there wasn't the reaction that there was and that it's gone overboard. And he's apologising for it. 
"So, he's obviously changed his tune since. And he fully respects that I'm entitled to have a testimonial night if I want.  
"There's players doing dinner dances and speaking after events. There's brand ambassadors, there's players doing launches all the time. So, unfortunately for the GAA, there are players earning money. So, if that's the argument, I don't really get it."
However Brolly later said he had not apologised, tweeting: "I didn't apologise to Colm for anything I said. I stand by every word. I said I didn't intend him to be demonised as a result.
"This is a serious principled debate. I said face to face to Colm he was wrong in doing this. I stand by that absolutely."