Kieran Donaghy has defended former teammate Colm Cooper's testimonial dinner, saying much of the criticism it has attracted is down to "Irish begrudgery." 
Cooper is holding a corporate sponsored dinner in Dublin on 27 October, with a portion of the proceeds going to the charities, Our Lady's Hospital in Crumlin and the Kerry Cancer Support Group. He is the first GAA player to embark on such a venture. 
The dinner has been attacked by RTÉ pundit Joe Brolly, who said it goes against the amateur ethos of the GAA. 
Speaking to Colm Parkinson on SportsJOE Live, Cooper's former inter-county teammate Kieran Donaghy defended the venture and argued that footballers and hurlers who had given long years of service to their county should be entitled to a "kicker" from the association at the end of their careers.
"It's something that's been done by some of the rugby guys and someone approached him about doing it. It's going to be great for him. It's going to be great for the two charities that are going to get a nice touch out of it," he said.
"The bit of stick he's getting is probably a bit of Irish begrudgery really, to be honest.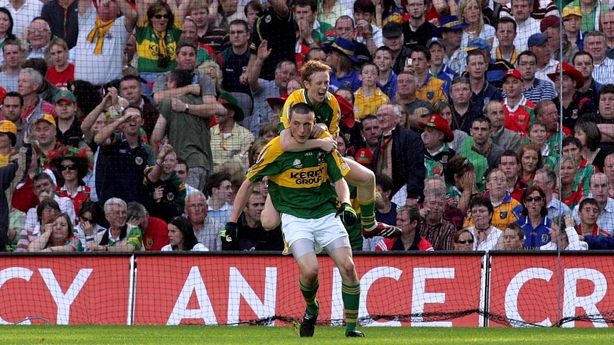 "For guys like himself or the likes of Stephen Cluxton, guys who've put 15 years into it and put their lives on hold and put financial gains on the back burner, they should be getting something from the GAA I feel when they retire. 
"If a guy has put in 5, 10, 15 years, they should get a kicker from the GAA to say 'thanks for all the entertainment.
"And the guy above in Leitrim who's put 12 years into his county jersey is probably more entitled to it than we would be, I would say.
"But to give him thanks to what he did for his county for the 12 years, if the GAA were to give him five grand a year for 12 years, he might be able to pay off his mortgage, or put a deposit on a house that he hasn't been able to because he's been investing his life in his county.
"With the gates the GAA get from games, from concerts, I definitely think there could be a way for the men and women who put in an amount of time (to be looked after) - look at the Cork ladies footballers, some of them have nine or ten All-Ireland's, they've been pouring into football and camogie for years and years.
"Should they not be getting a thank you from the GAA when they're finished?"
Speaking on RTÉ Radio One's Saturday Sport at the weekend, Joe Brolly described Cooper's dinner as "an extremely disappointing development" and said it signalled that the GAA was no longer about "selflessness and volunteerism." 
"Joe Brolly is doing all the giving out. But sure he's a barrister and he's cleaning up with all his media work," Donaghy said.