Three lost finals in-a-row to the same opposition. A 10-point lead thrown away in one of them.
No matter what you do, you just can't get the better of the champions - in Dublin's case, the unstoppable Cork team on their way to six in-a-row.
Little wonder then that full-back Sinead Finnegan is smiling afterwards, despite the pain of a strapped-up calf injury that forced her off after just 18 minutes.
Finnegan's team have just beaten Mayo in the best attended All-Ireland ladies football final of all time and the tearjerker that looked destined to be this Dublin side's story at last has a Hollywood ending.
"Relentless Dublin" never panicked en route to All-Ireland victory pic.twitter.com/jMRpF2bm36

— RTÉ GAA (@RTEgaa) September 24, 2017
"Relief is the overwhelming feeling," she admitted. "We've been here so many times.
"Losing is the most heartbreaking feeling ever, it's literally like being broken up for three years in-a-row in September, you've been dumped and you're very sad.
"Just to finally get over the line, it's absolutely amazing and we couldn't have done it with a better bunch of girls. These are like 31 of your best friends. It's just brilliant."
If the 46,286 in the stands found it gripping viewing, Finnegan found the tension on the bench hard to bear.
"Watching the match from the sideline is so different to actually being on the pitch.
"I was like 'I can't watch this, I'm going to get sick'. At one stage I was considering going inside and watching it from inside.
"But the girls did brilliant and the girls that came on - Sarah and Hannah and Fiona and Dee - they all made an unbelievable impact."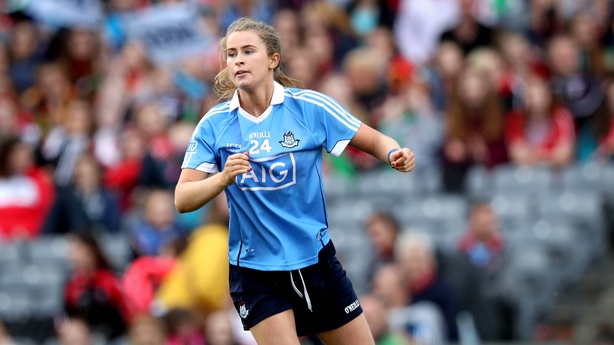 The Sarah in question is McCaffrey, younger sister of Dublin men's former Footballer of the Year Jack, and scorer of two goals in an incredible 10 minutes on the field, which she modestly describes as "doing a job" as a substitute.
Her brother was part of the Dubs team who inflicted a spookily similar treble defeat on Mayo's men last week and she knows all about the pain of coming up short.
"You could compare it to a bereavement," she reflected. "It really is just absolutely crushing.
"Anyone who's been on that side of it would say the same so we are very conscious of how Mayo are feeling.
"We've been there and it's a horrible end to what has been a terrific season for them.
"All we're thinking is how fortunate, relieved and elated we are to have gotten over the line."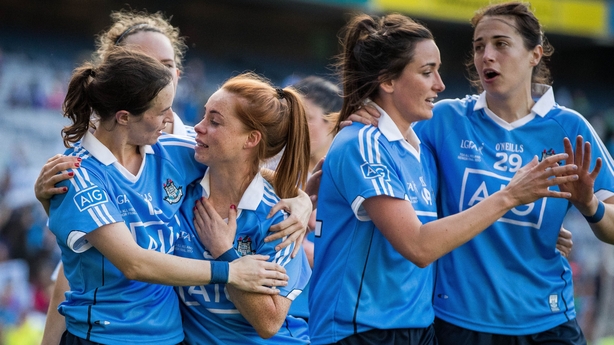 Defensive dynamo Sinead Goldrick also has empathy for the losers and says that the hurt that Dublin have experienced at Croke Park sharpened their focus this year.
"Even now that we've won, when people bring up those defeats, it's still heart-breaking.
"It was unbelievable that we got over the line because we've been in that dressing room before having lost and it's a really lonely place. People are crying, people are silent, people are angry. That's not a nice place but that's sport.
"Something this good doesn't come that easy. You need those heartbreaks, you need that resilience. The majority of our players have had their hearts broken here three times so this is just something even more special."