Former Dublin ladies manager Gregory McGonigle has backed his old side to heal the hurt of previous All-Ireland defeats and claim the Brendan Martin Cup this weekend.
Dublin, who are contesting their fourth consecutive All-Ireland ladies football decider, are seeking just their second crown since their maiden success in 2010.
Standing in their way is a Mayo side who have not appeared in a final since 2007.
McGonigle stepped down last November after three years in charge of Dublin, a term which culminated in an All-Ireland final defeat to Cork. He played a significant role in building the team that is currently managed by Mick Bohan, and he expects them to get over the line against the Connacht side on Sunday.
"I can't see Dublin being beaten, I think it's Dublin's to lose more so than Mayo's to win," he told RTÉ Sport.
"I would believe Dublin would have the greater fire power, as much as Cora (Staunton) causes up there. Last year (in the All-Ireland semi-final) we had Sinéad Goldrick marking her with Sinéad Finnegan double teaming her.
"I'm not going to watch them as a football coach, I'm going to support them as a Dublin supporter."
"We released Finno from six when they were attacking, Finno just dropped and Sorcha Furlong dropped into six.
"It's similar to how the Dublin men would do it, with Cian O'Sullivan trying to become free to play a sweeper. I don't think one player in Dublin can mark Cora, she's just so hard to manage.
"I think Mick would be sensitive enough to realise that if you stop Cora scoring goals and she kicks seven or eight points, we would accept that everybody else on the team would have to kick maybe 10 for them to win."
The demands placed on managing a ladies inter-county team has changed over the years, and during McGonigle's time with Dublin, he undertook seven-hour round trips to be at their training base in the capital.
Despite trading in his Bainisteoir bib for a place in the stands, the energy he invested in the role over those three seasons has made an ardent supporter out of the Derry man.
Dublin's All-Ireland triumph seven years ago came at the expense of a Tyrone team who dumped Cork out of the championship at the quarter-final stage.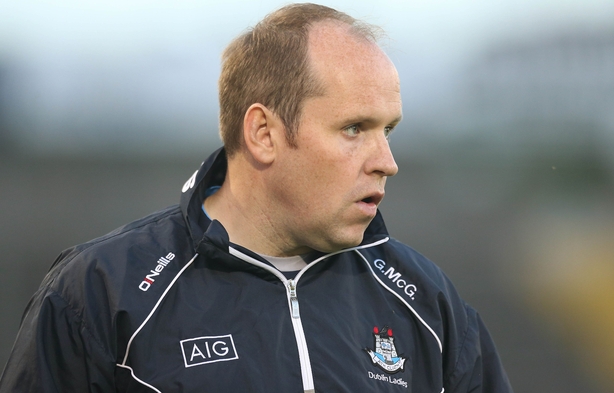 Avoiding the champions in the final this time around naturally poses some questions about the value of the All-Ireland title should they overcome Mayo, but McGonigle stresses that a winner's medal is the same regardless of the opposition.
And if they are to succeed on Sunday, he will be the first to congratulate the players.
"You'd nearly be more proud of them. I would be a Dublin ladies fan. I'm not going to watch them as a football coach, I'm going to support them as a Dublin supporter. From that point of view, I would be delighted to see the girls getting over the line.
"Hopefully Mick can go that step further than we were able to go. Sometimes you think they're like the Mayo men where sometimes you think they nearly deserve it. But, really you don't deserve anything and you have to earn it on the day.
"That's up to the girls when they cross the white line. I'd be very proud of them in terms of their attitude.
"To lose three finals and to come back to a fourth final, I know they talk about the Mayo (men's) team being resilient but that's a big thing I would see in the Dublin team.
"Any time you would see the girls, there would be a hug for them and you'd get on well with all of them. I'll definitely be they're number one supporter now. I'll still be giving out about kicking the ball away."