Lee Keegan and Cormac Costello could find themselves in hot water following controversial late incidents in Sunday's All-Ireland final between Dublin and Mayo.
Mayo's Keegan has been criticised in some quarters for throwing his GPS tracker across the path of Dean Rock as he made his run-up to kick the winning free.
Now footage has emerged of Dubs' substitute Cormac Costello interfering with Mayo keeper David Clarke's three kicking-tees in an attempt to slow down a quick kick-out after the crucial free as the eventual losers went in desperate search of an equaliser.
Costello, sent on as a substitute three minutes into stoppage time, picked up a tee which Clarke had on the 13-metre line before Rock's free is taken and he threw it over the end line at the Canal End of the ground.
He then kicked away another tee that was at the foot of one of the goalposts and the crossed to the other post to fling away a third. Football goalkeepers have to use a kicking tee for restarts under the GAA's rules.
Croke Park's Central Competitions Control Committee (CCCC), the GAA's main disciplinary body, don't make public comments on such incidents, but it is understood that they will be reviewing footage of the controversial closing minutes to the final.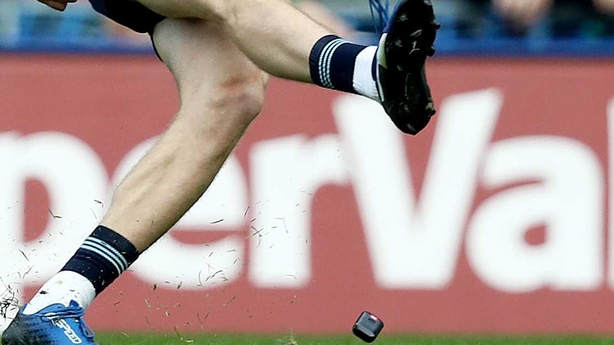 The CCCC usually meets on a Tuesday during the Championship season, though they aren't in a major rush following the final big game of the season.
Costello was booked by referee Joe McQuillan before Clarke took the last kick-out of the match, though it isn't clear whether he was booked for interfering with the keeper's tee or for the wrestling matches that broke out after Rock scored the winner.
A number of Dublin forwards grabbed the nearest Mayo defender to them in an attempt to slow down the kick-out, something they succeeded in doing. If a player is booked, the referee is deemed to have dealt with the incident, which takes it out of the CCCC's hands.