Kerry's Paul Geaney said a couple of years back that he didn't want his playing career to coincide with a 'golden era' for Dublin.
Days after Jim Gavin's team completed the three-in-a-row, Geaney was forced to concede that the capital is indeed in the midst of a golden era.
And he admits it looks a tough ask to knock from their perch at the moment.
"I said before I didn't want to be a player playing when Dublin have a golden era," he said. "It's unfolding that they're having a golden era. They're in a golden era at this minute.
"The only thing I can try and do to stop that is win an All-Ireland or two more before I hang up my boots. But it looks pretty tough to do at the moment.
"We're doing everything we can to try and change it but we've come up short the last few years."
Geaney was speaking to a media gathering in Croke Park to launch PwC's sponsorship of the All-Star awards, his second day out in GAA headquarters this week.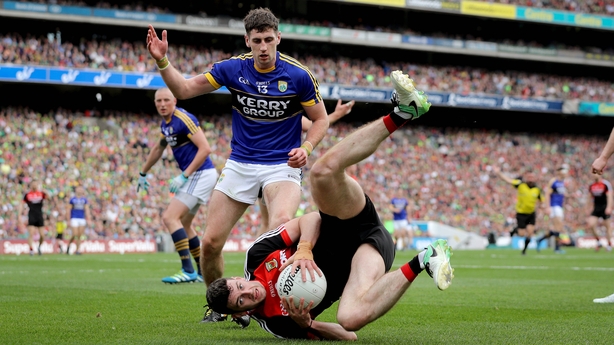 Unlike many beaten semi-finalists, Geaney attended Sunday's All-Ireland final and he's confident he was the only current Kerry player in the stadium.
A couple, he reckons, wouldn't have even watched the game on television.
"It was a good day, a good spectacle but it is sickening enough not being on the field on All-Ireland final day. It is what you are built to do and what you are hoping to do every year.
"It is fairly gut-wrenching alright to see someone else lift the cup and not even being able to contest it.
"I could have been the only one from our team in Croke Park the last day and I can guarantee you that there were a couple of fellas that did not even watch the game. It is a tough one, alright."
Following Kerry's fairly limp exit in 2017, Colm Cooper and Marc O Sé said they struggled to see how Kerry would challenge for an All-Ireland title for the next couple of years.
Geaney, by contrast, said he was very confident of Kerry winning the All-Ireland this year up until their off-colour displays in both semi-final games.
He argues it's too much of a leap to say Kerry won't challenge for Sam in the next two years and said the team must aim to peak later in the year than they did in 2017.
"Hopefully he (Fitzmaurice) will stay on and hopefully those minors will come through as well and make the panel stronger and we'll try and win the All-Ireland again.
"Up until the semi-final, I was convinced we were going to win it this year. But looking back, we seem to have peaked in the Munster final and things went downhill from there.
"We are well off the pace in both the Mayo games, looking back now. And even in the Galway game, we were poor, we were sluggish.
"I think if we just try to peak later in the year, we'll give ourselves a better chance.
"I don't know what their views are based on, is it that the Dublin team is so good that they can't see Kerry beating them? I would say it's too early to say we can't win the All-Ireland over the next couple of years. That's a big statement."
Geaney missed a big chunk of the minor match but, like the rest of Kerry and the Gaelic football world, he is aware of the lavish talents of David Clifford who hit 4-04 in the 24-point win over Derry.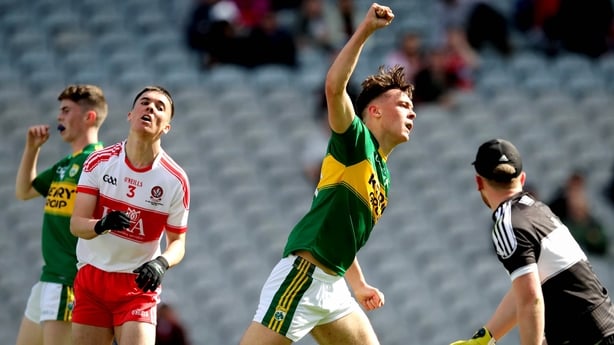 The AFL website tweeted out a news story of Clifford's performance on Sunday afternoon, an act which Kerry supporters were understandably unwilling to regard as an innocent and disinterested expression of admiration.
Aussie Rules franchises are patently sniffing around but Geaney reckons that Clifford's skillset is less suited to the Australian code than Dingle's Mark O'Connor, who won minor titles with Kerry in 2014 and 2015 and broke into the Geelong ranks this year.
"It's out of our hands as players. It's David's decision to make and I hope that he stays at home. I think he can achieve more at home.
"What we're looking at now is Dublin having done a three-in-a-row. We're under pressure down in Kerry but he can help to contribute and be the main man going forward for Kerry.
"He'll do fine career-wise as well. People at home will look after him. Mark (O'Connor) was a different story. He wanted to play Aussie Rules from 16 years of age onwards.
"He was a different type of player. Mark was extremely athletic and a good fielder. He wasn't a scorer as such. And maybe David's talent won't directly translate into being a good AFL footballer because it's more about athleticism than skills.
"I don't think the AFL would suit David as much as it did Mark. Hopefully it won't even be a debate we're having next year."