Waterford midfielder and hurler of the year nominee Kevin Moran says there is far more pride attached to Waterford's 2017 All-Ireland final loss than the "embarrassing" 2008 decider. 
Moran was fairly breezy and upbeat when speaking to a media gathering in Croke Park yesterday at the launch of PwC's sponsorship of the All-Stars. 
This contrasts heavily with the atmosphere in the aftermath of their mauling at the hands of Kilkenny in 2008, which Moran described as the "worst six weeks ever". 
"It's completely different, 2008 was embarrassing to be straight up about it," said Moran.
"Your head was down. It was the worst six weeks ever, to be honest with you. I think there's a lot more positives now.
"This time around, even though the result was the same, I think there's a lot more pride associated with the team. There's a good feeling there, collectively, that the county and everyone has rowed in behind the team which can only be a positive thing going forward over the next few years."
Derek McGrath was visibly distraught at the final whistle and there has been speculation that the Waterford manager may step aside after four seasons at the helm. 
Moran said he doesn't know whether McGrath will stay on and insists he would not be inclined to bother his manager with such questions at this time of year.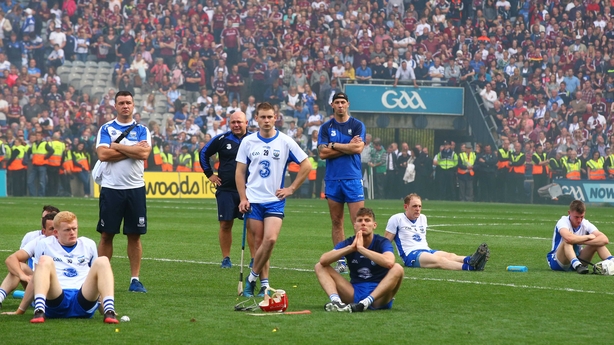 "I genuinely don't know and that's not bypassing the question. I really hope so. If we won (the final) I don't know would any of us have been back! 
"He's still disappointed. I think he's looking forward to taking a bit of down-time with the family. He's back in work and back to normality. Leave him to himself for a few weeks and I'm not going to be annoying him or hassling him with silly questions."
Moran and McGrath both work as teachers in De La Salle secondary school in Waterford but in the past fortnight neither has broached the topic of the All-Ireland final with one another. 
They'd talk about anything else. Just not the 2017 All-Ireland hurling final. 
"Straight up, I wouldn't talk to him about it," said Moran."Everyone wants their space. We would talk about everything else; hurling generally, the club, things like that. I'm sure he's the same as we all are, if not more so. It's very raw for him I'm sure. We just have to give him time and space to clear his head."
Moran's positivity notwithstanding, he says there is no guarantee that Waterford will get another shot in an All-Ireland final.
"We lost a county final in 2005 and everyone said 'oh, it'll make ye, losing a county final'.
"But sure we didn't get back there for another five years and it was a whole new generation of players then.
"So, the 33 players that were here two weeks ago, that will probably change. It's never the same players but hopefully the bulk of them will be there and the experience can only serve us well. But the big thing is trying to get back there."
It was put to Moran that the final defeat did at least postpone John Mullane's naked horse ride down the quays in Waterford.
"I have seen him naked enough times now!" was the response.