A real superstar in the making? Perhaps. As a minor David Clifford has shown many moments of brilliance in the Kerry colours. On Sunday last against Derry, he again gave an exhibition, plundering 4-04 as the Kingdom marched to a fourth consecutive title in the U18 grade.
We need your consent to load this SoundCloud contentWe use SoundCloud to manage extra content that can set cookies on your device and collect data about your activity. Please review their details and accept them to load the content.Manage Preferences
Clifford scored a total of 10-68 in 12 minor championship games in 2016 and '17 – a further indication of his talent.
All the talk now is what impact the Fossa native can bring to the Kerry senior squad. Jack O'Connor, who had two stints in charge of the seniors, is now at the helm of the county's U20 side.
He believes the step up will be a challenge, but adds that Clifford has the footballing temperament to cope with the demands of the senior game.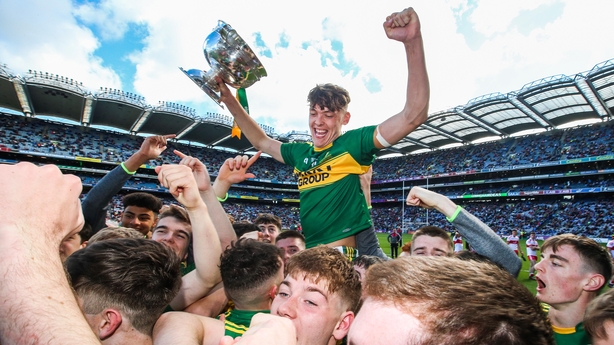 Speaking on 2fm's Game One, O'Connor said: "He's probably the best minor forward we've seen in 30 years.
"The only other minor that I can think of that dominated to such an extent was Seamus Moynihan. Seamus went straight into the Kerry senior panel and straight into the team in fact.
"David was a like an U21 playing minor football this year. No opposition could handle him.
"In future he will meet corner backs that will be as big as him, and as fast him"
"Last Sunday, everybody expected that Derry would double team him, but they didn't. They went one on one and the plan only lasted 30 seconds.
"I'm sure he'll get a cut at it in the league. It will be a huge challenge for him, it's a big step up, even from U21 or U20. Very few of the Kerry U21s made the step up this year.
"David has jumped every hurdle that has been put in front of him after winning two Hogan Cups and two minors.
"In future he will meet corner backs that will be as big as him, and as fast as him. That was the advantage he had up to now against opponents in that he was bigger and more imposing. He will meet his match at senior level but he has the football and temperament to deal with that."
"He's an exceptional talent - a once in a generation player"
Of course the rise of Clifford has coincided with talk of him making the switch to the AFL
Rumours of a trial sparked alarm among Kerry supporters and provoked a spat between Tomás O'Sé and Tadhg Kennelly.
As the AFL's international talent co-ordinator, a big part of Kennelly's job is plucking talented Gaelic footballers that might be of use to Aussie Rules franchises.
Ah here for god sake!!!!😡😡😡😡 pic.twitter.com/3khOPeVIny

— Tomás Ó Sé (@tomas5ky) September 17, 2017
O'Sé famously wrote in the Irish Independent: "If I met him tomorrow I'd say straight up: 'Tadhg, I've nothing against you personally. But I hate what you're doing'... I think Clifford leaving would be the straw that broke the camel's back."
O'Connor feels that footballing fraternity in Kerry must do everything they can to keep the youngster at home.
"Everybody hopes he will stay on and that he will throw in his with Kerry," he added.
"He's an exceptional talent - a once in a generation player. We hope he won't go down the same road as Mark O'Connor (former All-Ireland winning captain) who is a huge loss to Kerry. We need to hold on to players like that.
"You can't stop a young fellow following his dream but you'd hope that the set up in Kerry will be attractive enough to sway him.
"I know his family and I played football against his father in Derrynane. The family are steeped in Kerry football. I'd say that David's dream has been to play with Kerry since he first kicked a ball."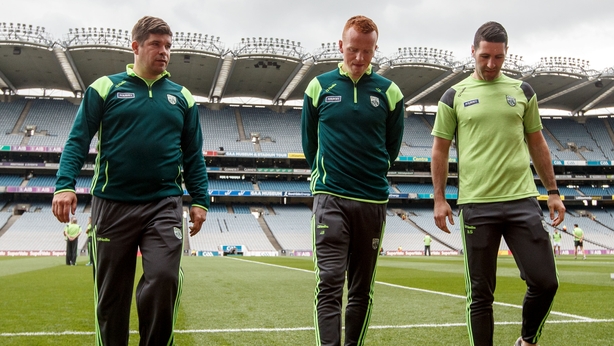 As for the Kerry senior side, O'Connor envisages a period of re-building after a disappointing end to this season against Mayo in the All-Ireland semi-final.
"There's a big challenge out there for Éamonn (Fitzmaurice), who I think will stay on, when you consider the roll that these Dubs are now on," was O'Connor's summation of where things stand now.
"Dublin have their eyes on four-in-a-row and who's knows after that in terms of breaking the record. That wouldn't sit well down here.
"There's a bit of a re-building job to be done in Kerry. Some of the U21s will have to be put in next year in the league. I think a few of them will make it. You have to look at the progress Con O'Callaghan made this year with Dublin.
"Kerry need that injection, they came up short this year against Mayo. That's the big challenge. I think they have the talent, though it might take a couple of years. The stuff is there. The Kerry public need to be patient.
"Dublin, and Mayo to a lesser extent, were always going to peak for the championship this year. There was no one getting carried away in Kerry after our league win. It was recognised that Dublin were not at their best and Mayo weren't taking it overly serious.
"The bottom line is the championship. It's all about August and September."