For a moment on Sunday it looked as if we were going to have our first All-Ireland final without a black card since the rule was adopted in 2014.
Kerry's Johnny Buckley and Aidan O'Mahony, Dublin's James McCarthy and Jonny Cooper and Lee Keegan of Mayo all had their 'big days' ended by a flash of black in the previous years' deciders.
Sunday's black spot came deep in injury time when Dublin, leading by a point, had used up all their substitutes.
It mattered not to Ciarán Kilkenny, who correctly judged that with seconds left on the clock, the 13 remaining Dubs could suck up whatever a tired Mayo could muster. We'll get back to that.
At the start of the second half Aidan O'Shea could have faded to black too after a trip on James McCarthy, however, play moved on quickly, Dublin scored a point to level up.
TV commentary about a sanction quickly died away, victim to the pace of the game, the subject lost afterwards in the haze of another Boys in Blue victory.
But there was another black card 'incident', the invisible kind.
A stunning second-minute goal by 21-year-old Con O'Callaghan.
The Green and Red sea parts and Con O'Callaghan fires an early Dublin goal. Watch #DUBvMayo highlights on The Sunday Game at 9.30pm tonight pic.twitter.com/vLK7Qs8VSU

— RTÉ GAA (@RTEgaa) September 17, 2017
Similar to his semi-final strike against Tyrone, this was a goal for the ages for a man in his breakthrough season, one of the best individual efforts seen in an All-Ireland final.
Picking the ball up more than 40 yards from goal, the young Cuala man had five defenders between him and the target.
But the Hill beckoned, he arced around the cover as the Mayo defence closed in but a sudden change of pace sent him through the gap.
A Mayo defender, the experienced Colm Boyle, flailed an arm; O'Callaghan brushed him off and cool as you like, delicately dropped the ball from left hand to right foot, passing it beyond the out-rushing David Clarke, the ball nestled in the back of the net. An amazing start to a game that was won by a point.
The goal was the perfect example of how the black card rule was meant to impact the game of football.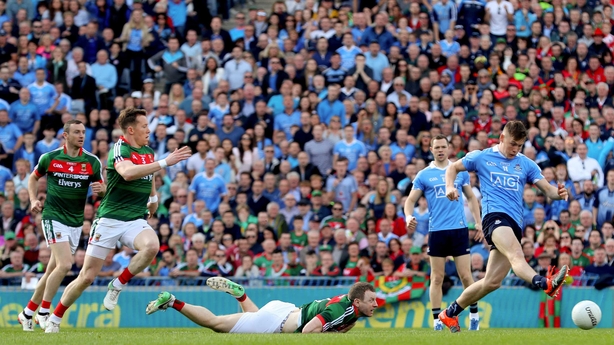 It wasn't proposed by Eugene McGee and his Football Review Committee for the purpose of punishing individual players, forcing them to miss out on the 'big day'.
The rule, which got a 71% vote at Congress, was meant to deter deliberate and cynical fouling so that skillful players could prosper.
There was a brief moment where Boyle was close enough to pull down O'Callaghan and concede a free.
Four years ago, it would have been an automatic reaction, a no-brainer, human nature for a defender to take a yellow card in this situation.
Where there was once no thought at all to dragging down a player to prevent a one-on-one, now there is hesitation: the intended benefit of the black card law.
In hindsight, Boyle may wish he had 'deliberately and cynically' halted the play, but, knowing it would have been the end of his All-Ireland final, he didn't do it.
Put simply, O'Callaghan scored the goal, but the black card rule facilitated it.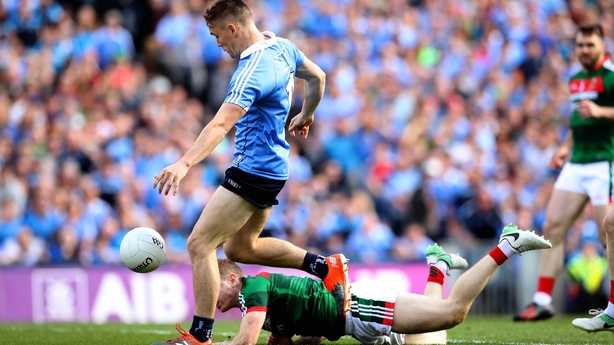 No one claims the law, and its implementation, is perfect, far from it.
And as it happens, it is now due for review, with McGee having recommended that it be looked at after three years and tweaked if necessary.
There are those who say that it's too much for a player to miss out on the 'big days' due to one foul.
Well, how about this instead? Keep the player on the field but award a penalty, no matter where the foul takes place, instead.
Joe Brolly wants a 30m free as a sanction but that's also a price worth paying if the margin is two or three points late on in the game. Just stick all your defenders between the ball and the goal-line to prevent a three-pointer.
A penalty sanction, for instance, would have given Kilkenny something to think about before he grounded Lee Keegan, preventing him from receiving the kick-out, deep in added time.
The likelihood is that Kilkenny would have done a quick risk-reward analysis and not committed the foul.
Of course, there would be teething pain and, of course, referees would make a mess of it, initially.
But it would eventually seep into the game's fabric. Managers would instil a fear of cynical fouling into their players, it wouldn't be worth it.
There would be more O'Callaghan-esque goals than incidents of 'taking-one-for-the-team'.
When the Allianz League starts up and a ref gets a black-card decision wrong, as they often do with yellow and reds, you'll hear the usual calls for scrappage. (Funny that you never hear calls for the red card to be scrapped when it's produced in error).
At that stage let's just hope that someone brings up Dublin's goal from the 2017 final.
Let the naysayers who want rid of the rule argue that defenders should be allowed to get away with fouls like that, preventing the rest of us from enjoying the game being played as it should be.