It's 17 September 1995 and Tyrone wing back Sean McLaughlin wheels around in ecstasy, believing he has hit the equalising score with seconds remaining in an All-Ireland final.
However, referee Paddy Russell pinged Peter Canavan for touching the ball on the ground when he palmed the ball in McLaughlin's direction.
From the resultant free, Keith Barr lamps the ball into midfield and the final whistle is blown. Charlie Redmond, after some confusion earlier, is finally allowed back onto the pitch and goes to celebrate with his teammates.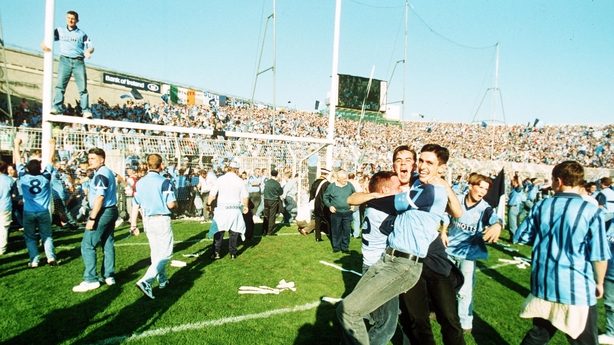 After twelve years without an All-Ireland title and three years of utter torment at the hands of Northern sides, Pat O'Neill's Dublin team haul themselves over the finishing line.
Perhaps still suffering some mental scarring from those defeats of '92, '93 and '94, they fairly crawl over the threshold in the end, by 1-10 to 0-12. The consensus is that had the game dragged on for even a few minutes longer, they might have lost yet again.
We need your consent to load this SoundCloud contentWe use SoundCloud to manage extra content that can set cookies on your device and collect data about your activity. Please review their details and accept them to load the content.Manage Preferences
The game is won. But the All-Ireland victory doesn't erase the game's problems in the city itself. Large swathes of the capital remain indifferent to the sport and even clubs with a history of achievement were struggling.
Paddy Christie would later tell Marie Crowe in the Sunday Independent that his club Ballymun Kickhams were never at a lower ebb in terms of participation and local interest than in 1995.
"It was a dark, dark time for us. In a way it was like an eternity; it seemed there was no light at the end of the tunnel. We couldn't field a team in most underage categories; we were struggling to find mentors. The set-up was worse than atrocious," he recalls.
2001 - Thurles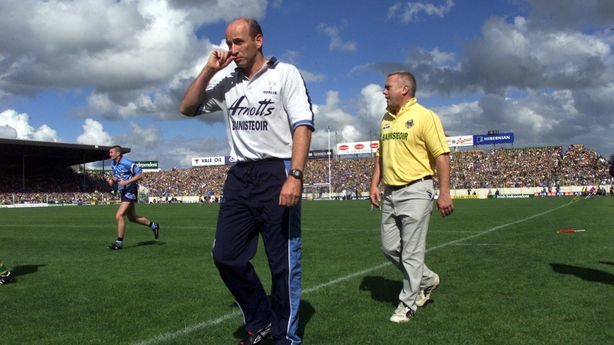 Our younger readers may need to make sure they're sitting down before reading the next sentence. After the 1995 All-Ireland final, Dublin go seven years without winning a Leinster title. Seven years. And that's a Leinster title now, not an All-Ireland title.
In a period of relative democracy in Leinster, Meath and Kildare share five titles between them while Offaly steal in for one in 1997.
Mickey Whelan, All-Ireland winner in 1958 and '63 and a coaching guru who lectured in the United States, is installed as manager.
Believing that the Dubs had been lucky to win the All-Ireland in 1995, he arrived into the job buzzing with too many ideas for his ageing squad's liking.
After two seasons of rancour, both internally and externally, Whelan resigns after a League defeat to Offaly.
Tom Carr replaces him and proves more popular among both players and supporters but the trophy cabinet remains as bare as it had been in Whelan's unhappy tenure.
The closest Dublin come to a provincial title is blowing a five-point lead against Kildare at half-time in the 2000 Leinster final.
Carr's reign ends a few months after Dublin's defeat to Kerry in an All-Ireland quarter-final replay in Thurles. After a tied vote on his removal at the county board meeting, chairman John Bailey controversially delivers his casting vote in favour of getting rid of Carr.
Dublin's spirited performance and comeback in the drawn game in Thurles seemed to form a bond between Carr and the 'Hill on Tour' and there was considerable anger at his sacking.
2004 - Westmeath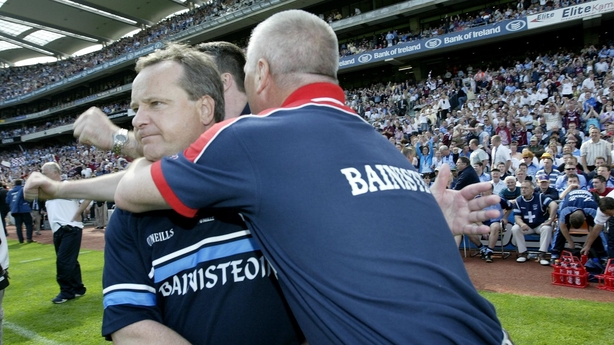 The bubbly and ebullient Tommy Lyons - the manager behind Offaly's provincial title victory in 1997 - arrives in as manager and immediately returns the Delaney Cup to the capital (possibly aided by Meath's incipient decline following the 2001 All-Ireland final loss).
A first Kerry-Dublin final in seventeen years looks to be on the cards but Armagh foil the purists in the All-Ireland semi-final.
Incidentally, it was in 2002 when the Strategic Review Group, in a report into low participation rates in the capital, recommending splitting the county into three parts.
Chairman Bailey wasn't exactly receptive to the idea.
"It will be over my dead body they will split my county, which I and others passionately believe in," he told Tom O'Riordan in the Irish Independent.
The Leinster championship is still an egalitarian paradise as Laois and Westmeath beat Dublin en route to provincial titles in 2003 and 2004.
The latter defeat to Westmeath was Dublin's darkest day. Alan Brogan wrote later that Tommy Lyons was spat at by Dublin supporters as he departed down the tunnel after the game.
Dublin traipsed on for a few months, dispatching some lower-ranked opposition in the qualifiers before succumbing to Kerry in a sleepy and one-sided quarter-final.
10 October 2008 - Gilroy takes the reins
After Lyons' resignation, Na Fianna's Paul 'Pillar' Caffrey takes the manager's job and fully establishes their hegemony in Leinster.
In his four years in the role, Caffrey's Dubs win four Leinster titles but fail continually in the All-Ireland series.
Caffrey departs after Tyrone school the Dubs on a drizzly day in Croker in the 2008 All-Ireland quarter-final.
At the end of the year, the county board turn to Pat Gilroy, an All-Ireland winner in 1995 and a midfielder on the St. Vincent's team that won the All-Ireland club title earlier that year.
2009 - The bunker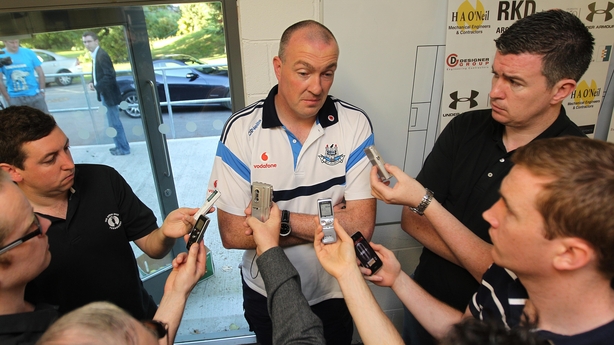 A low-profile appointment initially, Gilroy, with an impressive sporting and business pedigree behind him, revolutionises much of the Dublin operation.
Gilroy is often credited with changing the culture around the Dublin setup, dispensing with the crest-kissing, fist-pumping, Hill saluting bravado and promoting humility and discipline in its place.
However, there were other practical changes. Gilroy leaned on his business contacts in developing a training facility in St. Clare's in DCU.
Well-kitted out but deliberately bare-looking, it becomes known as 'The Bunker'.
He also brings his coach at St. Vincent's, Mickey Whelan, back into the fold as his wise sidekick. It is the beginning of a stunning historical rehabilitation of Whelan in the eyes of most Dublin supporters.
Not insignificantly, Dublin end their nearly two-decade association with Arnotts, signing a landmark sponsorship deal with Vodafone which is worth €6 million over the following six years.
3 August 2009 - 'Startled earwigs'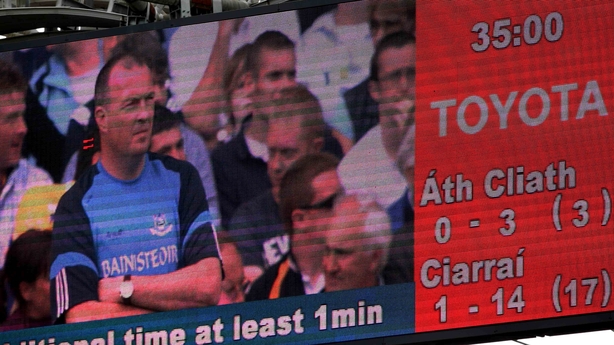 Dublin collect another Leinster title in Gilroy's first season in 2009. They enter the quarter-final against Kerry as pre-game favourites, a product of their opponents' alarmingly shaky progress through the qualifiers.
The game itself makes a mockery of the pre-game build-up and becomes something of a watershed moment.
Dublin are humiliated by their old rivals. At half-time, they trail Kerry by 12 points and the match is already over.
1-24 to 1-07 is the disastrous final score and, to paraphrase Denis Walsh in another context, the Dublin goal arrived so late it nearly missed the wake.
Gilroy memorably describes his team as "startled earwigs" after the game.
He sets about ensuring that this is indeed the nadir for Dublin football. They will never sink as low again.
18 September 2011 - Deliverance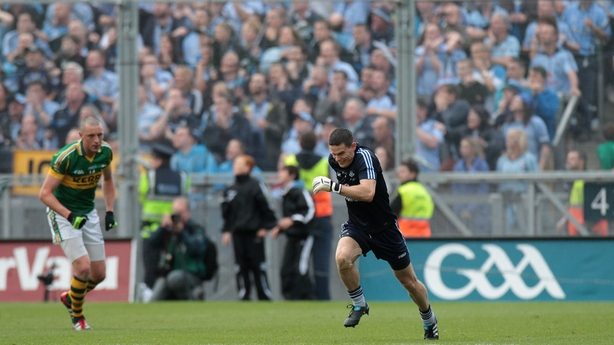 The Hill explodes into ecstasy as Stephen Cluxton sends a 40 metre free sailing between the posts. The goalkeeper scampers to his line having left the scoreline at 1-12 to 1-11 in injury-time.
Kerry attempt to mount a final attack but referee Joe McQuillan blows up.
Dublin, clear underdogs before the game, win their first All-Ireland title after sixteen painful years. So long has it been that even neutrals from 'down the country' were willing them on in the finish.
It is a stunning vindication for Pat Gilroy, who endured a bumpy ride after tinkering substantially with the Dublin machine and style of play in the rollercoaster summer of 2010.
That year, Dublin almost contrived to lose to Wexford and were subsequently smashed by Meath in the Leinster championship, their only loss in the provincial championship in the past 13 years.
His job was surely on the line early in the qualifier run, but Dublin survived and improved, beating first Tipperary, then Armagh and then, stunningly, Mickey Harte's Tyrone in the All-Ireland quarter-final.
They may have reached the summit in 2010 but for an unlucky loss to eventual champs Cork in the semi-final, where indiscipline and sloppy tackling cost them late in the game.
After another year of evolution, they would make no mistake in 2011.
5 October 2012 - Jim Gavin is elevated to the top job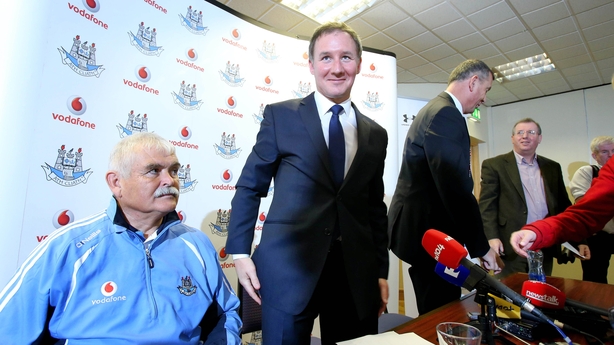 Dublin lose to Mayo in the 2012 All-Ireland semi-final and Pat Gilroy steps aside, after hinting he might 12 months earlier in the immediate aftermath of All-Ireland success.
Jim Gavin, who guided Dublin to All-Ireland U21 titles in 2010 and 2012, is elevated to the senior post.
Incorporating this youthful talent, Gavin builds a team which makes the 2011 All-Ireland winning team look ploddingly workmanlike by comparison.
Dublin sweep all before them, winning the League in April and then pipping a seemingly peaking Mayo by a point in the 2013 All-Ireland decider in September.
31 August 2014 - Jim McGuinness's managerial masterpiece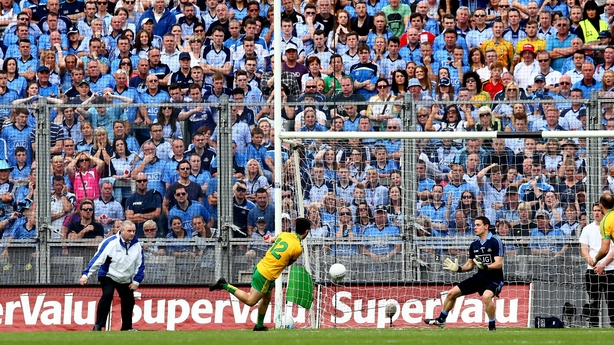 Dublin were arguably never more flamboyant or cavalier as they were in the early stages of the 2014 championship.
They demolished Cork in the League final and sauntered through Leinster and people were already fretting about their competition-choking superiority.
Against Jim McGuinness's Donegal, all went swimmingly early on as points were popped over from all angles.
A couple of missed goal chances however allowed Donegal room to breathe. Slowly, the Ulster side exerted their will on proceedings.
An extraordinarily clever performance, both in defence and attack, gave Donegal a memorable 3-14 to 0-16 victory.
It was hailed as Jim McGuinness's managerial masterpiece. Dublin, meanwhile, were condemned as victims of their own hubris.
Gavin, in addition to settling on a slightly more cautious approach in the future, would go away and ponder how best to dismantle the blanket defence.
17 September 2017 - Three in a row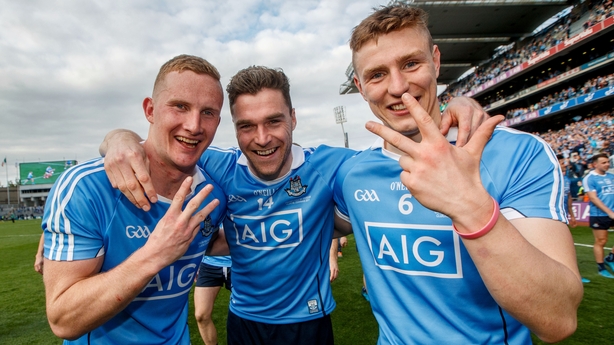 Three years later and Dublin haven't lost a championship match since. Several of their younger players have not lost a championship match at all.
In the 2017 All-Ireland final, they pip Mayo for the second year running, condemning the westerners to a fourth All-Ireland final defeat in six years.
In doing so, they become the first side since the Kerry team of the 1980s to complete the three-in-a-row.
Several of their more experienced players have five All-Ireland medals in their pocket, something no player outside of Kerry could boast until now.
The conversation has now moved on to wondering whether they are the greatest side in the history of Gaelic football. All indicators suggest there is even more success to come.