Dean Rock wasn't fazed by having a GPS unit thrown across his path as he ran up to take the match-winning free in Sunday's All-Ireland final against Mayo at Croke Park.
Just as he approached the ball, which he coolly slotted over the bar to make the score 1-17 to 1-16 and ensure a three in-a-row of Sam Maguire wins for the Dubs, a global positioning system pack flew in front of him.
One of the Mayo players, in an attempt to put him off, took the pack, roughly the size of a packet of cigarettes, out of the crop top he was wearing underneath his jersey and tried to put Rock off by throwing it. It had no effect.
"They were trying every trick in the book. I think it was a GPS someone threw at him? But look, it doesn't matter now. He kicked it," said the Dubs' James McCarthy, one of Rock's best and oldest friends.
Every top team in Gaelic games as well as in other sports now use GPS technology, with each player getting their own unit which relays information in real time back to the sideline about how far they've run, the tackles they made and so on.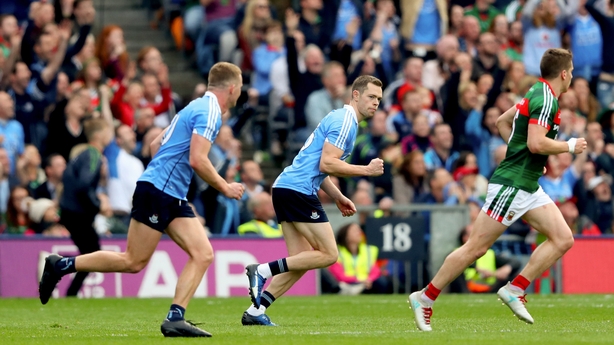 Decisions about substitutions and switches are normally taken after analysing the data, with the management knowing beforehand how many kilometres a player covers before his race is run.
Rock didn't shoot the lights out in the first half, but after the break he turned it on and was close to man of the match, with his history-making score the crowing glory. It more than makes up for the missed free with the last kick in the League final defeat to Kerry back in April which could have levelled the game.
Kevin McManamon said: "I have unbelievable respect for the amount of practice he does. I don't think I would have wanted anyone else in that position with the game on the line and a minute to go.
"He's just a legend with the amount of practice he does and how cool he is under pressure and I'm delighted.
"He took a big hit in the League final against Kerry. He took that on his own shoulders and it hit him pretty hard so it's a nice little twist that he got the winner today. He's an absolute legend, so fair play to him."
Rock finished with 0-07 beside his name, including four from play against Mayo.