The finest of margins. One point. The difference between sporting immortality and sporting despair.
Mayo know what it's like to be on the wrong side of that dividing line. The know only too well.
The bulk of this team have lost four All-Ireland finals and for older stagers like Andy Moran they've known that empty feeling on no less than six occasions.
Mayo scored 1-16, Dublin 1-17. One team are the losers and the other are three in-a-row champions.
They've now lost three All-Ireland finals to the Dubs by a point since 2012 and drawn another. They've been so close so often and they've still come up short.
On this occasion they were probably closer than they've ever been to bringing Sam Maguire home to Mayo for the first time since 1951.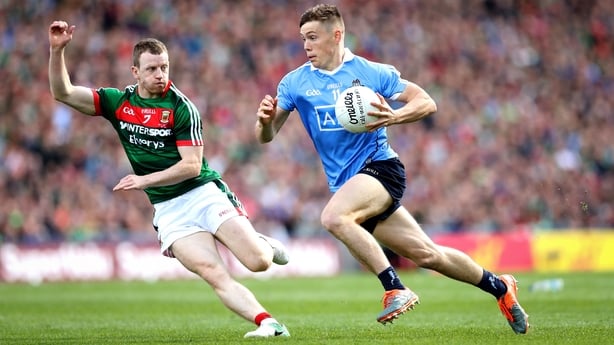 Apart from the concession of a very early goal to Con O'Callaghan when their defence parted obligingly, most of what they tried to do came off.
Manager Stephen Rochford got his match-ups right, once he had worked out that Chrissy Barrett on Eoghan O'Gara wasn't going to work and switched him with All Star Brendan Harrison.
Their kick-out strategy at either end of the field worked well and they managed to force the defending champions to play off the back foot for long periods. No other team has been able to consistently do that since 2014.
But it comes back to fine margins. Jason Doherty's shot saved by Stephen Cluxton, Cillian O'Connor's stoppage time free at the end of the game off the post, those two shots, from O'Connor and Keegan, that dropped short into Cluxton's hands in the first half, David Clarke's final kick-out over the sideline when Dublin were down to 13 men.
But possibly the moment this game was won and lost came 12 minutes into the second half.
"Rochford, a man it's hard not to like, was close to tears in his post-match media conference"
Colm Boyle was in possession, moving at pace and on the turn when Dublin defender John Small lined him up and knocked him back by driving a shoulder into his chest. Referee Joe McQuillan was right on the scene and blew up the play.
Small was already on a yellow card - would he show another? But before he had chance to act, Mayo's Donal Vaughan arrived to dish out some extrajudicial punishment and he met Small with an elbow into the chin.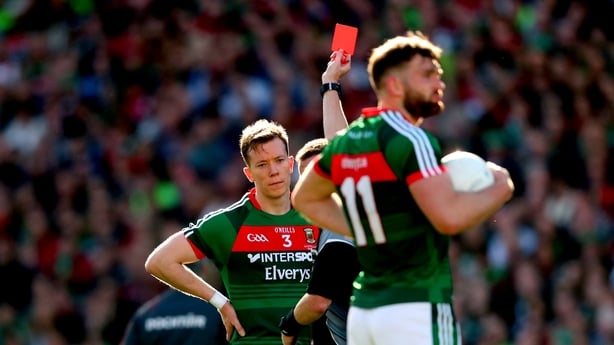 McQuillan didn't have much thinking to do, though he did take the time to consult with both of his linesmen, Conor Lane and Padraig O'Sullivan. Yellow card to Small and straight red for Vaughan, who had been doing a fine job in tying up Dublin's Philly McMahon despite being selected to play at full-back.
Mayo could have had a numerical advantage, a free in near the edge of the D at the Hill 16 end of the ground to level the scores at 1-09 to 0-12 and the wind in their sails. Instead it was 14 v 14, a hop ball and Dublin got the next score to move two ahead.
Mayo did get in front again, thanks to another All-Ireland final goal from the indomitable Lee Keegan, but the power of Dublin's bench eventually overwhelmed them. Diarmuid Connolly and Kevin McManamon made the difference while their own replacements didn't strengthen their case in the same way.
Just because they have been here before, it doesn't get any easier. Rochford, a man it's hard not to like, was close to tears in his post-match media conference.
Players filed out of their dressing room under the Hogan Stand like men leaving a wake house; silent, heads bowed and some of them with eyes red from tears.
They have the admiration of the country, are beloved in their home county and the undying respect of the Dublin players, who know just how hard they have to work to get the better of them.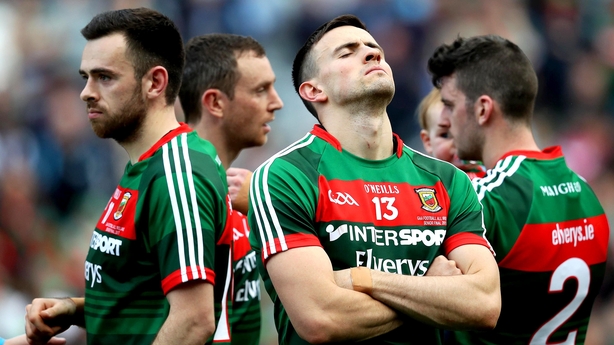 The Dubs' Kevin McManamon said: "I've got absolute massive, massive respect for the Mayo team.
"The only way we can respect them is by giving them every single thing that we have and we gave them everything we had today - everything. Everything in preparation, everything on the field in terms of preparation and that's how we show that we respect them."
Being respected and admired is a nice place to be, but these Mayo footballers would prefer an All-Ireland medal. They have come close and failed before and they keep coming back for more.
They've been written off before too and no one should make that mistake again - this is a seriously gutsy, driven, determined bunch of boys. But can they pick themselves up off the canvas again? Nobody knows for sure just yet.
The finest margins. They just want to be on the right side of that dividing line once. Just once.