Jim Gavin isn't a man to show emotion and he certainly doesn't like to give any insights into the tight ship that he runs.
This is reflected in many of his players, who are naturally happy to buy into a system that has brought four All-Ireland wins in five years.
But in the wake of a historic three in-a-row of Sam Maguires, the capital's first since 1921-'23, the joy shines through.
Brian Fenton knows that he is living through a guilded age and his beaming reaction to questions about the 1-17 to 1-16 win over Mayo at Croke Park showed just what it meant to him.
At 24 years old he has played 20 Championship games for Dublin, never lost once and picked up three All-Ireland medals.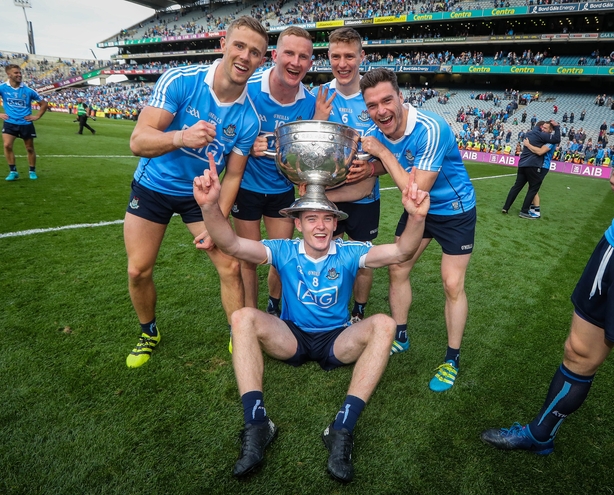 "It's incredible, lads, to be honest," he beamed, putting his hands to his head in almost disbelief. "To think that we did three-in-a-row!
"For me, I came on the senior squad and to be in a match-day panel was the goal. Here we are three years later. In 2014 won an Under-21, 2015 senior, '16 senior, '17 senior, so it's just incredible.
"Jesus, it's just so emotional. Seeing your family, all the lads. It's unbelievable. It's worth every sacrifice, every young lad training, it's worth it to get here."
We knew long before this game that Dublin were one of the finest teams we've seen and their fifth All-Ireland win since 2011 moves them into the realms of the very greatest.
Stephen Cluxton, Philip McMahon, Cian O'Sullivan, Mick Fitzsimons, James McCarthy, Bernard Brogan, Diarmuid Connolly, Paul Flynn, Michael Darragh Macauley, Kevin McMananon, Eoghan O'Gara and Darren Daly were all part of each of those triumphs. The new 12 apostles.
They are the only footballers from outside of Kerry to have five All-Ireland medals. Their names are engraved in history.
"Ah yeah, it's amazing," said Fenton. "My dad, he's Brian as well, is a staunch Kerry man and the Kerry team would have done three-in-a-row and Galway would have done it and it's incredible to think…
"We don't talk about it to be fair, it's not spoken about, but it's days like now and times like now that you can actually realise how historic it is.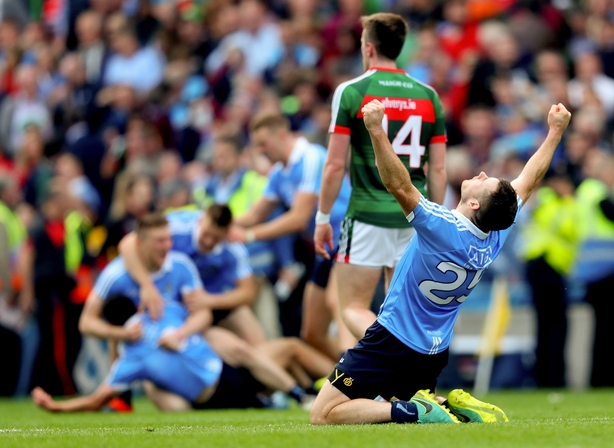 "I obviously didn't see those three-in-a-row teams, I don't know what the hype was around them, but I just feel so lucky to be part of this group of 30 players. It's incredible. It's unbelievable."
For Kevin McManamon, who gave his usual match-turning performance from the bench, his first will always be special.
He came on as a substitute in the 2011 final against Kerry, scored the game-changing goal and won the free which Stephen Cluxton converted for victory. For him it'll never be about the medals, but about this band of brothers.
"We have a great bunch of players, we've really good friendships, deep friendships with these guys and when you have been through the wars so often it's just great to celebrate it together," he said.
"I think we're still in shock a small bit. It was a serious game, serious intensity, I found it difficult to get to the pace of it and it took a while. Absolutely delighted with the result and to win the title after a really tough year. Delighted to get the job done."
After the dust has settled on this win - and with Gavin in charge to keep people's feet on the ground that shouldn't take too long - thoughts in Dublin will turn to retaining Sam again in 2018.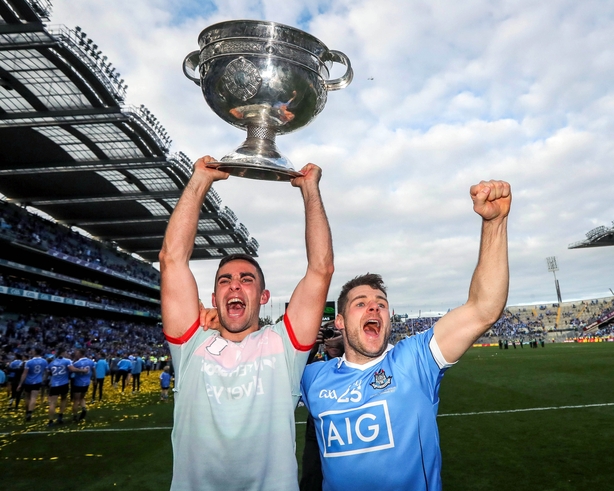 Only Kerry and Wexford have done four in-a-row and it's nearly 40 years since that was achieved last. Right now, with the panel of players they have, the age-profile and that winning experience they are a good bet to do it.
Already McManamon is thinking about reviewing tape of the one-point win over Mayo with a view to evolving and improving next year, though this should hardly come as a surprise given his profession as a performance coach.
This will be cool analysis and not done with a few a beers and the lads patting themselves on the back about a job well done.
"I'm not looking forward to looking back on it," he said. "You can spot what we had planned to do and what we were doing - there was a big gap there. It won't be done today or tomorrow, but it will be done some day in the way we normally do.
"The All-Ireland series is where you learn the most, it's gold in those games, and it's in those game you're really challenged. You're given things you don't expect so we will look on it at some stage."