It feels too soon for hard-hearted analysis but we must assess the key moments from a breathless and emotional day in Croke Park. 
Dublin claimed their third All-Ireland title in a row and their fifth in seven years. Before today, no Gaelic footballer outside of Kerry had won five All-Ireland titles. 
Now, another minibus load of them have. But for a Donegal ambush in the 2014 semi-final, they may have completed the fabled five-in-row by now. 
For Mayo, this may well be the hardest defeat to stomach (though this has been said before). A rollercoaster of a season in which their resilience was on full display ends with their ninth All-Ireland final defeat in 29 years. 
Con O'Callaghan goal
A Con O'Callaghan goal early in the All-Ireland semi-final heralded a massacre. Many a neutral's heart might have sank at the prospect of the same in the final but Mayo made sure it wasn't so. 
O'Callaghan ambled through the heart of the Mayo defence, rounding Keith Higgins before poking the ball past David Clarke when it looked like he could have been smothered. A very clever finish, though the question of steps was raised. 
The Green and Red sea parts and Con O'Callaghan fires an early Dublin goal. Watch #DUBvMayo highlights on The Sunday Game at 9.30pm tonight pic.twitter.com/vLK7Qs8VSU

— RTÉ GAA (@RTEgaa) September 17, 2017
Dubious Dublin free
Plenty of contested decisions in what was an unsurprisingly ill-tempered affair (familiarity does indeed breed contempt) but this one rather sticks in the craw for Mayo supporters. 
On the stroke of half-time, Ciaran Kilkenny, who suffered under the close attention of the Mayo defence and seemed to spend most of the first half looking pleadingly at McQuillan, collected a pass before being bundled to the ground by Paddy Andrews.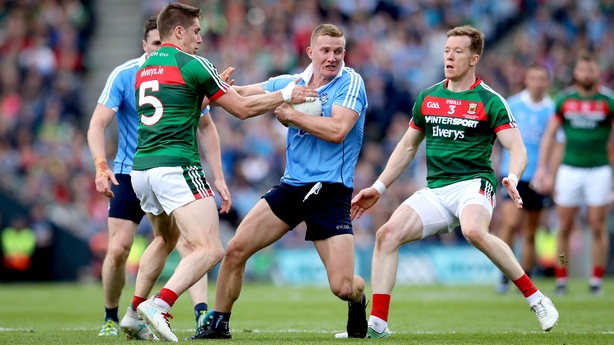 It was a slightly comical incident at the end of a messy first half for the Dublin attack but Mayo supporters weren't laughing seconds later. 
Kilkenny got to his feet and was bottled up by Lee Keegan and Donal Vaughan. It appeared fairly standard defensive tactics of the type which usually result in the forward being pinged for over-carrying.
McQuillan, however, awarded a free to Dublin which enraged the Mayo players, supporters and management. The usually even-tempered Stephen Rochford flung his notebook to the ground in anger. 
Rock had been ropey from the frees in the opening half but he floated over that one and Dublin trailed by one point rather than two at the break.   
Dublin half-time switches
Eoghan O'Gara was a late introduction before the game but neither he nor Paddy Andrews had much joy in the opening 35 minutes, particularly the latter.
Andrews had been singled out as a usually unheralded but terrifically consistent performer. But he achieved little against a marvellous Mayo defence, with Chris Barrett especially to the fore.  
The pair were replaced by Diarmuid Connolly and Kevin McManamon. Both registered points in the second half but that detail doesn't quite do justice to Connolly's impact, in particular. 
Dublin found more space in the second period after a relatively claustrophobic opening half. James McCarthy was especially influential, landing a couple of points through raids from midfield. 
Connolly collected plenty of ball and won that crucial free at the end from which Dean Rock delivered a third successive title for the capital. 
Donal Vaughan's sending off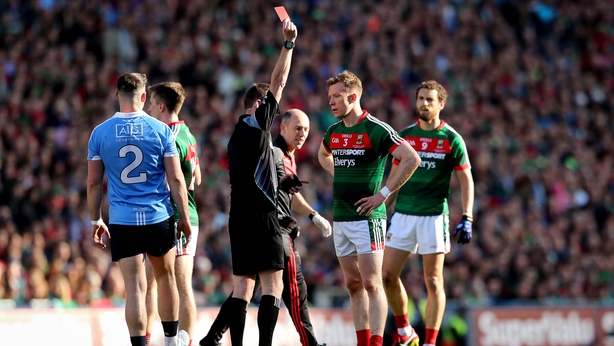 With Dublin's victory, history will likely relegate John Small's red card to the status of a footnote. Donal Vaughan may not be so lucky. 
50 minutes into an already very spiteful encounter (too much at stake and they know each other too well), John Small fouled Colm Boyle, sending the Mayo wing back tumbling to the ground. 
Small was already on a yellow card but this information may not have reached Donal Vaughan who was sufficiently morally outraged by Small's challenge that he went charging into him, knocking him to the floor with a high tackle after play had halted. 
Inevitably, Small was sent to the line with a second yellow card. McQuillan was ultimately left no option but to send Vaughan off the field after him. 
Lee Keegan goal
Dublin enjoyed a strong third quarter without ever breaking free of the Mayo challenge and with 15 minutes of normal time remaining, Lee Keegan scored another All-Ireland final goal to put Mayo in front.
Last year, he rammed a low shot into the corner early on and was shortly after black carded. This year, he played the full 70 minutes, but the result was the same.   
Cillian O'Connor free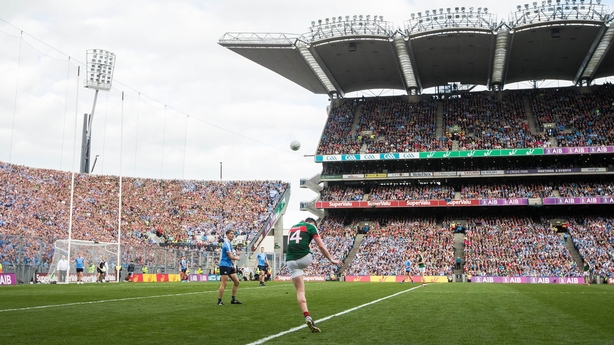 Harsh to zero in on this incident but nonetheless it has to be included. O'Connor swung over the equalising point from distance just moments before. 
With the game tied and the clock ticking into injury time, Joe McQuillan pinged Michael Fitzsimons for fouling Cillian O'Connor off the ball as a line ball - itself rather contentiously awarded to Mayo - was being taken. 
The free was closer to the endline than last year's last-ditch attempt at an equaliser but it was from a tighter angle near the Hogan Stand. 
Rock's winning score
In the 76th minute, Dean Rock stood over a free some 40 metres out. Diarmuid Connolly had been lively since his introduction and he manufactured the crucial free. 
After McQuillan signalled at the Canal End posts, Connolly could be seen urging everyone to calm down. Stay composed and nail this shot and the game is won.
Dean Rock delivered. There followed a series of wrestling matches all over the field as the Dublin players made sure Mayo would get no shot at redemption. 
Clarke's last kickout missed the target, floating out for a sideline. Dublin proceeded to play a minute of keep ball until McQuillan was obliged to blow the full-time whistle.