Kerry 6-17 Derry 1-08
David Clifford, the rising star of Kerry football, laid on an exhibition at Croke Park with four goals as a fourth successive All-Ireland MFC title went to the Kingdom following a runaway 6-17 to 1-8 win over Derry.
Clifford fired in two goals and created a third for Fiachra Clifford as the Kingdom raced into a 12-point lead, turning around with a 3-8 to 0-5 advantage.
The Kerry talisman grabbed two more on his way to a 4-4 tally, with Fiachra Clifford hitting his second, as they routed the Ulster champions, for whom Paddy Quigg netted a consolation penalty.
Clifford tormented the Derry defence on a triumphant afternoon, and left no-one in any doubt that he is the finest minor footballer the game has seen in years, but he was surrounded by a collection of quality players, who played the game with a style and assurance that bodes well for better days ahead for their county.
All but a point of Kerry's total came from play, and Clifford finished with a personal tally of 4-4, all from open play, leading the line with authority and breathtaking skill and class, as he dismantled the Oak Leaf defence and giving Kerry fans another heart-warming preview of the rich future he could bring to the spiritual home of Gaelic football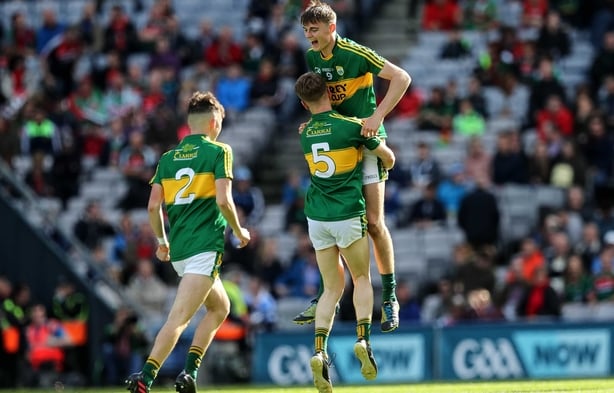 Less than a minute had elapsed when Clifford delivered the first of a series of hammer blows, firing in his opening goal to leave the Derry lads chasing the game from the outset.
The Munster champions went five clear with some terrific attacking movement, but the Oak Leafers narrowed the gap to three points in as many minutes, two of them from Mark McGrogan.
Kerry's response to that salvo was emphatic and devastating, with two goals in the space of a minute virtually putting the game out of sight before the opening quarter had expired.
Clifford danced past three defenders to plant the ball in the net from close range, and provided the pass that sent Fiachara Clifford in for a 15th minute strike past a helpless Oran Hartin.
And with a delightful combination of support play and kick-passing, they made it 2-5 without reply to drive home their dominance and leave their opponents a hopeless task.
The brilliant Clifford shot three in a row and showed that he is actually human by hitting a couple of wides, and when Brian Friel made the penetrating run to set up Donal O'Sullivan for his second score, the Kingdom ruled, with a massive 12 points advantage.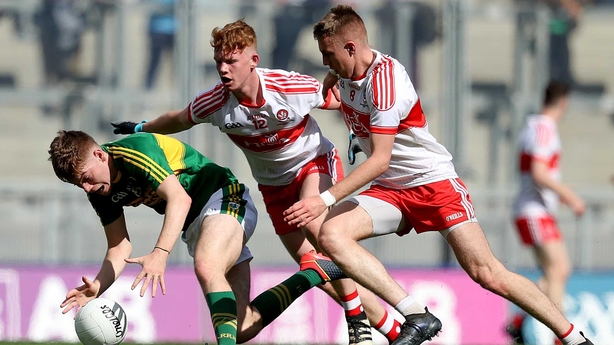 Jack Griffin's second sent them in with a 3-8 to 0-5 lead, and just five minutes into the second half, Clifford completed his hat-trick with a low finish froma Michael Potts assist.
Substitute Callum Brown caused immense trouble to the Kerry defence as a high-fetchign full forward, and won a penalty that Paddy Quigg netted on 39 minutes, and Brown also brought a fine save from Deividas Uosis.
But there was just no stopping the brilliant Clifford, who helped himself to two more brilliantly executed goals as the holders retained their title in a facile win.
Kerry: D Uosis; S O'Leary, C O'Donoghue, C Gammell; P Warren, M Potts, N Donohue; B Mahony, D O'Connor; A Donoghue (0-01), D Clifford (4-04), D O'Sullivan (0-03); F Clifford (2-00), J Griffin (0-02), B Friel (0-05, 1f).
Subs: E Horan for Griffin (44), Donnchadh O'Sullivan (0-01) for Donal O'Sullivan (49), C O'Reilly for F Clifford (53), M O'Leary for Gammell (56), R O'Neill (0-01) for Donohue (58), M Slattery for Donoghue (59)
Derry: O Hartin; O McGill, C McCluskey, S McKeever; S McErlain, P McGrogan, C McShane; O McWilliams (0-02), D Rafferty; P Quigg (1-0, 1-0 pen), R Mullan (0-01), M Bradley; B McCarron, L McWilliams (0-02, 1f), M McGrogan (0-02).
Subs: C Brown for Rafferty (h-t), D Cassidy for McCarron (h-t), C Quinn for McCluskey (h-t) O Quinn for McShane (39), J Devlin for McGrogan (42), T McHugh for Mullan (42)