Five-time All Ireland winner Colm Cooper is expecting a tight and physical game when Dublin meet Mayo at Croke Park in Sunday's final but believes that the Dubs hold a slight edge.
Cooper, who retired from inter-county football with Kerry earlier this year, has been impressed by what he's seen from both sides this season but believes that the depth of the Dublin bench gives them the advantage over Mayo.
Speaking to 2FM's Game On the Dr Crokes clubman predicted a narrow win for Dublin but admitted that it's going to be a very close encounter.
"I'm really looking forward to the weekend, it should be a fascinating encounter and I think everyone in the country is looking forward to it," he said.
"I think it's going to be a really, really close game. Dublin have certainly progressed again this year under Jim Gavin, they've found new players, they found players in different positions and they're still the team to beat in my opinion.
"Mayo traditionally have never bowed down to Dublin and to be fair over the last number of years there's only been one score between them on most occasions.
"I'm expecting a tight, physical battle and because they're so familiar with each other, there's probably a little bit of niggle between the teams as well, which will probably add to the spectacle."
Referee Joe McQuillan will take charge for what will be his third All-Ireland final and Cooper believes that the familiarity between the two sides could make for some interesting flash-points.
"Joe McQuillan might be in for a tough afternoon in this one," he said. "You want all the best players on the field and you'd hate to see some rash cards or black cards early on. 
"It's going to be competitive and that's what the All-Ireland is all about. I think Joe is an experienced enough referee to understand that, so I think he needs to let them go at it.
"They're very sporting teams, they won't step back from each other but it's going to be one hell of a battle."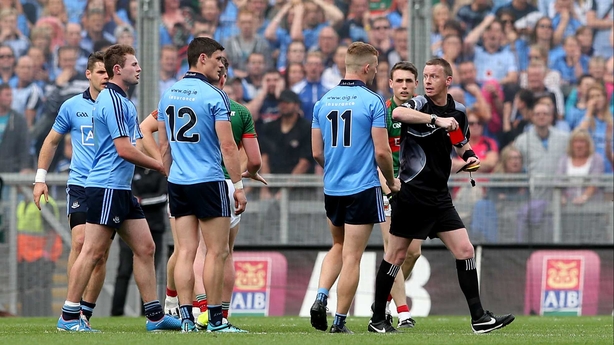 McQuillan famously sent off Diarmuid Connolly in the 2015 final between the two sides which ended in a draw and Connolly is back in the reckoning for Dublin after completing a 12-week suspension for pushing a linesman in the Leinster quarter-final.
Connolly served his ban and returned to action with the Dubs as a late substitute in their semi-final victory over Tyrone, but Cooper is not convinced that he should start against Mayo.
"My feeling on Diarmuid Connolly is that going into the semi-final I would have started him because he's one of Dublin's best players," the Gooch said.
"But Dublin showed in the semi-final that they're not a one-man show by any means and certainly Niall Scully, if left out, can feel very hard done by.
"The way they performed last time out was very admirable. They're working so hard, they're very cohesive and they've build up a chemistry with the six forwards playing at the moment now.
"I think it's going to be very hard for Jim Gavin to fit Diarmuid Connolly in there. Now he played him the last day but I think it was maybe a bit of a token gesture to put him in there.
"I would have started him the last day but Jim Gavin is a very strong manager and I'm not sure he's going to put him in this time."
If Connolly doesn't start, he can offer Dublin something extra in coming off the bench and that's where Cooper believes that Dublin hold the advantage over Mayo.
"It is a tough one to call," he admitted. "I've been so impressed with Dublin this year, they've stepped up another gear in my opinion but when I think back to two months ago where Mayo where and how far they've come, they've certainly proved me and a lot of others wrong.
"I think it's going to be another really, really tight encounter but it's the Dublin bench that's leading me for a two to three point win for Dublin.
"That's based on them having so much to come from off the bench and I don't think the same options are available to Stephen Rochford and Mayo."
Live coverage of Dublin v Mayo in the All-Ireland SFC final (3.30pm) on The Sunday Game Live from 2.15pm on RTÉ2, with live radio commentary on Sunday Sport, RTÉ Radio 1 from 2pm.
Live blog from 1pm on RTE Sport Online and the News Now App.
Highlights of all the day's action on The Sunday Game on RTÉ2 from 9.30pm.