A small dwelling sits on the roadside in Manulla unmissable to passers-by.
In the early part of the last century, two sisters were evicted from where they lived nearby and quickly the community spirit kicked into gear.
The locals rallied to build a small house. This house outside Castlebar would, in time, become another symbol of support for the Mayo cause.
Adrian and Margaret McEllinn purchased the property in the 1980s and for each of the nine All-Ireland finals since then, it has got a new lick of paint. Though not always the right colours for local tastes.
The landmark house on the Breaffy Road received a makeover ahead of the All-Ireland quarter-final by mischievous Roscommon supporters, blue and yellow paint splashed on for all to see.
"I was annoyed initially, but it was just a bit of messing," Margaret says, before order was quickly restored.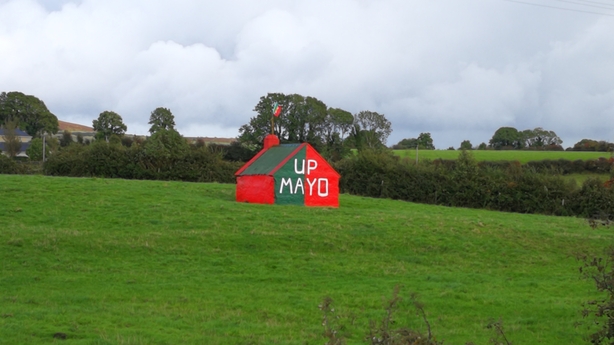 The current order seems to involve Mayo, year after year, reaching the business end of the Championship as a county rows in behind them.
The rest of us - normally eliminated by August - cannot help but go along for the ride.
****
Stephen Rochford is the latest to try and get the Connacht side over the line after so many near misses.
Once more they find themselves 70 minutes away from bringing the county to a standstill. Annual leave requests are at the ready as the excitement and nerves are keenly felt from Belmullet to Ballyhaunis.
So-called curses, unflinching loyalty, dedication to travel, musical endeavours, global events hi-jacked by green and red jerseys, social media campaigns and unwavering support in spite of agonising losses have characterised the supporters on their crusade for September success (or October in the case of last year).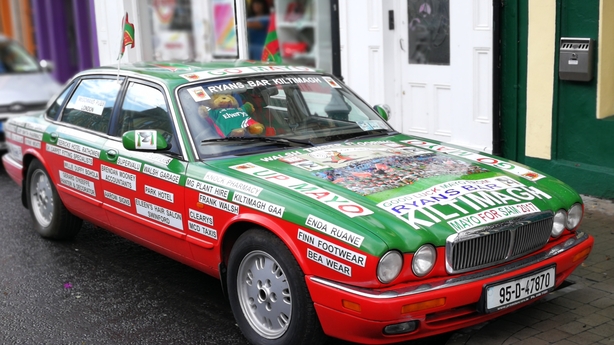 The men, women and children on the sidelines are as much of the story as those taking to the field of play, but just how is Mayo different to any other county?
****
Kiltimagh native John Regan sits back into his kitchen seat and smiles at the naivety of my question.
The 71-year-old is well known throughout the county for his dedication to Mayo football. The now part-time hairdresser proudly informs me that he has missed only two Mayo games on Irish soil since 1978.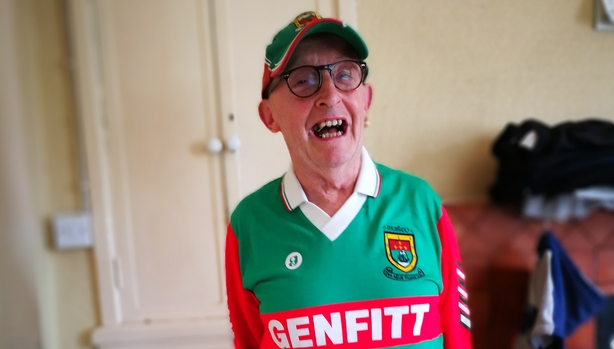 "Senior Championship games?" I enquire, genuinely impressed at the almost unblemished 40-year record.
Turns out he means senior and minor, League and Championship. He never misses early season FBD League games, and follows the ladies football team too.
"John Regan is even known to go to as many challenge games as he can get to," he says, shattering all my previous perceptions of individuals who speak in third person. The passion oozes from every sentence, which aren't slow in coming.
A fractured collarbone in 2012 ended his incredible sequence of games, his protests to travel to Croke Park falling on deaf medical ears.
The first game he went to upon returning to Ireland after working in London was the 1978 All-Ireland minor final, a game which held special significance.
Three Kiltimagh players were involved in the win over Dublin on a wet afternoon in the capital.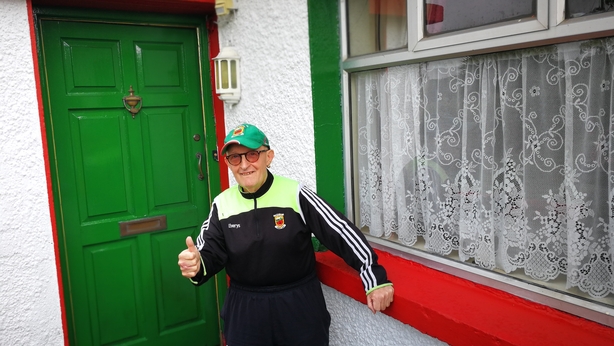 "Big Tommy Byrne scored two goals that day. Did you see him as you came through the town?" he asks, cognisant of the fact I was less than 15 minutes into my first visit to the village in east Mayo.
There was only one person who I vividly recalled as I drove through.
"The guy on the kango hammer at the petrol station," I reply, tentatively.
"Yeah that's him. A great man and a character. And an All-Ireland winner."
"I marvel at our supporters. I know what it costs them and their families. They are so loyal. They are brilliant. It's moving for me to see that."
John explains the "brilliant" value of getting the bus down to Kerry for an overnight League game in early Spring, and is close to tears when he talks of the lengths the "full-time supporters" go to in order to follow their team.
"I marvel at our supporters. I know what it costs them and their families. They are so loyal. They are brilliant. It's moving for me to see that."
His respect for the players in undeniable. He loves the attitude of Colm Boyle - "he gets our lads fired up" and laments to a degree the heightened expectations placed on Aidan O'Shea. He's also adamant that Mayo are treated differently to their rivals.
"These lads deserve everything. There's no mystery [to winning]. The past keeps getting rehashed, but that's wrong. That doesn't happen to other counties."
I put it to him that it is perhaps inevitable until they bring home Sam Maguire.
"Maybe. I don't know. I just hope to God they do it on Sunday."
****
Thirty kilometres east of Kiltimagh, the school children of St Attracta's, Ballaghderreen may be considerably younger than John Regan, and they may be in Roscommon, but Mayo football is held in the same esteem.
It comes as little surprise that former pupil Andy Moran is the local hero. And not just among the pupils.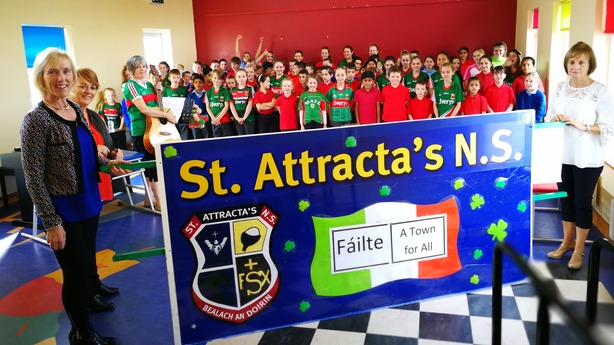 Clare McBrien taught the 2017 Footballer of the Year contender during his formative years and insists she is his number one fan. The paper clippings and pictures scattered around the walls adding credence to her claims.
"I knew he was a leader from a young age," she says. "One particular day in June, Andy organised a surprise birthday party for me. He collected money in the school and went down to the local shop. The shopkeeper was surprised as it is normally the teachers that look after that but Andy organised it all. He was in fourth class at the time."
There are ringing endorsements of his character, and ability, right around the staff room.
Vice-principal Helen Curran believes the gifted forward "deserved" silverware in the school for his all-action displays, but the team just weren't quite good enough to deliver. The unspoken message is the hope his inter-county career doesn't end in a similar fashion.
Students at St Attracta's Ballaghderreen with their All-Ireland Final tailored version of 'The Green and Red of Mayo' #rtesport pic.twitter.com/TVJ63O3Cho

— Declan Whooley (@DeclanWhooley) September 12, 2017
David Drake, a regular off the bench for Mayo in recent seasons, is another who passed through the front gates.
Teacher Michael Solan, now in his 11th year at the school, masterminded last year's All-Ireland Under-21 final victory over Cork while his sibling Barry is the Strength and Conditioning Coach with Mayo, combining that with the day job with Arsenal.
"He has got a good routine now with travelling over and back, and Arsenal have been accommodating," Michael explains. "I haven't been over to a game myself, but some of the players have."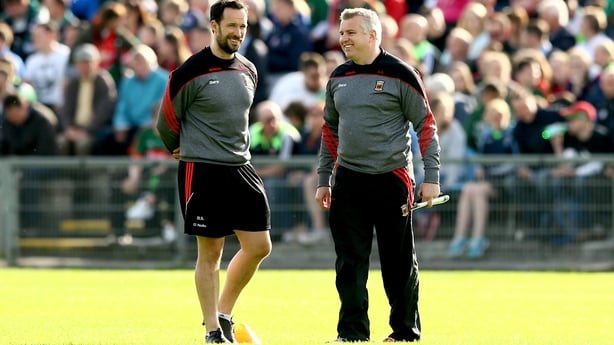 Will Alexis Sanchez and Petr Cech be cheering on their colleague on Sunday?
"I'm not sure. I know some of them have taken an interest, as much out of curiosity as anything else."
The next generation are clearly hooked on this Mayo football addiction, even if the Premier League footballers are only dabbling.
****
Setting foot in Byrne's Bar, Castlebar is like walking into a GAA museum, with flags, posters and team photos adorning the walls.
Celebrating 100 years as a family business, Mick Byrne has been proprietor since 1978 and is another for whom the term fanatic is richly deserved.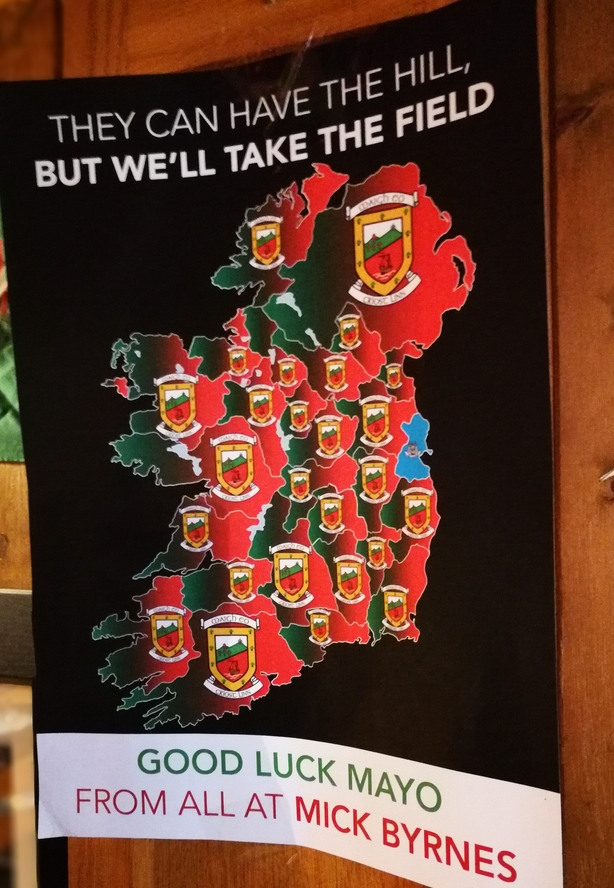 "I have great staff here" he says, which is just as well, as he can't be relied upon to serve thirsty patrons on Mayo match-day. Mick hasn't missed a game since 1981, the first year he began organising travel arrangements to away League and Championship games, giving rise to the 'Byrne's Babes'.
"Some of the Babes are in their 80s now."
He's been to more than 600 games in 30 counties (only Carlow and Waterford fail to make the list), and some stick out for different reasons. In November 1992 he travelled to Nowlan Park as Mayo eased to a 4-19 to 0-02 win over the Cats.
"The joke at the time was that Kilkenny were improving. Kerry had beaten them by 30 points."
"The day we took over the Hill against the Dubs," is his response to his most memorable day following his county, the mere thought of the 2006 All-Ireland semi-final resulting in an ear-to-ear grin.
When local Tom Tom Denning concocted a song for the 1996 All-Ireland Final in the pub, little did they think that his re-make of Harry Belafonte's song 'Day-O' would reach number five in the Irish charts, result in TV appearances and secure its place in All-Ireland folklore.
"It was just a bit of fun, that's what it's all about. It's why I have done up another car for this year's final. The paintwork cost more than the car itself!"
Byrne believes this is the greatest Mayo team he has had the pleasure of witnessing in the flesh and will take his place in Croke Park for the 71st time this weekend believing, rather than hoping, that this will be the year.
He also doesn't buy into the tales of misfortune that surround the county.
"I've never had a bad day following my county," he says, adding that the camaraderie and spirit among fans is a big element of match-day.
This is the car Mayo supporter Tom Tom Denning will be driving to Croke Park for Sunday's All-Ireland Final #Mayogaa pic.twitter.com/7qTfW3fkEi

— RTÉ GAA (@RTEgaa) September 12, 2017
"No-one should feel sorry for us. We have more days out that anyone. People should feel sorry for the Leitrims and Waterfords of this world who never get to Croke Park."
****
It wasn't always this way.
Following the 2013 All-Ireland defeat to Dublin, manager James Horan commented on the lack of vocal support as the game entered the closing stages in Croke Park. He suggested that some in the stands had given up before the game was over.
"You see a lot more flags and colour these days. When the chips are down now, that's when Mayo supporters are at their best."
"A number of us who would be regular commenters on the Mayo GAA blog picked up on this. We wouldn't have always have been the most vociferous," says Anne-Marie Flynn of the Mayo News.
Club 51 was soon formed, an informal group where supporters pooled ideas and information, bought flags, started organising meet-ups before and after games, launched a website and brought more vocal approach to matches.
"You see a lot more flags and colour these days. When the chips are down now, that's when Mayo supporters are at their best. We have played a small part in that."
Social media too has exacerbated the #Mayo4Sam cause. It hasn't mushroomed overnight –"it's been around for as long as I can remember" Flynn says - but social media and YouTube has seen the message ramped up to a new level.
Garth says #Mayo4Sam so I'm with him all the way! 💚❤️ pic.twitter.com/2SJm7rbcHv

— Kevin Kilbane (@kdkilbane77) August 26, 2017
The Club 51 founding member also references the "cumulative effect" for the team and this cannot be overstated. Involvement in August and September is almost a given at this stage.
In 2011, under the guidance of Horan, they claimed their first of five successive provincial crowns before losing to Kerry at the penultimate stage.
They reached the next two finals as Donegal and Dublin won out, while in 2014 they lost to Kerry in an enthralling semi-final replay. The last two years the Dubs have edged past them at semi-final and final stages, requiring replays on both occasions.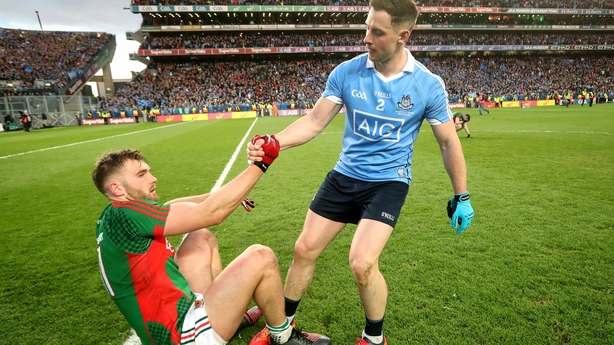 The calendar tends to be busy at this time of year and no matter what your viewpoint on Mayo is – there is no fence in that debate – they are an incredibly resilient and gifted side. Comeback victories, extra-time drama and some agonising defeats have hardened the current crop.
In 2006 Munster Rugby reached their Holy Grail, an incredible bond with supporters helping them to get over the finish line in the then Heineken Cup. Claims of inferiority, an insufficient scoring threat and even a perceived lack of belief were cast aside. The province rejoiced, the country cheered on and even the most ardent opponents applauded the efforts of Anthony Foley and his troops.
A similar story awaits Cillian O'Connor and company on Sunday. Only the might of one of the finest teams ever assembled in the GAA stands in their way.
****
Football obsessed children are not solely located in Mayo.
There are John Regans and Mick Byrnes scattered in every county in Ireland. Houses and livestock have been given colourful makeovers long before Mayo became a major contender for Sam. 'Up For The Match' musical gold has been spread around the country since the mad-cap show began.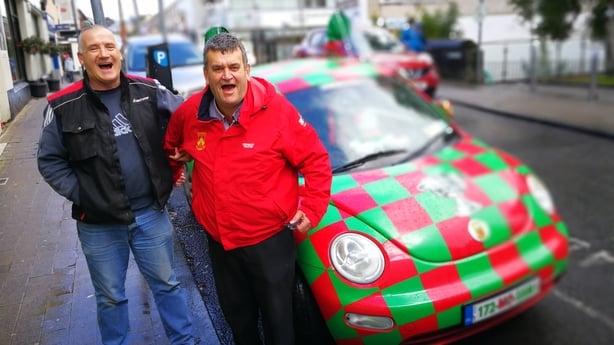 To paraphrase influential anthropologist Margaret Mead, Mayo is absolutely unique, just like everyone else.
Wexford brought 40,000 supporters to Croke Park for a Leinster Final this year. Arms and legs were being offered in Galway as fans exhausted every avenue for All-Ireland tickets. The majority of teams that begin the Championship look enviously in Mayo's direction.
The journey will continue until the sacred silverware is secured, joining the likes of Dublin (1995), Armagh (2002) Tyrone (2003) and Donegal (1992 and 2012) in never-to-be-forgotten celebrations.
When it does, Sunday or another date in the future, a different narrative will emerge.
Until then, it's business as usual in Mayo.