Brendan Harrison recalls the ovation the Mayo players received during their extra-time struggles against Cork in the qualifiers as one more reminder to not give up on their All-Ireland dreams.
It has been a remarkable journey for Stephen Rochford's players as they survived a defeat to Galway and coming close to exiting the Championship against Derry, Clare, Cork and Roscommon.
It was in Limerick that Mayo had one of their biggest tests as Cork led at the start of the second period of extra-time.
But the players emerged to a reception from their supporters at the Gaelic Grounds to get the better of the Rebels by a single point.
"We're in a good confident place to take on the Dubs."
Harrison told RTÉ Sport: "The Mayo fans are one of the best out there. They have helped us this year like down in Limerick, playing against Cork when you come out for the last half of extra-time and you hear the roar.
"It does drive you on. Each game we're getting that and good luck messages and wishes on the street. They just want to see us do well. Mayo is a proud county. That's what we're doing it for – the fans and supporters – and it'd be great to bring some glory back to them."
Pin-pointing exactly where Mayo's season turned is not easy. The performances up to the replay against Roscommon did not represent a team with a genuine chance of being crowned the best in the country, but somewhere along the way they found their groove again.
Harrison, like many of his team-mates, thinks the additional games have really helped them grow in stature to a place where they feel in the right frame of mind to tackle Dublin.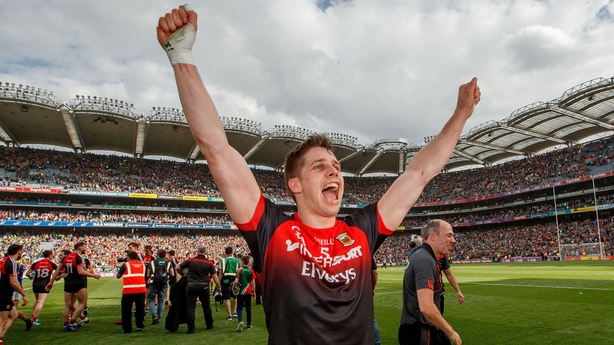 The corner-back said: "At the start of the year you wouldn't be thinking it'd take nine games to get to an All-Ireland. It certainly wasn't our plan at the start of the year. But look that's where we found ourselves. We just took it game by game.
"We were a bit disappointed in our second game when we lost to Galway. We were going out to win that and when we lost it we had to refocus our mind and see where we'd go from there.
"We scraped through some games, we did very well in others games, but we still find ourselves in an All-Ireland final.
"Momentum helps sometimes. Once you get a bit of a run it can help.The last few months we have had a game every couple of weeks which is great. You're improving all the times between training and looking back on videos.
"You improve each game as you go along. We're going to look to improve on our last performance in the All-Ireland final now. Your confidence improves as you win each game.
"We believed last year and we still believe this year."
"That is one thing that has been building on us game on game. I find we're in a good confident place to take on the Dubs. "
The final question about Mayo is what make this side the one to end 66 years of pain.
Losing eights finals, not including two replays, has to be on their players' minds but Harrison insists any doubts among the Mayo players would give Dublin an easy day in Croke Park.
"The belief is always going to be there. You're never going to fear anybody. Obviously you have respect for every team you come up against but you're not going to fear them. This year is a different team to last year.
"Players move on and come into the panel. It's the same on their side as well. We're going to take it as we are now and embrace the challenge. We believed last year and we still believe this year.
"There is no one little thing that's missing, maybe the bounce of the ball. We weren't too far away.
"We've improved on last year, they've improved on last year. So we're going to give it our best shot.
"You're always going to feel you're going to win it. If you were going to think you weren't or you have any doubts about it, you've never lost the game already.
"We're going to go in believing and fight until the end."
Live coverage of Dublin v Mayo in the All-Ireland SFC final (3.30pm) on The Sunday Game Live from 2.15pm on RTÉ2, with live radio commentary on Sunday Sport, RTÉ Radio 1 from 2pm.
Live blog from 10am on RTÉ Sport Online and the News Now App.
Highlights of all the day's action on The Sunday Game on RTÉ2 from 9.30pm.