Cian O'Sullivan says that Dublin's approach to how they play football won't change ahead of their All-Ireland final against Mayo.
The two sides are set to contest the footballer decider for the second year in a row with Dublin aiming to win the title for a third successive time.
"You can't go changing your tactics or strategy too much because you only have three weeks going into the final," O'Sullivan told RTÉ Sport.
"All your hard work strategising and game-plan stuff has been done earlier on. I don't think a whole pile is going to change in that respect going into the final.
"Obviously Mayo are going to set themselves up a lot differently than Tyrone did so that in itself is going to bring challenges in terms of how you are going to respond to how the opposition are going to set up.
"From our own perspective how we play football in general terms that will stay the same."
Dublin reached the final with relative ease, disposing of Carlow, Westmeath, Kildare, Monaghan and Tyrone along the way. In contrast Mayo had a much more difficult run-in.
After losing to Galway in the Connacht championship they came through tough games against Derry, Clare and Cork and needed replays to get over Roscommon and Kerry.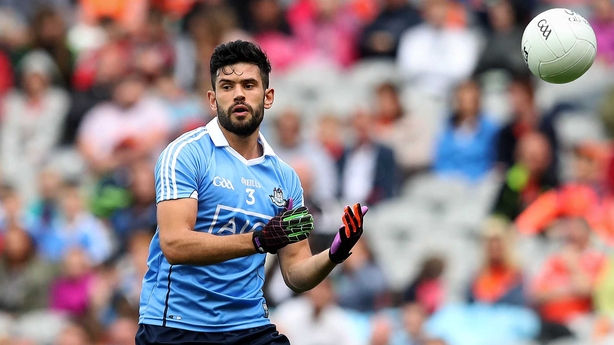 "Their resilience has probably been tested more than ours. It's a great advantage coming through games where you have been tested," added O'Sullivan.
"But we have come through games like that in previous years and we will be able to draw on that experience against Mayo.
"For us getting the performance is the key thing not getting the result. I think we performed well against Tyrone, we performed well against Monaghan.
"The competition for places and the intensity in our training games is up there with the highest it's ever been. We are happy with where we are at."
O'Sullivan will be firmly focused on the performance on Sunday but admits it's hard to ignore the talk of three-in-a row.
"You'd be lying if you said at some stage subconsciously it doesn't seep through, there has been so much chat about it from family and friends.
"I guess the important thing is to recognise that it is a distraction and something that could make you a little bit complacent or even make you take your eye off winning an All-Ireland final and the performance that is needed to do that.
"So I think it's about not getting worried when you hear those kind of things, it's going to happen so it's just about dealing with them by refocusing on the task in hand."
Live coverage of Dublin v Mayo in the All-Ireland SFC final (3.30pm) on The Sunday Game Live from 2.15pm on RTÉ2, with live radio commentary on Sunday Sport, RTÉ Radio 1 from 2pm.
Live blog from 10am on RTE Sport Online and the News Now App.
Highlights of all the day's action on The Sunday Game on RTÉ2 from 9.30pm.