Few would quibble with the idea that Dublin captain Stephen Cluxton has dramatically changed the role of the modern day goalkeeper. The 36-year-old goes in search of a fifth Sam Maguire on Sunday and his rapid-fire restarts, pinpoint accuracy off the tee and an ability to kick deep into opposition territory have marked him out as one of the all-time greats.
Having a gifted, athletic team perfectly in tune with the game-plan certainly helps, and the task facing Mayo is a formidable one. They too however will pose their own questions with David Clarke eagerly looking forward to a return to action on the biggest day in the football calendar following his surprise omission in last year's replay.
Kick-out strategy does not stop with your own 'keeper and who better to explain how Mayo and Dublin defend opposing restarts than the custodians who faced them this season.
Carlow's Craig Kearney, Kildare netminder Mark Donnellan, Monaghan shot-stopper Rory Beggan, Derry's teenage goalkeeper Ben McKinless and Cork's Ryan Price offer their insights into both sides and how they are likely to set-up for the 130th All-Ireland football final.
Lies, damn lies and statistics 
Never before has there been such widespread information and analysis on a goalkeeper's performance. From the primary role of shot-stopping, it has now evolved to ensuring possession is maintained and is the launchpad for attacks.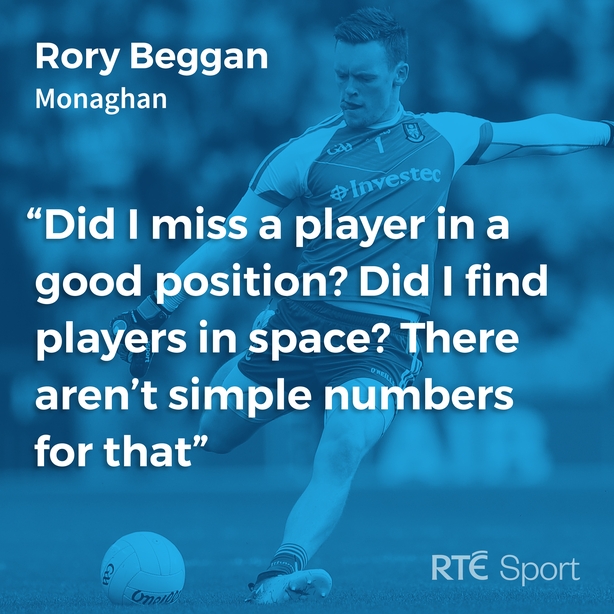 While there is no shortage of metrics for 'keepers to pore over, Monaghan goalkeeper Rory Beggan believes it doesn't shed the full light on performance. "There's only so much you can control as a goalkeeper," he tells RTÉ Sport. "It's easy to look at stats and say, 'I made 90pc of my kick-outs', but I review my own performances in terms of my decision making. Did I miss a player in a good position? Did I find players in space? There aren't simple numbers for that."
Teenager Ben McKinless, who only made his Championship debut for the Oak Leaf County this summer, agrees with that assessment. "It's hard to analyse how hard to hit a ball. It can be hard to measure technique."
"You know yourself whether you are kicking well or not," Cork's Ryan Price adds, though for the team it's about the numbers.
"Instinct has to play a huge part in it."
Mayo
Twelve years after making his debut with Mayo, David Clarke is going strong as Stephen Rochford's number one. His omission in the replay defeat to Dublin in last year's decider was put down to Rob Hennelly's ability to go longer from the tee, but it didn't work out on the day.
The 33-year-old Garda still collected an All Star and has been a rock between the sticks as the team lurched through the qualifiers in what has been another rollercoaster journey for the county's loyal supporters. Derry were only overcome after extra time in their first outing following provincial defeat to Galway, and Ben McKinless says the Mayo attack ensured he had a difficult day at the office.
"It was very hard to overcome what they were doing," he remembers from the Castlebar defeat, "and they seemed to have done a lot of work on kick-outs.
"They had two in the full-forward line who split our three in the full-back line. You normally look for space rather than the man, but they split the space. When we varied our kick, they adapted and pressed our kick-out.
"They were very sharp, and I found it very hard to do any short kick-outs. Then I ended up hitting them long and they were winning them too."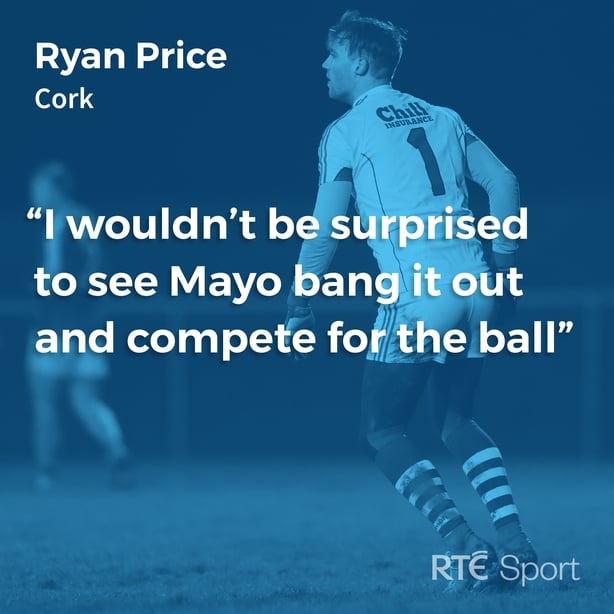 McKinless concludes that hard lessons were probably learned in previous defeats to Dublin, which has resulted in a more aggressive press from the entire forward unit. After a disastrous showing in the Munster final, Cork nearly produced an upset at the Gaelic Grounds as Stephen Rochford's side yet again required extra-time to advance.
"It feels like they lure you into taking the kick you want to take," says Ryan Price. "Ideally they wanted us to go short or middle range, and hope that we messed it up, basically."
"They are very quick to squeeze up into positions, but left you five or six yards tempting you in. If you are marginally off, they are quick to capitalise."
The role of Aidan O'Shea will have a huge impact for Clarke in goals. While generally happy to go short as Mayo build from the back, the presence of the Breaffy man further out the field adds to their options in the middle third. With McKinless forced to go long for Derry because of the press, the two-time All Star came into his own.
"When we varied our kick, I ended up hitting them long and Aidan O'Shea was winning kick-outs. Not only that, but he was also attacking and tracking back when we had possession."
Price says that the Rebels made a concerted effort to drag O'Shea, who started at centre-forward, away from the middle. Eoin Cadogan's role involved moving into the full-back line for their own restarts, allowing Price to go long.
"We wanted to take O'Shea out of the game. It worked for the first four or five kick outs, where we went long and he wasn't involved, but eventually they swapped markers and he was pretty dominant on their kick-outs."
He also revealed the signal that Mayo adopted when looking to rain the ball down on top of the versatile 27-year-old. "Clarke puts his hands up in the air and that means he's invariably hitting Aidan O'Shea. It could be a great way of getting the crowd behind them."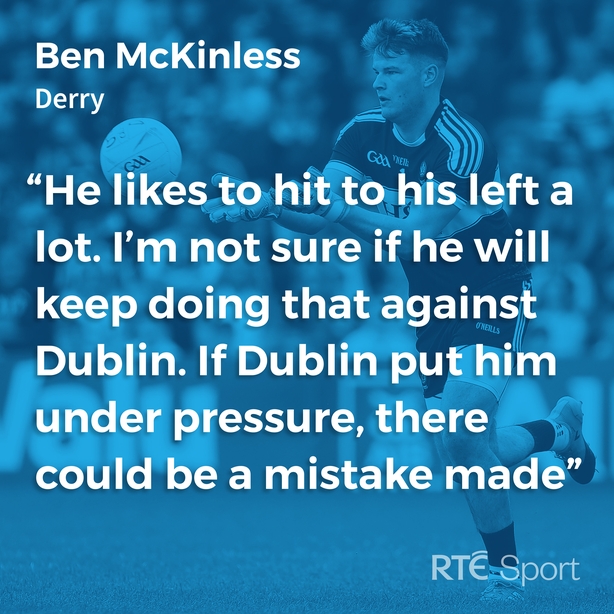 While Cluxton is lauded for his accuracy, his Mayo counterpart should not be underestimated. "Technically his kick-out might not be the prettiest, or as fluid as Cluxton, but he's really accurate in the mid-range kicks," Price says.
Rory Beggan, who witnessed first-hand the power of Dublin in the All-Ireland quarter-final, insists that Clarke's tendency to chip out to the corners is borne out of trust with his out-field lieutenants. "Anything kicked short is because Mayo are such a good team in transition from defence to attack, with players highly comfortable on the ball."
"Tom Parsons and the O'Shea brothers definitely have the size and quality to stop the Dublin midfield. It's being able to put the pressure on for 70 minutes without switching off is the real question," according to the Kildare number one.
"I wouldn't be surprised to see Mayo bang it out and compete for the ball," Price adds.
"David Clarke is in the running for an All Star, but if he's put under pressure, he will hit one or two bad kick-outs, whereas Cluxton seems to be 100pc all the time," McKinless says. "He likes to hit to his left a lot. I'm not sure if he will keep doing that against Dublin. If Dublin put him under pressure, there could be a mistake made."
Dublin
"I don't think any single person in the history of the GAA has revolutionised the game like Stephen Cluxton," Colm O'Rourke told The Sunday Game viewers earlier this year. There is no denying his restarts are the benchmark for every goalkeeper in the land.
"Cluxton makes it look so easy," Mark Donnellan says. "He loves the medium-to-long kick-outs, out towards the wing where he picks out a half-forward or midfielder on the run. The half backs have to be just alert as the forwards.
"The likes of Diarmuid Connolly and Paul Mannion can appear out of nowhere. You have to expect anything out of Cluxton. He can look like he's going to kick one way and then go the opposite.
But what is it like facing down Dublin on your own kick-out? What picture is David Clarke likely to see in front of him on Sunday? Monaghan's struggles to reach the last four continued this summer as Dublin eased to a 10-point victory at GAA Headquarters, but Farney net-minder Rory Beggan was surprised by Dublin's approach to his restarts.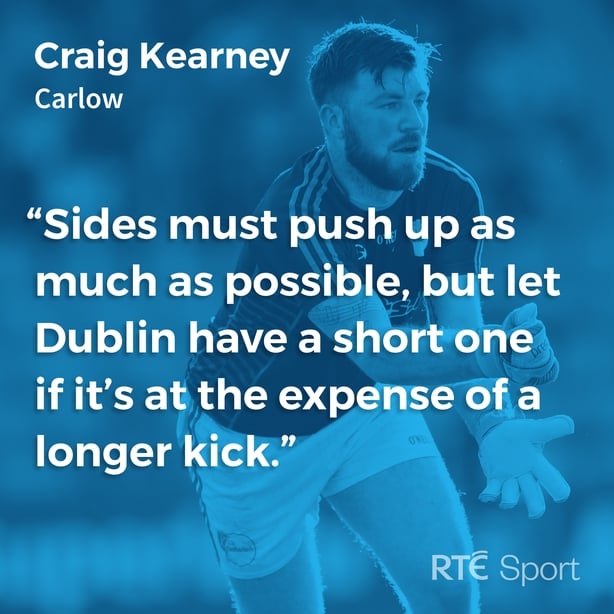 "It wasn't as hard as I expected in terms of getting my kick-outs away. I thought they would be more aggressive, but they were happy to drop off and I think I only lost two kick-outs in the game," added Beggan.
"In Leinster they could afford to press higher as teams might struggle to win primary possession by going long, but they were probably looking towards the business end of the season and how teams were likely to set-up against them."
"They do push right up and close the space as much as possible," Donnellan recalls from their nine-point Leinster final defeat.
"They do leave gaps out the field, over the half back line that can be exploited out towards the wing. That's what we tried to do and I thought it worked alright for us on the day."
Short or long, Dublin appear at ease with either approach from restarts. After three years on the Carlow panel, Kearney made his Championship debut in the memorable win over Wexford this year before the underdogs gave a good account of themselves against the All-Ireland champions in Portlaoise.
"When we went long, they always had numbers in and around the breaking ball. Defensively they are brilliant. When they lose the ball three or four swarm around the player in possession."
To press or not to press?
In the All-Ireland semi-final, Tyrone put the squeeze on Stephen Cluxton's very first kick-out. The Parnell's man simply bypassed the press, pinpointing Niall Scully on the run from 65 metres out. When teams sit off, either by choice or through fatigue, the results can be devastating. What strategy to implement continues to be an ongoing debate.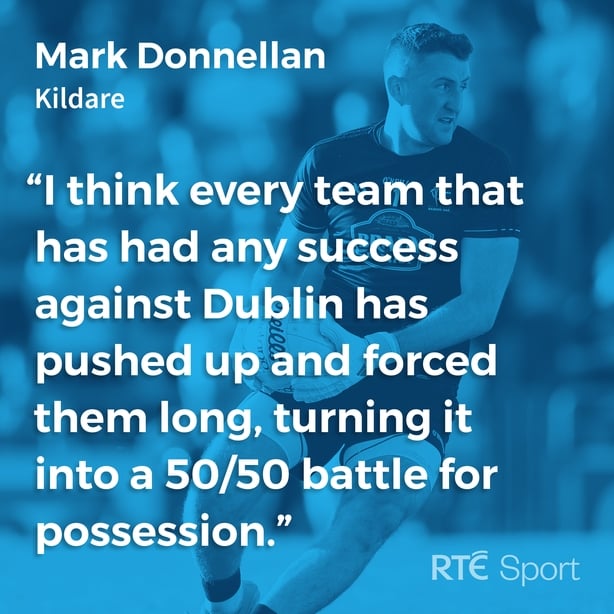 Kildare enjoyed as much success as any team against the Dubs this summer in competing for kick-outs and Mark Donnellan says that, tiring as it may be, a full-court press is the only way to remain competitive.
"I think every team that has had any success against Dublin has pushed up and forced them long, turning it into a 50/50 battle for possession."
Kearney too advocates committing to the press to disrupt Jim Gavin's side. "Sides must push up as much as possible, but let Dublin have a short one if it's at the expense of a longer kick. Where they can kill you is getting the ball on the wings near halfway."
Beggan knows only too well the difficulty in attacking the Dublin restarts, and believes a two-pronged approach might serve best. "It's so difficult to know what to do. If you don't press, they have the players who can really hurt you. If you try to press for the whole game, you will simply run out of steam and then Dublin launch their subs off the bench."
So when push comes to shove, what will Rochford opt to do?
"I think they will try and blitz the Dublin kick-out which I think would be a mistake," says Price. "The problem they will find is that they can squeeze up, put nine or 10 men up, but what I didn't notice until this year is the distance Cluxton can get in his kick-outs. It's quite phenomenal. They will have to be cautious not to leave the back door open."
On the flip side, Price contends that Dublin's press could reap real rewards for the three-in-a-row seekers.
"Dublin will push up and the problem for Mayo will be that David Clarke doesn't have the same distance as Cluxton. Dublin's squeeze therefore is likely to be more effective than Mayo's."
Live coverage of Dublin v Mayo in the All-Ireland SFC final (3.30pm) on The Sunday Game Live from 2.15pm on RTÉ2, with live radio commentary on Sunday Sport, RTÉ Radio 1 from 2pm.
Live blog from 10am on RTÉ Sport Online and the News Now App.
Highlights of all the day's action on The Sunday Game on RTÉ2 from 9.30pm.