It's not always easy when the final curtain calls. The emotion of it all can be overwhelming as you leave the arena for the last time. The nature of Tyrone's defeat to Dublin in the All-Ireland semi-final was not the way Séan Cavanagh wanted to make his exit.
The Red Hand had just been pulverised by the Dubs, Cavanagh was called ashore before the final whistle. He then had a different vantage point to view the excellence of Jim Gavin's team. Fittingly, members of that same team took turns post-match to wish the Moy clubman well.
Cavanagh felt that Tyrone had prepared well for the challenge of taking on the All-Ireland champions. He was bullish about their chances
"I felt we would win and I felt the system we had in place would be difficult for Dublin to break down," he revealed to RTÉ Sport.
"On the day we just weren't prepared for what they threw at us. Having seen the Dublin players in the flesh, you can only but admire their power and their physicality.
"The way Dublin are evolving they could easily win seven or eight All-Irelands out of the next ten"
"After 15 or 20 minutes we were bleeding quite badly. Our energy was spent on chasing shadows. They played the wings brilliantly. Everything they were doing seemed to be very well practised and well put together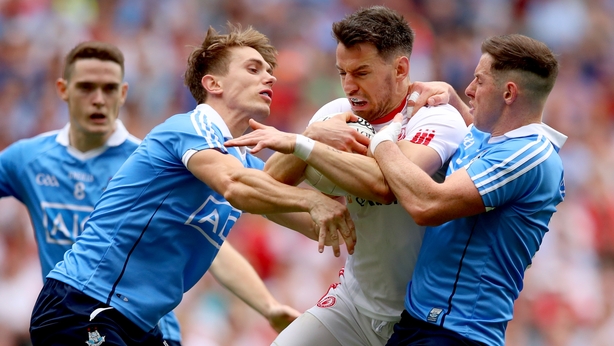 .
"What really impressed me was the way Jim Gavin was able to read us. We were beaten in almost every facet of the game. We didn't change our approach quick enough, they were so impressive in the way they closed us down. All told, it was Gavin at his meticulous best."
Next Sunday sees Dublin go in search of a fifth All-Ireland title this decade when, for the second year running, they take on Mayo.
Cavanagh believes the conveyor belt of talent at Dublin's disposal is so well oiled that the county will continue to enjoy success at the highest level.
"The way Dublin are evolving they could easily win seven or eight All-Irelands out of the next ten," he predicted.
"If you get a special group, most teams can maintain it for about to three to five years. When you go back to the start of this decade, Dublin had Rory O'Carroll, Bernard Brogan, Michael Daragh MacAuley, Ger Brennan and Diarmuid Connolly as the mainstays and now all of a sudden they have a new spine.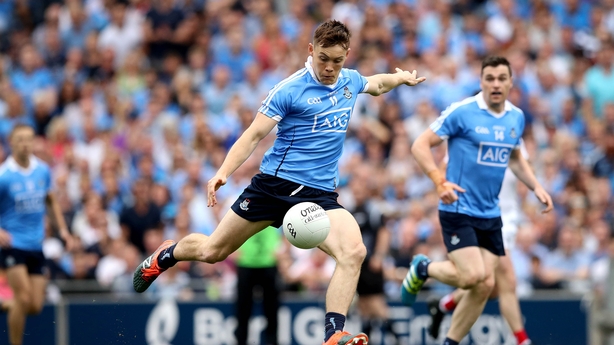 They have seamlessly made that transition and their leading players are now the younger generation coming through. Dublin are not going to go away. Whilst every other county has a period of transition, I don't believe Dublin are suffering from that.
"Jim Gavin has done an incredible job in ensuring that guys remain at their peak and if they are not he will make the necessary changes.
"You look at their bench now - Macauley, Brogan, McManamon sitting there - guys that have won multiple All-Irelands - guys that have been top players in our game scrambling for a few minutes here and there. It tells you a lot about what Jim Gavin and Dublin have been able to do."
When asked whether Dublin can add to their Sam Maguire haul in this year's decider, Cavanagh didn't think twice when responding.
"Dublin could win this All-Ireland playing at 80 percent, they don't have to be at full power."
Reflecting on their season so far, Cavanagh added: "Dublin have been ridiculously good all year. They don't do complacency and complacency won't be apparent in the final. They just blow teams away, winning games by an average of 12 to 15 points.
"We hear that Kildare gave them a game in the Leinster final, but they scored 1-01 late on to give the outcome a better look."
"Mayo will feel that this team is more resilient and that this is their time"
And what of Mayo?
The three-time All-Ireland winner draws comparisons with the Connacht county's protracted September route to the journey undertaken by Tyrone in their capture of Sam in 2005.
"Mayo will feel that this team is more resilient and that this is their time after all the games, including a few close shaves, that they've played this summer.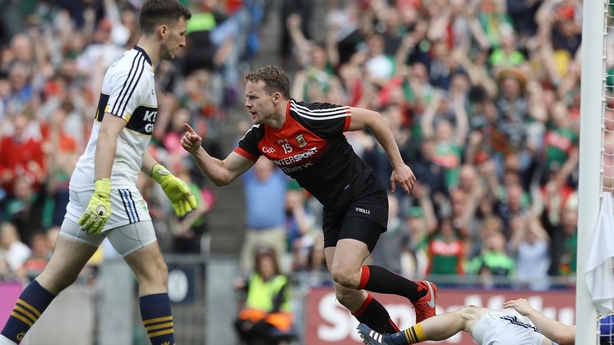 "In 2005, we played nine game before that final with Kerry, we had a feeling of being invincible. I have no doubt that this Mayo team will have that feeling right now. That feeling of not caring what has been thrown at us. They have come through some tough battles all over Ireland. All they have to do is get it right for one more game.
"Mayo are adaptable. First and foremost they do like a running game out of defence and then distribute the ball quickly into Andy Moran and Cillian O'Connor inside. Mayo's strength is that they can change strategies within the game and they are going to have be on top of that next Sunday.
"Stay with Dublin until the game settles down. Does Aidan O'Shea start in a more forward position? Will Cillian O'Connor come more out the field? Mayo have the scope to mix it. They'll need that and more to cope with the artillery at Dublin's disposal."
Live coverage of Dublin v Mayo in the All-Ireland SFC final (3.30pm) on The Sunday Game Live from 2.15pm on RTÉ2, with live radio commentary on Sunday Sport, RTÉ Radio 1 from 2pm. 
Live blog from 1pm on RTE Sport Online and the News Now App.
Highlights of all the day's action on The Sunday Game on RTÉ2 from 9.30pm.