By the end of the current All-Ireland campaign Mayo will have played a minimum of 10 Championships games in 2017.
Barring a replay, and don't rule that out after the season they've had and their recent shared history with Dublin, they will hold the record for the longest Championship run alongside the Meath team of 1991 and Tyrone 2005.
For the record, Meath lost the All-Ireland final 26 years ago while Tyrone got their hands on Sam in Game 10, '05.
Mayo though, also played nine games in 2016 meaning that they've had more Championship outings in two consecutive seasons than any other county in the GAA's long history - a grand total of 18-and-counting.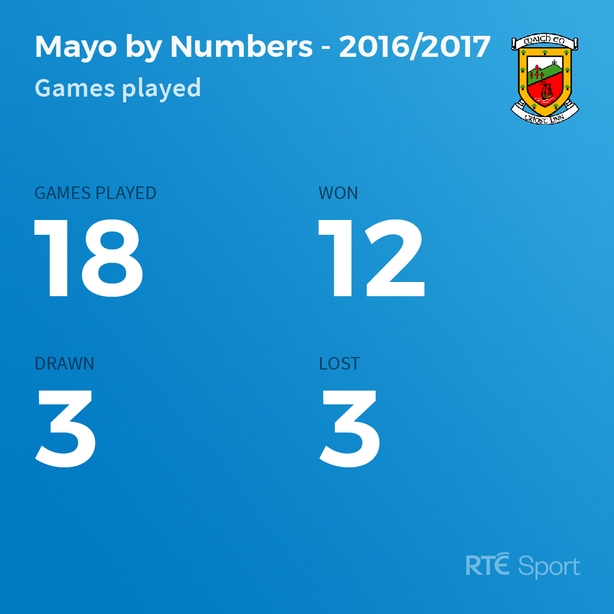 Of those, they've won 12, they've drawn three and lost three. Of the 14 different counties they've faced through these two extraordinary campaigns, they've managed to beat 12 of them.
They haven't beaten the Dubs, though they did push them to an All-Ireland final replay last year, and the only team that they've haven't at least squeezed a draw out of is Galway, who have beaten them in their last two Connacht semi-final meetings.
The team they face in Sunday's All-Ireland final, defending champions and three in-a-row chasing Dublin, will have played barely two-thirds the number of games in the same time - the third Sunday of September will mark their 13th outing of the past two seasons.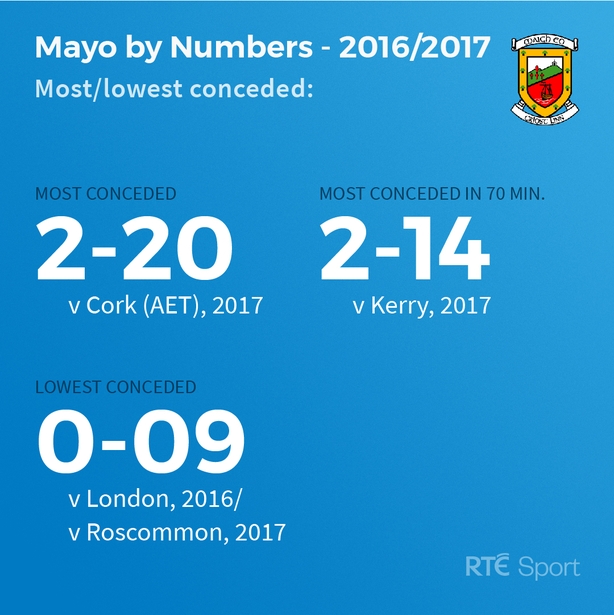 This, of course, is because they have managed to successfully navigate the Leinster Championship and go through the front-door, unlike Mayo who have taken the qualifier route both times. The Dubs' only additional game was last year's replayed All-Ireland final.
The Boys in Blue regularly get stick for the number of their games that they get to play at Croke Park and over the past two seasons they've been there 10 times, with their Leinster openers in both campaigns taken on the road to Kilkenny and Portlaoise.
GAA Headquarters is virtually a home ground for Mayo these days too and thanks to two replays so far this term and their qualifier against Westmeath last summer they have played on the Jones' Road nine times in two Championship seasons.
Drilling down into the numbers, it's pretty easy to pick out who are the key players in Stephen Rochford's team.
Captain Cillian O'Connor and dynamo wing-forward Kevin McLoughlin are the only players to have started in every single of those 18 games game so far. McLoughlin has been substituted on six occasions and O'Connor has failed to finish three matches, twice due to black cards.
Colm Boyle, Andy Moran, Jason Doherty and Aidan O'Shea have also been involved in every game, though they haven't always been starters.
Lee Keegan and Keith Higgins started 17 out of 18 matches, Keegan missing this year's All-Ireland replay win over Roscommon due to illness and Higgins the qualifier against Derry due to his straight red card in the provincial defeat to Galway.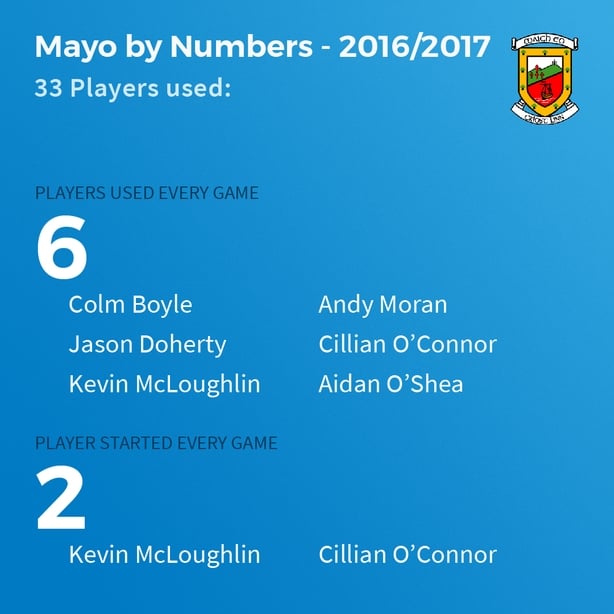 Interestingly, Higgins is the only player with a significant number of appearances for Mayo over the past two seasons who hasn't been substituted in a Championship game to-date - that just shows you his importance to the game-plan, be that in the full-back line or the half-backs.
The 32-year-old Ballyhaunis man made his name as one of the best man-marking corner-backs in Gaelic football and he has occasionally fulfilled that role in recent seasons, though his job has changed more to a roving brief, getting on loose ball and making things happen with his strong running and accurate passing.
Coming off the bench, Rochford has turned to Stephen Coen and Conor Loftus most often, both of them coming into games on 11 occasions, though Coen has started five times to Loftus's once.
Barry Moran, mainly as a substitute, and goalkeeper Rob Hennelly saw regular action in 2016, but neither of them has played a Championship minute yet this term and that's unlikely to change in the final unless something unusual happens. Again.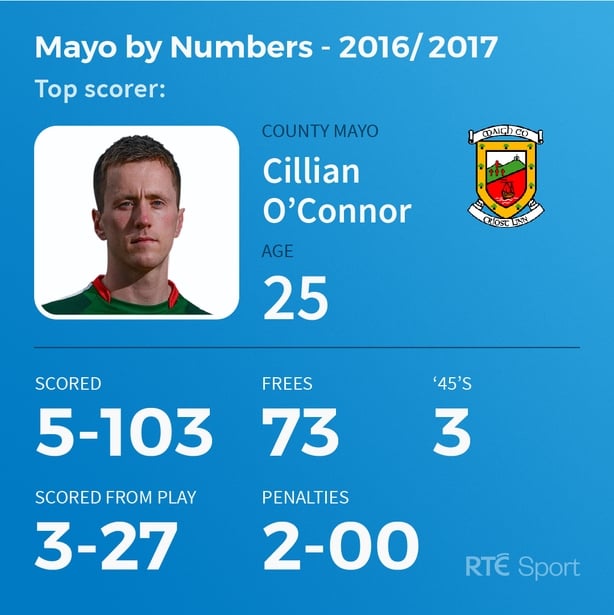 Ger Cafferkey missed all of last season through injury and has forced his way back to the forefront of the manager's thinking while Chris Barrett has gone from defensive substitute in '16 to one of his go-to man-makers with a full house of nine starts in '17.
Before this year's All-Ireland semi-final draw with Kerry, Andy Moran hadn't seen out a full 70 minutes, having come on as a substitute or been taken off every time. With his form approaching red hot though, he was on the field for the entire draw and replay win over the Kingdom - his first full games.
And, finally, spare a thought for Cathal Carolan. The Crossmolina man came on as a substitute in the first game of Mayo's epic run against London last year and hasn't seen a minute's action since, though if O'Connor lifts Sam Maguire on Sunday surely he'll hardly care.

Live coverage of Dublin v Mayo in the All-Ireland SFC final (3.30pm) on The Sunday Game Live from 2.15pm on RTÉ2, with live radio commentary on Sunday Sport, RTÉ Radio 1 from 2pm.
Live blog from 10am on RTE Sport Online and the News Now App.
Highlights of all the day's action on The Sunday Game on RTÉ2 from 9.30pm.