There was a image at the end of yesterday's All-Ireland ladies semi-final that illustrated exactly why Cora Staunton deserves to be back in an All-Ireland final.
In truth, this moment belonged to Staunton, and her ongoing search to get back to Croke Park on the biggest day of the Ladies Football calendar.
Her last All-Ireland final appearance was in 2007, when Mayo suffered heartbreak at the hands of Cork, a team whose star was in the ascension under Éamonn Ryan. Meanwhile Mayo, who had dominated Ladies football in previous years, looked to be spent. They were raging against the dying of the light, while a new power was emerging from the south.
They continued to be competitive in the years that followed, but All-Ireland glory appeared to be beyond them.
After almost a decade of trying, Cora seemed to be approaching retirement at the outset of this season. Few would have criticised her for wanting to tap out of the fight now. Perhaps she could just be content with her lot - four All-Ireland medals and 10 All-Star gongs in 22 years of consistent excellence. Not a bad collection of accolades to reflect on in her golden years.
She would go out as one of the greats either way.
But instead of giving in, she returned for a 23rd season, and yesterday's victory over the perennial champions vindicated her decision. In typical fashion, Staunton contributed hugely to the result with 1-07 from play despite being marshaled by Bríd Stack, one of the best defenders in the game.
"We'll enjoy the next hour or two but we'll have to concentrate on Dublin in a couple of weeks time."
After the devastation of losing to Dublin at the penultimate stage last year, they had vanquished those demons against the side that every other ladies county team is measured against.
Tears were replaced by smiles, and regrets of squandered chances gave way to the feeling of relief that they had done enough to get over the line. Instead of being on the receiving end of the consolation handshakes, Mayo were dispensing them this time.
Staunton respectfully fulfilled that duty yesterday as she offered up her sympathies to the distraught Cork players.
She made time for fans requesting selfies, and absorbed all the words of congratulations from those who admire her.
She found her teammates Martha Carter and Yvonne Byrne on the pitch, and a smile creased across her face as the Mayo stalwarts savoured the moment together.
If winning the All-Ireland means getting to the promised land, then surely beating a team of Cork's calibre puts Mayo in the departure lounge, cocktails in hand.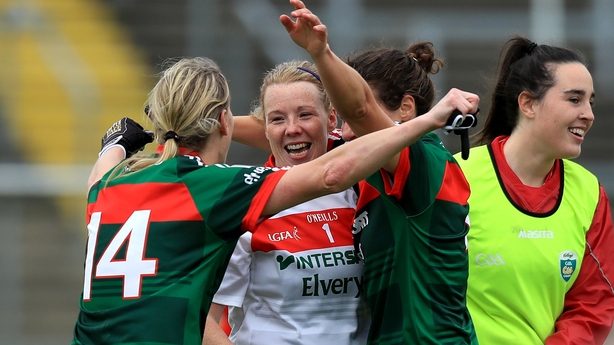 But Staunton wants more. While everyone else was still trying to process the news that Cork had lost their All-Ireland crown, Staunton was already contemplating the next step.
"We'll enjoy the next hour or two but we'll have to concentrate on Dublin in a couple of weeks time," she told TG4 while receiving the player-of-the-match award.
She talked about the players in the panel who have never played in a senior All-Ireland final, and her desire to ensure that they would get to have that experience as long as she was around. These are the players who inspired her to give it another go.
But back to the image that typified what the occasion meant to Staunton. Immediately after the final whistle, Staunton was seen leaping about, arms outstretched, and looking up at the sky.
Maybe she's a religious person and was thanking the big man upstairs for cutting her a break. Maybe she was thinking of her mother who was taken from her when Staunton was just 16 years of age. Or perhaps it was just an involuntary movement with no rhyme or reason behind it.
In any case, it was a moment for her to enjoy on her own, in a way that befits the career that has always set her apart. You don't always get what you deserve in sport, but getting back to Croke Park for a crack at her fifth All-Ireland medal, is just the reward for her efforts.