Jim McGuinness is not a man to do thing by halves.
He broke the mould with Donegal when guiding them to the 2012 All-Ireland title, cultivating the 'blanket defence' and a fiercely committed group to the point of devastating efficiency.
From there his path has twisted in directions no one could have predicted. 
He took up a role with Celtic, as a sports psychologist with the first team before working with their U20s, and in June Chinese Super League club Beijing Sinobo Guoan came in for his services
McGuinness has six children - aged ten, eight, seven, four (twins), and nine months - but he took the plunge.
Speaking to Brendan O'Connor on RTÉ Radio 1, he outlined the challenges he's faced since making the move, and the satisfaction he gets working alongside ex-Bayer Leverkusen and Red Bull Salzburg coach Roger Schmidt.
"It's a very exciting project. Culturally it's a big shift but in terms of the football side of things, it's been fantastic."
"They'd be one of the most valuable and probably historically one of the biggest if not the biggest," he said of Beijing Sinobo Guoam, a club that attracts an average attendance of 40,000.
"People at the club would say that, that our club would scare other clubs going into games but then obviously if the performance isn't there then other team think, 'you know what? We can beat them'.
"It's a bit like the Manchester United situation. A lot of teams feel under pressure just by walking in the door. 
"Historically that's the way the club would have been and then for the last period it's probably not been to the level it should be.
"The manager's been brought in to try and turn that around and to put them on a higher footing and ultimately to try and shoot for the championship in the next year or two and develop everything around that.
"It's a very exciting project. Culturally it's a big shift but in terms of the football side of things, it's been fantastic so far."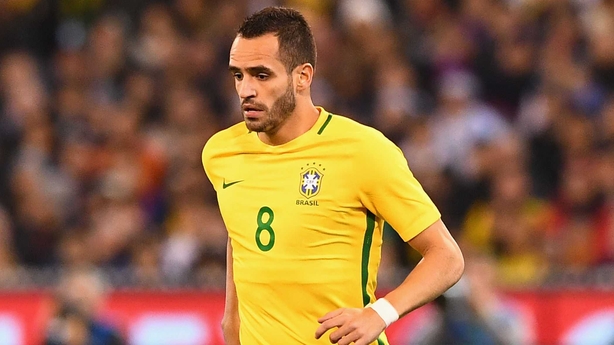 Spaniard Jonathan Soriano and Brazilian international Renato Augusto [above] are on the books, their quality complementing the Chinese talent at the management's disposal.
That blend creates a unique dynamic, one which the Glenties man is relishing.
"It's a very interesting time in China at the moment," McGuinness added.
"Every club can play three foreign players and they can have a maximum of four in the squad, so the foreign players become really important and they tend to be very high value players because there's only so many you can have.
"The rest are made up of Chinese players There's also a stipulation that you have to play one U23 player that is Chinese.
"The government, the country as a whole is unified in terms of trying to move the national team to a higher level.
"The foreign players are top, top players. That's been fantastic for myself at a coaching level to see that. I'm responsible for the set-plays, looking at what other teams do. Normally the foreign players take the set-plays or they are the target for the set-plays. It's been a good education for me."
"The vastness of it is incredible. It's difficult to get your head around."
Any move to a foreign land is daunting, but McGuinness's family life made the switch even more demanding.
He's still alone in Beijing - "I'm still living in a hotel" - but hopes his family will move en masse soon.
"Hopefully in the coming months we'll look to move everybody to China," he said.
"When I left first of all to join Celtic, Toni Marie, my oldest girl, was only four coming five. Four years later she was a big girl, heading for nine and ten. It doesn't be long happening.
"That was the reason we made the decision last year to move everybody across [to Glasgow] because time does go so quickly.
"Rather than wait for two and half years to get reunited again I think we'll look to find somewhere nice to stay and a good school and then maybe move everybody over at the beginning of the season.
"It is a different world. There's bicycles, mopeds, car going everywhere. Sometimes you're standing at the lights waiting for it to go green thinking, 'this is absolutely crazy'. Culturally it's hard to take it in sometimes.
"The vastness of it is incredible. It's difficult to get your head around. You'll have a situation where you're passing a city and I'll ask one of the Chinese, 'how may people are living there?' And he'll say, 'nine million'. You're thinking to yourself, 'nobody's even heard of the place!'. That's difficult to comprehend.
"You come from a very small town in Donegal and you think that is the epicentre of the world. You end up in a country where there's 1.4 billion people and you're in a train looking at a city that's built but there's no one living in it. You think, 'how does that work?'
"It opens up much bigger questions in terms of your own belief systems and what it's all about because of the vastness of it."